*Note that Gowest Gold (OTC:GWSAF) is extremely illiquid, and this is especially true in the United States. Investors are encouraged to buy shares on the Toronto Venture Exchange (TSXV: GWA) where there is slightly more liquidity.
About Gowest Gold
Gowest Gold is a small gold exploration company focused on developing and producing gold at its Bradshaw Deposit located in Timmins, Ontario in the Timmins Gold Mining Camp. The company has a small market capitalization of just $12.5 million if we look at the Canadian shares and correct for the currency difference. However its Bradshaw Deposit is large--1.5 million ounces--by comparison. This deposit should be highly economical to mine according to its November, 2012 preliminary economic assessment (PEA). The company also has about $1.2 million in cash if you count the money it has raised since in the past several weeks plus the cash it had on its balance sheet as of the release date of its latest financial statement (April). However this figure is undoubtedly smaller at this point.
Investment Thesis
Like with any mining company with (1) a significant deposit, (2) a tiny valuation and (3) little capital on hand the biggest issue is financing, and if you look at the company's share-count over the past several reporting periods it is clear that management has been diluting shareholders. As an investor attempting to differentiate between these kinds of companies I generally ask myself: "What sets this company apart, or what gives it an advantage that leads me to believe that it can find favorable financing that isn't too dilutive (some dilution is inevitable) and that is offered at a reasonable interest rate.
There are three reasons that lead me to believe that Gowest Gold is such a company.
The first is the mine's location at the Timmins Mine Camp. This is a region in northern Ontario that has a long history and culture of gold mining. Several companies are operating gold mines here or exploring for gold and developing projects. Some of these companies include:
The fact that Gowest Gold is operating in Timmins means that it should have a relatively easy time meeting some of the often daunting pre-production milestones including permitting, infrastructure development, and finding talent. It also means that it has a better than average chance of finding more gold considering that gold is often found near existing or past gold deposits.
The second reason is related to the first. The company is planning to use a refurbished mill that is owned by Kidd Operations in order to process its gold ore rather than building its own mill from scratch. The end result will be that the company has to pay Kidd Operations for the use of its mill, and the company will be producing a high grade gold ore rather than pure or nearly pure gold. But the trade-off is enormous, as the company is estimating that it will save $107 million in pre-production costs. Instead it will only have to raise $60 million. While this is still daunting I think it is achievable, especially given my first point and the following point.
The final appeal of the project to a financier is that it is going to be a very low cost producer, and it is going to have extremely robust economics. Granted the company is optimistic when it states that it has a 50% IRR at $1,200/oz. gold given that this is a pre-tax figure, and given that the mining tax in Ontario comes to roughly 36.5% (15% Canadian corporate tax, 11.5% Ontario corporate tax, and a 10% mining tax). However we will see below that the post-tax valuation is still compelling, and Gowest Gold will be able to cover its financing expenses even in a weak gold price environment.
If the company receives financing--and we have seen why this is a reasonable bet to make--then the shares are substantially undervalued and have multi-bagger potential.
Of course there is the risk that the company doesn't receive financing, or that it takes a while. This would mean that not only is the stock "dead" money (assuming a flat to lower gold price as a rising gold price would almost certainly bring in a financier or an acquirer), but that the company will have to continue to issue stock in order to keep the business alive, and management may decide to attempt to build the mine itself, and this would be horribly dilutive to existing shareholders. But given that the stock trades at roughly $8/oz. of gold, and given the points I have made in support of financing, I think that for more aggressive investors this is a compelling opportunity in which this risk outweighs the reward of several hundred percent.
The Gowest Gold Timmin's Project (The Bradshaw Deposit)
As I have already mentioned, the Bradshaw Deposit is located in Timmins, Ontario.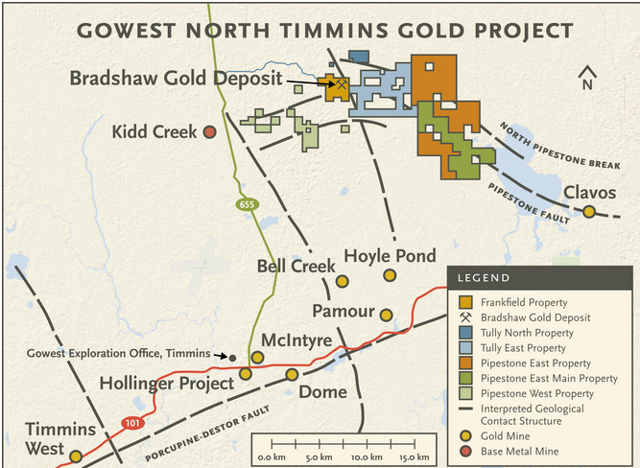 (Source: Gowest Gold)
The mine currently contains approximately 1.5 million ounces of gold:
945,600 ounces of indicated gold at 4.9 gpt.
536,800 ounces of inferred gold at 4.2 gpt.
Note that the company has not yet done sufficient research to classify any of its resource as "reserves," which means that its economic viability is somewhat at risk. But the resources were calculated assuming a $1,000 ounce gold price and so there is certainly room for error.
Note also that some of the gold is classified as "inferred," meaning that the company has made this projection based on indirect methods and that the figure may be inaccurate. However I should note that the current mine plan includes only 950,000 ounces, which means that the mine plan can withstand a miscalculation to the downside.
Capex
As previously mentioned one of the company's selling points to investors is its relatively low initial capex estimate: $60 million, which is incredibly low for a mine that will be producing 95,000 ounces of gold per year. While this number contains a contingency it was also calculated nearly 2 years ago, and it is a preliminary estimate that has a wide margin of error. With this in mind I think we should evaluate the upside based on $70 million in initial capex rather than $60 million, keeping in mind that this is still a relatively low figure.
Opex
The mine is going to produce 95,000 ounces of gold per year for 10 years at approximately $825/oz. according to the mine plan. Note that the company also anticipating sustaining costs, which should be $50 million in years 4-5 as the company expands the mine shaft (about $265/ounce during those years). The company also anticipates about $5 million in year 4 (about $55/oz.) and an additional $20 million throughout the mine's life (about $20/oz). It also anticipates an $11 million for mine closure (about $115/oz. in year 10). Given these figures we get the following all in sustaining cost estimate on a year by year basis.
| | |
| --- | --- |
| Year | AISC |
| 1 | $845 |
| 2 | $845 |
| 3 | $845 |
| 4 | $1,165 |
| 5 | $1,110 |
| 6 | $845 |
| 7 | $845 |
| 8 | $845 |
| 9 | $845 |
| 10 | $960 |
Given these assumptions we get the following valuation estimates. I am assuming the company gets 75% financing $52.5 million at 6%--costing $3.2 million per year--for 10 years and dilutes shareholders the remaining $17.5 million at $0.07/share, which adds 250 million shares to the total share count, bringing the total to 427 million. I am listing the project's NPV first in dollar terms (millions) and then in terms of the value per share.
| | | | |
| --- | --- | --- | --- |
| Discount Rate/Gold Price | $1,200 | $1,300 | $1,400 |
| 8% | $75 ($0.22) | $117 ($0.32) | $150 ($0.39) |
| 12% | $63 ($0.19) | $98 ($0.27) | $125 ($0.33) |
Given that the last trade occurred at C$0.075/share (about $0.07) it is evident from this data that the shares can spike substantially higher in the event of a financing announcement. While these valuations won't be reached immediately I suspect that between the time of such an announcement and commercial production that these are realistic price targets. As is often the case with an economic mine approaching production its market valuation can greatly exceed its conservatively calcuated NPV, and so the above figures may wind up falling short.
Conclusion
Gowest Gold is clearly a binary bet, and in the event that the company cannot secure financing the stock might do nothing, and as management issues more shares in order to keep the company alive the stock could even fall. But from the perspective of a gold bull the risk/reward at the current valuation is extremely enticing: as the gold price rises not only does the NPV of the Bradshaw Deposit increase, but the odds that management can secure favorable financing increases as well, and this adds momentum to the leverage. We get even more momentum to this leverage in that a rising gold price will likely lift the shares, and that will make any secondary offerings less dilutive. Given these drivers, and given the quality of its Bradshaw Deposit (its grade, location and relative size) Gowest Gold is one of the best gold leverage vehicles available on the market.
Furthermore, we have seen that the company doesn't need the gold price to rise in order to secure financing. In fact we have seen that Gowest Gold is undervalued at the current gold price, and even at lower gold prices if we factor in a financing deal.
Given these points it is clear that Gowest Gold isn't for widows and orphans. While the company has several things going for it we need to see financing in order to see the company's value emerge. But the upside is so great that we could justify owning the stock even if we assign a relatively low probability to a financing deal. For instance if there is a 33% chance that the company can secure financing in the near-intermediate term we see that Gowest Gold is a worthwhile bet considering my upside targets of 286% (at 12%) and 357% (at 8%) when 200% is break even.
Disclosure: The author has no positions in any stocks mentioned, but may initiate a long position in GWSAF over the next 72 hours. The author wrote this article themselves, and it expresses their own opinions. The author is not receiving compensation for it (other than from Seeking Alpha). The author has no business relationship with any company whose stock is mentioned in this article.
Editor's Note: This article covers one or more stocks trading at less than $1 per share and/or with less than a $100 million market cap. Please be aware of the risks associated with these stocks.