On July 24, 2014 BreitBurn Energy Partners LP (BBEP) agreed to buy out QR Energy LP (NYSE:QRE) for 0.9856 units of BreitBurn for each QR Energy unit. This works out to a buy out price of $22.48 per unit of QRE. The total deal is valued at about $3B, when you also include the $350 million cash buyout of QRE Class C convertible units and the assumption of QRE's debt by BBEP. The combined partnership's production will average 57,300 Boe/d (67% oil and other liquids and 33% natural gas).
QRE unit holders benefit immediately. They get a 19% premium for their shares based on July 23, 2014 closing prices. They also benefit from a higher distribution payout. BBEP plans to increase its distribution payout to $2.08 annually using additional cash flow from QRE's energy wells. This is a raise from the $1.95 per unit that QRE was paying. If you multiply the $2.08 by 0.9856, you get a unit equivalent distribution payout of about $2.05 annually. This is still substantially more than QRE's most recent $1.95 per unit distribution payout. This deal has to make QRE unit holders happy. After all they still have the option of selling their units for a bigger profit; and those units were probably not going to rise 19% in the near future without the deal.
For BBEP unit holders the most immediate benefit they will see will be the raise of the distribution payout to $2.08 per unit based on QRE's extra cash flow. However, BBEP unit holders probably want to take a close look at this deal to evaluate the health and prospects of the new company.
For Q2 2014 BBEP had declared cash distributions of approximately $2.01 per unit on an annualized basis. This was a 4.7% increase from Q2 2013. BBEP had adjusted EBITDA of $110.0 million -- a 30% increase year over year. It increased oil and NGLs production to a record quarterly high of 2.2 MMBoe. This was a 69% increase from Q2 2013. This raised BBEP's percentage of oil and liquids production to about 65% of total production. Total production was a record quarterly high of 3.4 MMBoe. This was a 38% increase from Q2 2013. Distributable cash flow was $52.7 million. This was a 9% increase year over year. However, it was down from the $60.3 million in cash flow of Q1 2014. Distributable cash flow per common unit was approximately $0.431 in Q2 2014 compared to approximately $0.496 in Q1 2014.
Given that the annualized distribution was raised to $0.1675 per common unit as of July 1, 2014, the needed distributable cash flow going forward is $0.5025 per quarter, until the raise to the $2.08 annual distribution is made. It was $0.5025 for Q2 2014. The this was far above the distributable cash flow of Q2 2014 of $0.431. The distributable cash flow of Q2 2014 would only cover about 0.86x of the actual distributions made. This is a worry to BBEP investors. Further the current plan is to raise the distribution payout to $2.08 annually upon the closing of the QRE deal.
It seems unlikely that there will be significant synergies in the short term. Any synergies from the merger with QRE will likely be longer term ones. Hence it is appropriate to take a hard look at QRE's distribution coverage. In QRE's preliminary Q2 2014 results, the company had distributable cash flow of $34.9 million. This was a 13% increase over the year ago quarter. The distribution coverage ratio was 1.1x. This is a significant positive for BBEP unit holders. However, BBEP untiholders have to keep in mind that this was for a distribution of $1.95 per common unit annualized. $2.08 * 0.9856 yields a distribution per unit of approximately $2.05 per old QRE unit for the proposed new distribution. This would mean the new distribution coverage (keeping other variables unchanged) would be (1.1 * $1.95)/$2.05 = 1.046. This is substantially lower than the 1.1x distribution coverage ratio of Q2 2014 (and that was only a preliminary result).
If you then calculate the lowering for old BBEP units due to the proposed raise in the distribution to $2.08 per common unit, you get ($2.01 * 0.86)/$2.08 = 0.83. Since QRE unit holders will own about 37% of the company, the approximate combination of the distribution coverages would then be (0.37 * 1.046) + (0.63 * 0.83) = 0.91x. This is a slight improvement for BBEP investors over the Q2 2014 distribution coverage of 0.86x. Therefore the deal does benefit BBEP unitholders short term. Plus it does give the combined company economies of scale. The new company will have an enterprise value of $7.8B and estimated proved reserves based on the 2013 Form 10-K's of 323.4 MMBoe (of which about 66% is liquids). The charts below show that those metrics put BBEP near the top of its peer group.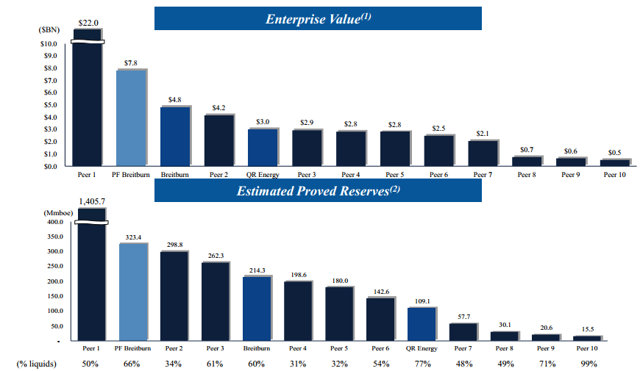 The reserve mix charts below show that BBEP has also increased the percentage of oil and NGLs in its reserve mix.

This is a positive in these times of relatively stable oil prices and weak and/or unstable natural gas prices.
All told this deal seems like a great one for QRE unitholders and a good one for BBEP unitholders. I had actually thought that BBEP, even without this deal would manage to raise its distribution coverage in 2014. I would still hope that this is so, although I had expected to see a bigger improvement than I have thus far in 2014. Due to the worsening of BBEP's distribution coverage ratio (without the QRE deal) in Q2 2014, I rate the combined company a HOLD.
The overall market is overbought. If it pulls back, it will undoubtedly take BBEP down with it. Plus I want to see more evidence of improvement in the distribution coverage before I would again consider BBEP a buy. BBEP's distributable cash flow was down sequentially from $60.3 million in Q1 2014 to $52.7 million in Q2 2014. I found this disturbing, even with a good deal apparently done. Further at least two law firms are investigating the sale of QRE (Robbins Arroyo LLP and the Law Offices of Vincent Wong). They are claiming that it may not be in QRE investors best interests. This could delay or possibly lead to a cancellation of the sale.
The two year charts of BBEP and QRE provide some technical direction for this trade.
The two year chart of BBEP is below.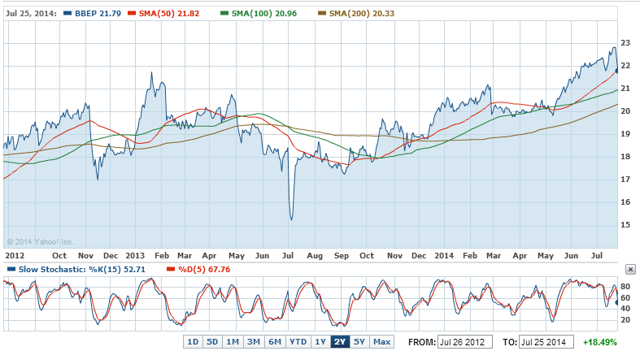 The two year chart of QRE is below.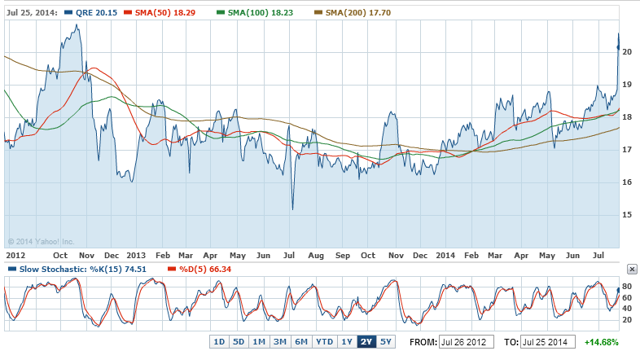 Both stocks have gone up recently. Neither is overbought nor oversold. BBEP seems to have the overall stronger uptrend. However, it just reported a weak Q2 2014 in terms of distribution coverage (weaker than Q1 2014). This fundamental would probably push the stock downward without the QRE trade. However, the QRE trade does appear to be positive for BBEP. Hence the stock may consolidate sideways for a while. Alternatively it could go down if a lot of unitholder lawsuits result from the law firm investigations of the buyout of QRE.
I have a neutral view on the stock overall for the near future. My inclination is to let BBEP prove to me that it can get its distribution coverage above 1.0x relatively soon. Otherwise it is negative spending, which I and many other investors do not approve of, even if BBEP is planning to raise its distribution. Both Raymond James and Credit Suisse have given out roughly neutral ratings since the Q2 2014 results and the acquisition of QRE announcements also. I feel I am in good company. The current distributions/dividends for the two companies are 9.68% for QRE and 9.22% for BBEP. They are still very attractive as income generators. That is why a HOLD rating is appropriate.
NOTE: Some of the fundamental fiscal data above is from Yahoo Finance.
Good Luck Trading.
Disclosure: The author has no positions in any stocks mentioned, and no plans to initiate any positions within the next 72 hours. The author wrote this article themselves, and it expresses their own opinions. The author is not receiving compensation for it (other than from Seeking Alpha). The author has no business relationship with any company whose stock is mentioned in this article.