A recent report issued by SNL Metals & Mining (subscription required), one of the leading suppliers of statistical data in the mining sector, is one of the most important gold research reports in years. The report, titled "Strategies for Gold Reserves Replacement", focuses on gold reserve and resource data, and what it shows is that the picture for the future looks very grim for the gold mining industry.
This is something in stark opposition to the strategists at Goldman Sachs (NYSE:GS) that predict a much lower gold price by the end of the year. Thus it offers investors an opportunity to take a contrarian approach to some of the most prominent Wall Street banks, which we believe will be very profitable as we think their position on gold is dead-wrong.
This data is something crucial for all serious investors who own physical gold, the gold ETFs (SPDR Gold Shares GLD, PHYS, and CEF), and the gold miners because the future supply picture of gold affects the future of all of these assets (albeit in different ways).
One more important note; Seeking Alpha will no longer be publishing articles on Yahoo Finance, so if you enjoy these articles consider following me or join our free email list where we send out a weekly email summarizing all the important events in the gold and silver industry, which includes our latest articles and research pieces.
The Future of Gold Resources and Reserves
Lawrence Williams of Mineweb (and one of our favorite gold analysts) gives an excellent summary of the report as he writes:
The report points out that over the past 24 years mining companies have discovered some 1.66 billion ounces of gold in 217 major discoveries, BUT - and it's a big BUT - while this may sound a huge amount, over the same period the industry has actually produced 1.84 billion ounces of gold, so discoveries have not been keeping pace with production. But the report goes much further in showing that the number of significant discoveries (defined as deposits with a minimum of 2 million ounces of contained gold) is diminishing and this diminishing trend seems to be accelerating. In the 1990s some 124 deposits containing 1.1 billion ounces of gold were discovered while since the year 2000 this has fallen to only 605 million ounces in 93 such discovered deposits. And most recently significant new discoveries appear to have slowed to a trickle.
That means that the mining industry's discovery of 1.66 billion ounces over the last 24 years has not replaced the 1.84 billion ounces that has been produced. Thus almost 200 million ounces of reserves have been lost over the last few decades that have not been replaced DESPITE a gold price that has risen over 400% since 2000! That is certainly not sustainable and shows that the industry has some major issues to overcome when it comes to gold discovery.
If that wasn't worrisome enough (at least for gold shorts), investors should take a look at the following chart.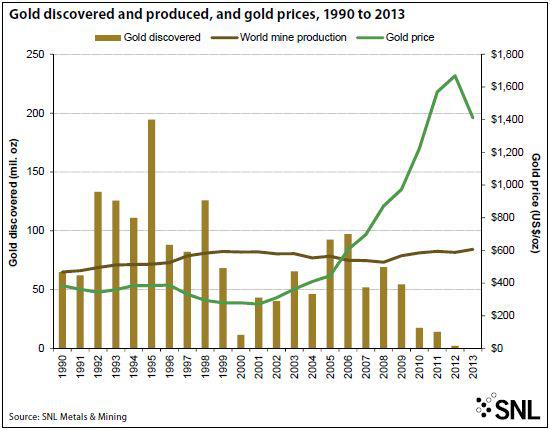 Source: SNL Metals & Mining
Investors should clearly see that not only have gold reserves not been replaced, but in recent years the trend has accelerated as gold discoveries have plummeted to only a few million ounces. That's only the beginning of the depressing picture when it comes to gold discoveries because as Mr. Williams emphasizes:
Assuming a 75% rate for converting resources to economic reserves and a 90% recovery rate during ore processing, the 674 million ounces of gold discovered since 1999 could eventually replace just 50% of the gold produced during the same period.
A 50% replacement rate eventually leads to a 50% drop in production if nothing changes - all of this occurring as gold has risen 14 out of the last 15 years. Can investors imagine what would happen to the gold price if production halved from around 2800 tonnes to 1400 tonnes? That would mean we would need investors to sell 1400 tonnes of extra gold EVERY YEAR to simply maintain the supply and demand fundamentals of the industry. A truly unrealistic event considering the largest gold ETF has only around 800 tonnes of gold - where would the other tonnes come from? Investors should expect that if gold production drops 50% that the price of gold would be more than double the current price (i.e. $2500 to $3000 per ounce).
The report goes on to note that not only have discoveries diminished, but also the length to bring those discoveries to production has also increased to close to 20 years from the date of discovery to production. That means that even if there is a turnaround in discoveries, it would still take close to two decades for these ounces to be produced and added to world supply - so investors shouldn't expect a sudden large discovery or two to have any effect on near-term production.
Conclusion for Investors
There is much more to be gleaned from this report, but for gold and mining investors, it is absolutely critical to understand what we think are the major conclusions discussed in the report:
Discoveries of gold resources and reserves have been falling and are not keeping up with gold production
The trend of falling gold discoveries has accelerated over the last decade and the replacement rate is around 50% of the production rate
The time it takes to bring a discovery to production has increased substantially to close to twenty years
As the supply and production picture only worsens despite the rising gold price, we believe prudent investors should recognize a significant opportunity to make money by buying and holding gold (and their paper equivalent the gold ETFs (GLD, CEF, PHYS)) - though we stress that physical gold and paper gold are two VERY different investments and investors should only invest in the ETFs after creating a comfortable physical gold position.
This is not a complicated trade and everything which we've said so far has nothing to do with the many other catalysts that we write about on a regular basis (such as the US fiscal position, the battle between bondholders and the Fed, increase in central bank purchases of gold, or the deteriorating world order). In fact, even the supposed improvement in the US economic picture (the main reason investment banks forecast a falling gold price) would still have no effect on this much more important fundamental issue.
As for the miners, the implications of this report are a bit different. Of course any miner that is able to grow gold production while discoveries fall will probably be a good investment (think Goldcorp (NYSE:GG), Agnico-Eagle (NYSE:AEM), or Eldorado Gold (NYSE:EGO)). But investors need to be very careful and monitor production and reserves carefully because if industry production is falling, chances are that publicly traded gold miners will also see falling production - which is obviously not good for stock prices even if the gold price rises.
Where we think the real opportunity for massive gains is in the gold explorers. Investors have to be careful here too because many of them have projects that may never be economic, but those companies that do have quality deposits will make excellent takeover targets for the majors as production and reserves fall. This is not the forum to go into our favorite explorers, but we will be publishing a future piece on this so again follow me (by clicking the "follow" button above) or join our free email list to receive updates on that.
Even though the picture for future mine supply looks pretty grim, the picture for gold itself is very bright because we can see a large drop in gold production if nothing in the industry changes. Thus we think it is very possible to see a gold price in the $2000 to $3000 range in the next few years, regardless of what happens in the financial world because reserves are simply not being replaced and this trend seems to be accelerating. Investors thus should be greedily buying up as much gold as possible (despite what Goldman Sachs says) because when it becomes clear that production is falling significantly it will be too late - if we do have a financial crisis, then investors can expect a much higher gold price much sooner.
The point is we don't need to see any financial chaos to have a higher gold price - all investors need is to have the same lack of discoveries trend that we've seen over the last 15 years continue into the future. Thus investors should buy gold, ignore the noise, and wait until economic fundamentals take gold to much higher prices.
Disclosure: The author is long SGOL. The author wrote this article themselves, and it expresses their own opinions. The author is not receiving compensation for it (other than from Seeking Alpha). The author has no business relationship with any company whose stock is mentioned in this article.