Maintaining A Constant Standard Of Living Is Very Difficult
Ever wonder why rises in the Consumer Price Index ("CPI") seem low compared to your own personal experiences? Or why social security annual cost of living increases seem to get smaller and smaller? Or why inflation-adjusted pensions can't seem to keep up with general price increases? Or why the American worker gets such meager annual raises (if at all) that they seem to fall further behind year after year?
If you answered yes to one or more of the questions above, you're not alone. Many Americans ask themselves the same questions, but can't seem to put a finger on the reason why. The government keeps telling you the CPI is at or below the "target" of 2% annually, so what's the problem?
Stuck With One-Size-Fits-All
Calculating any cost of living index is an inexact science. Everyone's own individual situation is different. Unfortunately, a cost of living index is truly a one-size-fits-all proposition, whether it's calculated by government or a private source.
What I attempted to do was create a real-life cost of living index that only includes major household expenses paid regularly. That leaves out one-time expenses such as flat panel televisions, computers, and vacations. It also disregards monthly expenses for mobile devices (how many of those did you have ten years ago?).
Two important numbers to keep in mind during this discussion
In order to make apples-to-apples comparisons and to have clarity and understanding from every reader, please keep two important numbers in mind: 20% & 26%. That refers to the official numbers for median household wage increases (20.3%*) and the official CPI increase (26.45%) during the past 10 years ending in 2013. For point of reference, category price increases in excess of 30% means the average family is falling behind in maintaining their standard of living.
Meet The Perpetual Family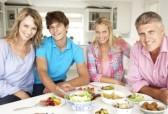 Bob Perpetual and his wife Carol are both 50 years old and live in Southern California. They have two children, ages 18 & 16. Cindy, the oldest, is attending a local public University, studying to become a teacher. Scott, their son, is attending a private high school in the area.
Bob is a self-employed architect. While business has been slowly picking up, it is far from the glory days of 2006. His current business income hovers around the $100,000 mark. Carol is a corporate event planner and makes around $50,000 per year.
They are your typical southern California family, except for one important detail: They don't age. All members of the fictional Perpetual family, for the sake of this exercise, stay at their stated ages. This will give us a clearer understanding of the reality-based cost of living increases we see in our own lives.
Let's take a look at the numbers
Housing: Back in the late 1990's and early 2000's, the Perpetuals missed out on the big run-up in real estate prices and therefore were priced out of the market. With a standard 2,500 square foot 4-bedroom house going for more than $700,000, they opted to rent a house in the area rather than buy.
During the last 10 years ending December 2013, the median increase in rents for a primary residence in the Perpetual's geographical area was 40% (or an annualized rate of 3.43%). Rent growing at twice the rate of the Perpetuals income is a big blow to their budget because housing accounts for about 1/3 of their monthly net income.
Car Payments: A decade ago, the Perpetuals could lease two cars for about $800 per month, including insurance. The price to buy or lease an automobile hasn't changed very much, with official numbers showing only a 5.5% cumulative increase during the past ten years. Declining interest rates offset most of the MSRP increases during the period keeping monthly transportation costs nearly flat.
Gasoline: The other big component for owning a car is fuel cost. The Perpetuals, like all of us, have seen huge price increases at the pump. In fact, since 2003, the price of a gallon of gasoline has increased 88%! That increase is over four times the median household wage increase, increasing the Perpetuals spending from $300 per month on gas to $564 per month.
Food At Home: While it costs a lot to feed a family of four, the price increase over the last ten years hasn't been that dramatic. Still well ahead of wage increases but inline with official CPI numbers, food came in with a 28% increase during the past 10 years.
Health Insurance: The Perpetuals are both self-employed, so they have been paying health insurance premiums for many years. According to the Kaiser Foundation, their health premiums have increased 80% during this time period in question. Remember, that's four times the increase of median household wages and three times the official CPI number.
(As a side note, I have personally seen my own family's health premiums go up a commensurate amount during that same ten year period. In addition, due to the Affordable Care Act, I just saw my PPO plan cancelled and had to purchase a similar high-deductible PPO plan that is now 80% higher...overnight! That will dramatically increase overall health insurance premium costs for 2014 and beyond.)
Education - Private High School: The Perpetual's private high school tuition comes in with an 80% increase for ten years.
(Side note: I know what some of you are thinking. "Come on, private school? You put that in the Perpetual's family budget?" Well, please take this into consideration. As a child, my wife and her five siblings were able to attend Catholic school from kindergarten to eighth grade. Her family never had a lot of money, but somehow they were able to do it. Now, Catholic schools in the Perpetual's area go for thousands of dollars per year. You get a discount of next to nothing for a 2nd, 3rd or 4th child attending. That commitment takes an enormous amount of sacrifice, even for the average two wage earner family in the area.)
Education - Public University: The Perpetual's daughter is attending the University of California, to the tune of a 103% price increase over the last decade. That category has seen the largest price increase by far, especially here in California. For everyone but the wealthy, that is a huge blow to the family's budget.
Miscellaneous Items: The rest of the family's budget will be counted at the official CPI rate. We'll assume that clothing, out-of-pocket medical costs (big assumption there), personal items, etc. all clocked in with comparable gains as the official CPI.
And Now For The Final Tally...
While keeping in mind the important numbers listed earlier (20% cumulative wage increases and a cumulative 26% for the official CPI), let's look at the final cumulative reality-based cost of living increase during the past 10 years: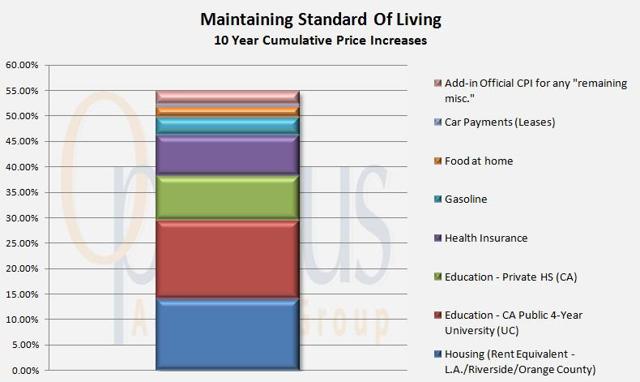 As always, charts make more sense with relative benchmarks: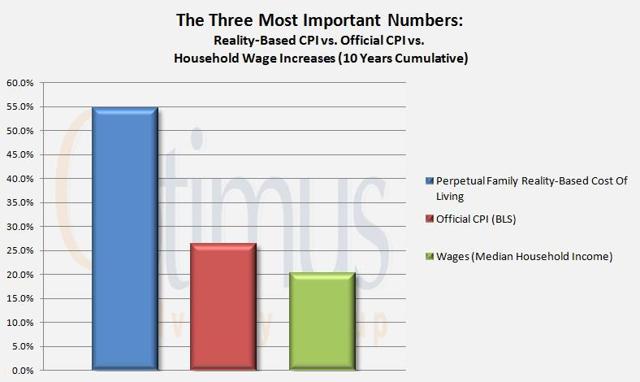 There is a significant difference between the reality-based CPI and the official CPI. In annualized terms, we're looking at 4.28% vs. 2.37%, meaning the average American is falling way behind in their purchasing power.
Let's look at how much money you need to make today in order to mirror your purchasing power just ten years ago: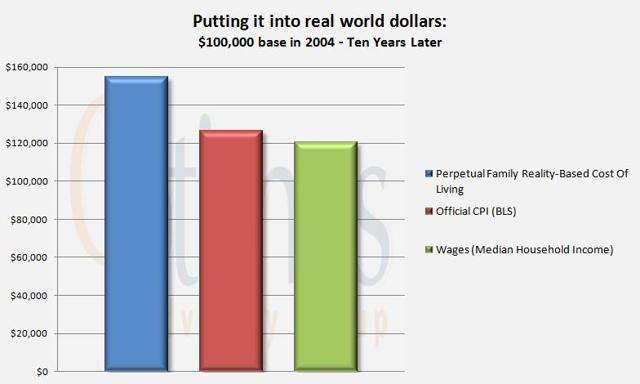 Comparing the blue and red bars, one can see an enormous difference between the real world, the one in which millions of Americans are facing, and the official estimates.
Remember, the median household income rose 20% over those ten years (the Perpetual's net income rose from $100,000 to $120,000), so the official CPI puts the Perpetual's household at a $6,500 annual deficit! By using the reality-based CPI, the deficit is truly staggering by a factor of 5x.
For a deeper look at the problem of lackluster income gains, take a look at this annual change median household income chart since 1985. What you see are clusters of pretty decent annual income increases from 3% to 6%, followed by recession induced stagnating wages and then a climb back to good wage increases again, of typically 3% or higher. Usually that's what happens. But not this time. Since 2007, the median household income fell two of those years and has never seen any annual increases greater than 2%. Crunching numbers another way, 1985-1995 saw cumulative wage gains of 44%, the next ten years were up 37%, but the most recent ten year period only saw gains of slightly higher than 20%.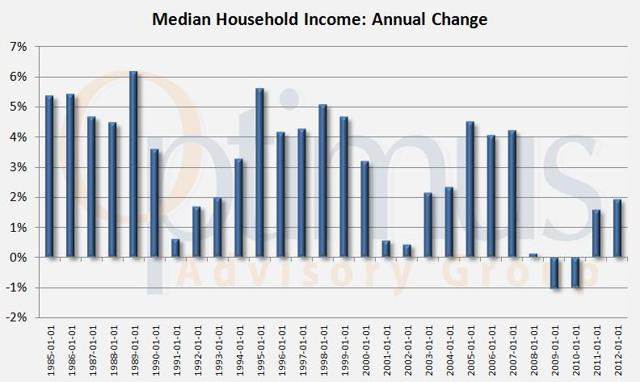 (Source: Bureau of Labor Statistics)
The Bottom-line:
The average American household has fallen and continues to fall way behind in their ability to maintain a constant standard of living. The fact that the Fed has pumped trillions of dollars into the economy to keep it afloat and we still don't have a full-blown recovery seems to indicate something is wrong under the surface.
With everything from annual raises at corporations to social security cost of living increases to inflation-adjusted pensions and annuities all riding on the CPI, we need to have a serious dialog about what exactly is being reported. Make no mistake about it, government and corporations benefit from the current definition of the CPI whereas the average American family would benefit from a reality-based cost of living index.
So, the next time you hear a conversation about how the officially reported CPI number doesn't jive with what your family or friends' own experiences are, know that you are not alone in feeling that way. The numbers back it up. We all need to push for "truth-in-reporting" in the official CPI.
(Sources: Federal Reserve Economic Data, The College Board, California Association of Independent Schools, The Kaiser Foundation, Bureau of Labor Statistics, zillow.com, Blue Shield of California. *The 20.3% cumulative increase in the median household income is as of 1/1/2012. Due to the lag time of BLS reporting, the figures were extrapolated to 12/31/2013.)
Disclosure: The author has no positions in any stocks mentioned, and no plans to initiate any positions within the next 72 hours. The author wrote this article themselves, and it expresses their own opinions. The author is not receiving compensation for it. The author has no business relationship with any company whose stock is mentioned in this article.