(All #s in $Cdn and shares are also traded on the Canadian TSX Venture Exchange under XX.V, Further Disclosure: We own both XX.V and ALXXF)
As we have stated many times before, one way for an investor to significantly outperform the market over the long term is to be a) a true buy and hold investor of high quality companies and b) willing to do things differently than the crowd by purchasing those obscure companies for attractive prices. Readers might have noticed that along with our search through small- and micro-cap companies, we are partial to finding qualified incentivized owner/operators since they have the best chance of compounding capital at high rates over the long term.
The only problem is that micro-caps are notoriously known for poor operations and/or poor - mediocre management teams. That might be the case with a lot of small companies, however, there is a small subset of companies that defy conventional wisdom. Truly outstanding owner/operators that have the skills to allocate capital at very high rates over the long term are present everywhere but quite rare in the micro-cap space. When we do find someone with the proper incentives and skills for capital allocation who is running a quality small or micro-cap business, you can imagine why we get interested. Moreover, our interest grows if the market has been selling off due to short-term results that do not impact the company's long-term intrinsic value.
Avante Logixx (OTC:ALXXF) is one of those rare small companies. It is a nano-cap premium, full service security company with operations in Toronto Canada that is working on consolidating a very fragmented industry. The company's security business has all of the things that long-term investors like: a heavy focus on recurring revenues, high cash-flow/returns on little capital and negative working capital coupled with a highly qualified and incentivized management team to accrete serious value over the long term. The market is negatively viewing short-term performance on Avante's non-recurring revenue and is taking management's lack of insight with the announced acquisition as a negative. We on the other hand disagree. Avante's recurring revenue performance as well as acquisition of INTO Electronics is validation that Avante is following through on their strategy and there is plenty of room to grow shareholder value over the long term. The short-term selloff provides a sizable margin of safety.
Overview
To get some background of the opportunity, we first must understand the dynamics of the security market in Toronto. Since the 1970s there has been a growing number of false security alarms that have been reported to the Toronto police and fire department. Of course, security devices and their automatic triggering/calls have added to the number of false alarms. False alarms have become such a large problem that the city of Toronto has started to issue large fines to individuals whose systems report false alarms and has resulted in slower response times of police and fire fighters. Toronto is even considering scaling back police response to alarms since only 1 out of 12 residential alarms turned out to be legitimate. To put this into context, a majority of the large security companies rely on the police and fire department to respond to alarms which leaves plenty of room for improvement in response times and avoiding paying for false alarms.
The growing fear of crime in Canada has been fueling the growth of a number of security companies that do not rely on the police but offer 24/7 access to a private security force to respond to alarms. The industry is highly fragmented in Ontario alone. There were 626 companies that were listed as licensed agencies under Ontario's Private Security and Investigative Services Act of 2005 as of May 2014. Of those 626, there were 209 agencies listed with the 416 area code which is designated as Toronto. The list is composed of companies providing security guarding, private investigations and a combination of those services listed as dual. Avante is one of 62 dual-listed companies on the list for Toronto and is one of the few publicly-listed companies, while the rest are private.
Opportunity
The large number of small security companies creates an opportunity for a company that has the proper skill sets to roll-up the industry. Avante's co-CEO George Rossolatos has the M&A experience in private equity, as well as the proper alignment (owning >10% of the company), to carefully accrete value over the long term. Rossolatos' previous track record at the private equity firm he co-founded TorQuest (one of Canada's leading PE shops) was quite stellar. The fund's overall IRR from exited investments (2002-2009) was in excess of 60% - all investments along with their theses can be found here. Note that TorQuest Partnership Fund I is the vehicle Rossolatos was involved with and two out of the five investments involved further acquisitions. Those two investments, Granby Industries and CNC Global, were also the best performing with IRRs of 114% and 75%, respectively. This information would indicate that George Rossolatos has above average M&A skill. Moreover, TorQuest's philosophy and values, as found below, are what we like to see from a management team. Rossolatos is likely to continue to abide by these values as he executes his strategy at Avante Logixx.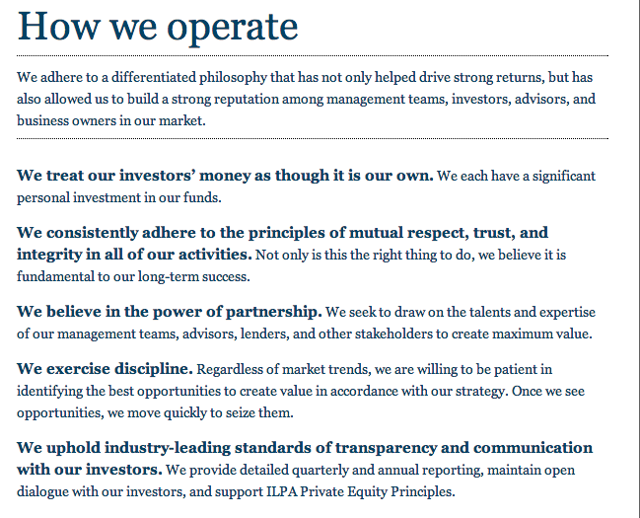 (Source: TorQuest website)
Looking through the listing of security competitors in Canada, we do not find one company with the same M&A experience as Avante. This means that there is less of a chance of another company following the same roll-up strategy in the security space. Further, none of the other "full" service security companies have the same focus on technology, which shows Avante's advantage and as the company grows, there is likely to be a competitor able to match their technology and scale.
Founder Manny Mounouchos continues to own 19.5% of Avante and is on board with the roll-up strategy, so Avante has the best of both worlds while both co-CEOs are highly aligned to accrete value over the long term.
Security Business Model
What we think drew George Rossolatos to Avante was the high economic quality of the security business and the opportunity to consolidate the industry. We agree that Avante's business model is of high quality for a few reasons. A large portion of Avante's revenues are derived from providing constant security services to high net worth residents and businesses. We see this recurring revenue to be quite similar to the insurance industry. People are paying for the peace of mind, and when there is a problem, customers want the problem to be dealt with quickly. Avante continuously works with their clients making sure they meet their client's needs when there is a problem. The company's recurring revenues then are very sticky, provide downside protection and are quite predictable, which are positives for long-term investors. Another indicator of a quality business is cash generation which at Avante >90% of EBITDA turns into FCF. Although this includes the temporary zero effective tax rate and zero debt, even when Avante starts paying tax and taking debt, a large portion of cash will continue to be given back directly to shareholders, reinvested back into the business or used for acquisitions.
With Avante's recurring revenue, cash is paid up front each month while the full security service does not have to be performed or is delayed into the future. The pay now before the full service is provided creates a negative working capital environment where capital can be deployed before the service is fully provided. This phenomenon is not much different than Walmart turning over their inventory quicker than they have to pay their suppliers. Such companies are essentially paid by others to run their companies. Another example, Avante is often paid by customers to deliver a new customized service which can be later sold to other clients. As Avante grows, they theoretically need $0 of capital to run the business and can use cash flows to fund value accreting opportunities. Currently, the company has a balance sheet that has positive working capital, however, that is due to the equity raise earlier this year. As time goes on and the company continues to make acquisitions it is likely that working capital will trend towards negative, and contrary to conventional thinking, it will be a good thing.
Prudent capital allocation then becomes a major concern. Avante witnessed poor capital allocation before George Rossolatos invested in Avante and became co-CEO. Rossolatos turned Avante around and is now starting to consolidate the highly fragmented industry in Toronto with the purchase of INTO Electronics.
INTO Acquisition And Earnings
George Rossolatos has made it clear that Avante is focused on buying quality companies for fair prices - in this case 3-5x EBITDA multiples. On the recent earnings call that announced the acquisition of INTO Electronics, Rossolatos was hesitant to reveal the multiple of EBITDA the company was purchased for and kept referencing the company was a private company but was profitable. This lack of transparency left some investors uneasy, but we think that Rossolatos' response was smart. Private companies can oftentimes run bloated expense structures since there is no public to report to. It is highly likely that INTO might have been running a tad higher on expenses that Rossolatos has estimated can be modified. By referencing a trailing EBITDA multiple it would seem like Avante paid a higher price than they have been saying they are willing to pay. That would be masking the true normalized EBITDA that is likely to be obtained in the future. It is likely that the price Avante paid is close to Rossolatos' upper buy price of 5x EBITDA including the estimated modification of expenses. He is essentially setting investor expectations low allowing Avante to leap over them since he has not had the chance to look at the company from the inside. This expectation management characteristic, we feel, is an indication of a high quality manager when most small company management teams are likely to over promise and under-deliver.
Also during the recent earnings call, Avante reported that their non-recurring revenues declined 25% while recurring revenues only increased 12%. The market took both the news of acquisition and the results as a negative, resulting in an 11% sell-off. We think the market's knee-jerk reaction overlooks the steadily increasing quality of the company. The INTO acquisition adds $800,000 or 25% to Avante's recurring revenue on top of the 12% organic increase of Avante's recurring revenue. Avante is likely to cross sell their services to INTO's clients and vice versa, while the organic growth of recurring revenues should benefit further from the recently initiated marketing campaign by the company.
Additionally, the acquisition of INTO should be immediately accretive to Avante. Although we cannot calculate the exact value of accretion yet because of the limited information known on INTO, the multiple of revenues that Avante bought INTO provides some insight. Avante trades at roughly 2.5x revenues while INTO was purchased for ~1.5x revenues. Avante essentially buys a 31% increase in revenues but only pays approximately 60 cents on the dollar for those revenues (assuming the market re-rates Avante to 2.5x revenue once INTO is integrated). How much in synergies and integration that can be found between Avante and INTO is to be seen, but we think the market might be quite short sighted in its reaction to both the earnings and the acquisition. We see the intrinsic value of the company growing.
Valuation
The recent sell-off now allows investors to purchase Avante for an attractive price although it is still not trading like a net-net since it is a quality company. Trailing numbers are relatively cheap for the quality: EV/EBITDA = 12x, 2.5x revenues and 2.8 times book. Competitors trade for roughly 4.4x revenues and an EV/EBITDA of 32.8x (according to Avante presentation). Avante continues to grow recurring revenues at a low double digit rate organically and 25% with the acquisition. Cross selling opportunities should be present upon the completion INTO and future acquisitions.
As we stated above it is likely that the price Avante paid for INTO Electronics could be close to a 5x EBITDA multiple after including some cost cutting and synergies. That would indicate that EBITDA would grow $500k or 33% to ~$2 million. Forward EBITDA then could be closer to $2 million making EV/EBITDA = ~7.7x and the market-cap 1.9x revenues. If Avante were to merely revert to their trailing multiples after the integration of INTO Electronics, then shares would have to increase >30%. The recent sell-off provides a sizable margin of safety for Avante to accrete value at large rates over the long term.
Avante has only started acquiring companies, it still has ~$4.3 million in cash after the INTO acquisition, and is likely to be close on closing a few more deals over the coming quarters. Valuing acquisitions without knowing when and what make this difficult to value, however, we think that George Rossolatos' 4-month period to acquire INTO shows that the company will take its time with finding the right opportunity for the right price. This means that future acquisitions are highly likely to be immediately accretive. If Avante is able to achieve annual organic growth of 20% alone, then the market is ascribing little value to growth in acquisitions.
Risks
Avante is traded both in the US and Canada, and as a nano-cap stock both tickers are normally illiquid (more so in the US). The recent selloff has added to liquidity which could persist for a short time, providing greater opportunities to buy. One must take into account the volatility when considering a purchase as an order could raise the price and moderately large sells can send the shares quite a bit lower. We think this risk is mitigated by the high quality nature of the company's operations, quality of incentivized managers and acquisition strategy.
Non-recurring revenues can fluctuate and as the recent earnings results have shown, lower non-recurring revenues can send shares lower. Avante management has stated many times in presentations and on the earnings call that they are focused on growing recurring revenues.
Avante's 10 largest customers made up 38.5% of total revenues in the most recent investor presentation. Any material loss of a number of clients could be a problem for Avante. We think revenue is further diversified once the INTO Electronics acquisition has completed and with each future acquisitions. Also, the sticky nature of the security recurring revenues makes it highly likely that a number of customers leave.
An M&A strategy oftentimes is a poor strategy for most CEOs since they do not have the skills of purchasing quality assets for fair to cheap prices and following through with the integration of operations. We feel Avante is an exception since George Rossolatos has a clearly demonstrated ability in the M&A space.
Conclusion
Avante Logixx's recent earnings call and announcement of their first acquisition has left the market wanting more, but we see the company carefully following through on their strategy. The company's recurring revenues grew at a healthy clip and the acquisition will add further to recurring revenues. George Rossolatos' remarks on the INTO Electronics acquisition further prove that he is setting investor expectations where they should be, low. By looking for and setting up 1-foot bars to step over, his jumps over the bars will be easy. A manager with such a mentality, backed up by high ownership and capital allocation skill in the nano-cap sphere is rare. A reversion back to trailing multiples could easily send shares up >30% while continued execution of the roll-up and marketing success should accrete value well into the future.
Disclosure: The author is long ALXXF. The author wrote this article themselves, and it expresses their own opinions. The author is not receiving compensation for it (other than from Seeking Alpha). The author has no business relationship with any company whose stock is mentioned in this article.
Additional disclosure: This article is meant for instructional purposes and not meant as a recommendation to buy or sell. The only kind of intelligent investing is through your own due diligence.
Editor's Note: This article covers one or more stocks trading at less than $1 per share and/or with less than a $100 million market cap. Please be aware of the risks associated with these stocks.