by Mike McDermott
Shares of Ctrip.com Intl Ltd. (NASDAQ:CTRP) were off more than 6% and continuing to push lower as we headed into the close. The stock has been a high-flyer "risk-on" trading vehicle for the last several quarters – rallying more than 400% from the 2009 lows ().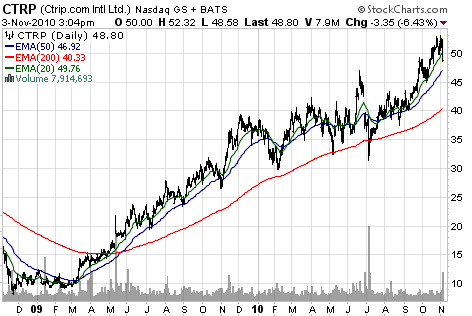 The company reported earnings that solidly beat analyst expectations, but the "buy the rumor, sell the news" trading style seems to be in place. The big question is whether CTRP's stumble indicates a change in traders' risk appetite for Chinese momentum stocks, or if the sell-off is an isolated event.
A few bullet points from the earnings announcement:
Revenue at $121.3 mil versus expectations of $116.9 mil
EPS at $0.31 versus expectations of $0.24
Gross margin of 78% in Q3, last year was $77%
Management guiding Q4 growth of 30% to 35%

This implies Q4 revenue of $107 to $112 mil – below consensus expectations at $116.4 mil)
One of the biggest problems with momentum stocks is that investors extrapolate strong performance into infinity. No company can grow revenue at a 50% annualized level forever – not even Apple Corp.! Eventually market forces will catch up.
Excessive profit attracts competition
- The law of large numbers makes growth rates more challenging
- Customer bases are eventually finite
- People (and companies) make mistakes
Ctrip.com is likely to have a number of strong growth quarters ahead of it. 30% to 35% growth is certainly a healthy level for almost any business. But it appears that optimistic investors have priced in a much more aggressive growth rate which will be challenging for CTRP to meet. When a momentum company fails to live up to expectations, two things usually occur:
Earnings expectations begin to contract. (we are already seeing analysts adjust their CTRP models lower)
Price multiples begin to decline. (If CTRP's growth rate is slower, you will pay less for every dollar of expected earnings)
Yesterday's break may be the beginning of a trend reversal for CTRP. Since investors are paying more than $50 for every dollar the company is supposed to earn this year, the stock could drop significantly before value buyers are willing to step in and support the price.
With that said, CTRP could very easily become a "risk-off" trading candidate for participating in any broad trend away from emerging markets and China in particular.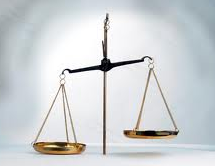 Balance and Counterbalance
On the other hand, the Mercenary method is to seek a balanced book of trades with bearish exposure helping to counterbalance risk in bullish bets and so forth.
CTRP represents one of the bearish ways we can play a "risk off" China environment, while at the same time, a few China media companies represent some of the more attractive "risk ON" trading vehicles for periods where emerging markets are capturing bullish attention.
There is a significant amount of uncertainty in China surrounding growth rates, currency stability, trade regulation, and plenty of other issues as well. Our trading strategy is to have a number of key vehicles lined up with strong fundamental and technical foundations for either higher or lower price movements. Then as the details emerge and the sentiment shifts, we are prepared to take action on either side.
If Ctrip's announcement is the beginning of a much broader move for Chinese equities, there will be a number of additional short names for us to add to the list. So stay tuned and keep that risk carefully managed!
Disclosure: As active traders, authors may have positions long or short in any securities mentioned. Full disclaimer can be found here.