As the Bespoke Investment chart shows, US bank stocks have significantly underperformed the market since last spring. In fact, the market capitalization of the 15 US bank stocks that I track declined 8.1% since March 10, 2010 while the S%P 500 Index rose 3.9%. For the same period, the market cap of the 10 European banks tracked gained 3.8% while that of the 6 Canadian banks gained 3.6%, all in US dollar term.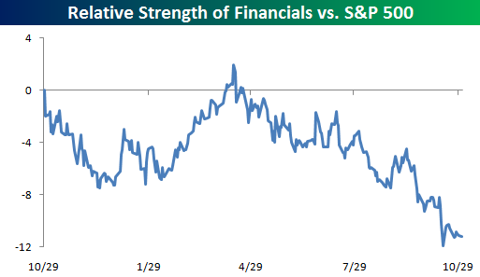 During that period, Citigroup's (NYSE:C) market cap jumped 24% from $97.5B to $121B while Bank of America's (NYSE:BAC) market cap collapsed 30% from $164B to $115B. BAC's rank dropped from # 3 to #5 while C's moved up from #6 to #4.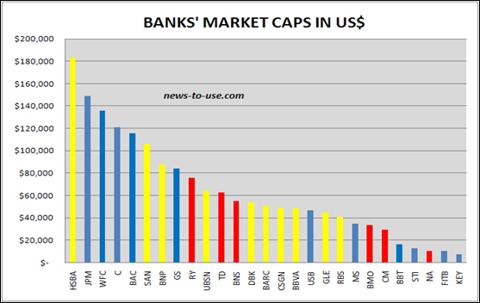 Interestingly, Citigroup's ranking improved from #17 in May 2009 in spite of the fact that its stock price barely moved from $4.00 per share in mid-May 2009 to $4.17 last November 1. How's that? Shares outstanding went from 5.5B to almost 29B currently. Do investors really believe that C's earnings power was multiplied five fold in the meantime?
During the same period, Royal Bank of Scotland (NYSE:RBS), the ultimate European zombie, multiplied its number of shares by 3.4x and its share price also remained essentially unchanged. It seems that equity markets had anticipated the recapitalization of these 2 zombies back in 2009. Time will tell if markets were wise enough.
Canadian banks continue to dominate the valuation spectrum when price to book ratios are considered. Canadian banks occupy 6 of the 7 top spots on P/B, all of them showing a P/B ratio above 1.6x with the average being 2.1x, more than double the 1.0x average P/B of the 11 US and 10 European banks tracked here. The same is true for Tangible P/B.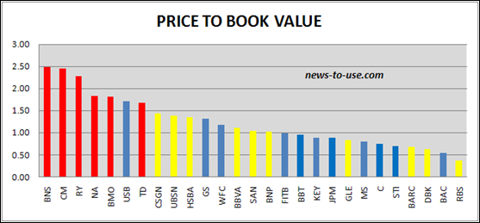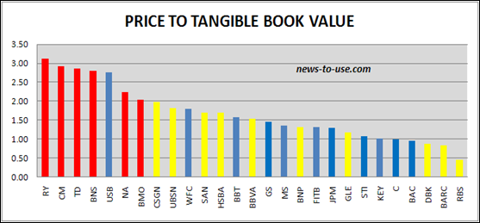 Not surprisingly, Canadian banks sport the best ROEs with a 17.4% average. This compares with 6.6% for the US banks and 8.9% for the European banks (excluding HSBC (HBC)).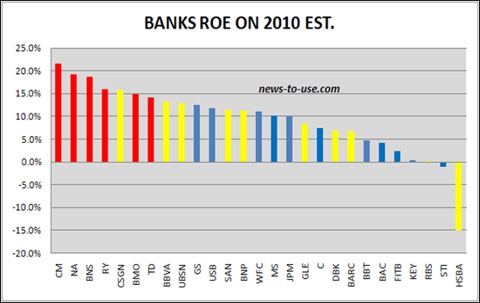 The price of Growth
The best tool to relate bank valuations is P/B vs ROE. How much are investors paying for growth as measured by returns on book? Normally, the higher the ROE, the higher the price to book value.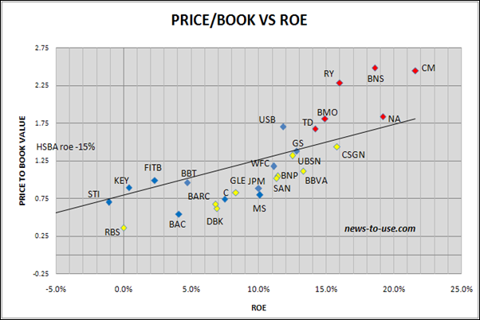 Three Canadian banks are currently enjoying large premiums on P/B given their relative ROEs. That premium has increased in the last 18 months (see lower chart dated May 2009). European banks continue to sell at a relative discount to BV given their expected 2010 ROEs as investors remain highly sceptical of European banks future earnings power. One analyst sees a value trap here:
Ostensibly the valuation attractions of the sector are compelling. Even factoring in our 'headline' earnings estimates for 2012 (4% lower than current consensus), and using a current cost of capital, upside to notional 'fair value' of nearly 25% exists for our weighted bank universe. However, when realistic regulatory earnings and risk-inventory NAV adjustments are made to individual names and a 'mid-cycle appropriate' rather than current 'trough' cost of capital are combined within valuation metrics, the 'depth' of apparent undervaluation is shown to be largely illusory. (From Execution Noble via ft.com)
It is interesting, but not terribly surprising, to see that many of the expensive outliers vs the regression line back in May 2009 have gone back into the ranks. That is particularly true for USBN, WFC and CSGN. Also, the 3 cheaper Canadian banks (TD, BMO and NA) have moved at a premium as their ROEs have improved further in the past year. As a result, all Canadian banks are selling at a premium currently although NA appears relatively cheap compared with its Canadian peers.
AS OF MAY 10, 2009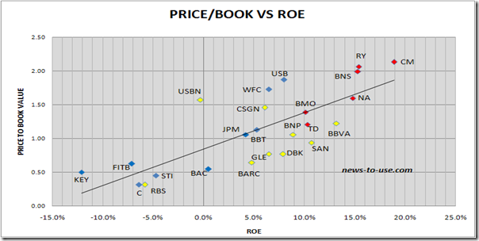 Disclosure: Long STD, TD, BMO, NA