The ISM Non-Manufacturing Index registered 54.3% in October, 1.1% higher than in September. The report also indicated a slightly faster rate of growth in the non-manufacturing sector.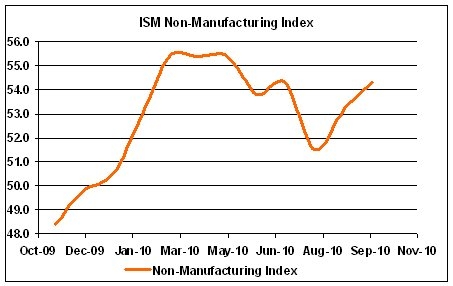 Source: The Mays Report
The largest increase was in the Prices Index, which registered at 68.3%, up 8.3% from September.
Some of the price increases reported were in Airline Tickets; Beef; Pork; Computer Accessories; Copper; Cotton Products; Dairy; Gasoline; and Lumber Products. Higher beef and pork prices are mildly bullish for the KMG Chemicals' (KMGB) Animal Health business, whose customers buy more animal health pesticides when selling prices are higher. The pesticides help to ensure proper weight gain as flies and other pests can cause animals not to gain proper weight.
Overall, 13 of the 18 reporting industries reported an increase in prices paid. The most notable increases were in the Wholesale and Retail Trades, which should be reflected in the October CPI and PPI data, to be released later this month, and the Construction industry, which already has its share of problems. No respondent reported a decline in prices. The ISM Manufacturing report released on November 1st reported an increase in the price of steel. This should help steel makers like AK Steel (NYSE:AKS) and Steel Dynamics (NASDAQ:STLD) pass on some of those relatively higher Scrap Iron prices and improve their margins in the already weak steel industry.
The Business Activity Index was also up by a sizeable margin, registering at 58.4% for an increase of 5.6%. Of the 18 industries reporting, ten industries reported an increase in activity, three reported a decrease with the remaining five reporting unchanged. Comments from respondents include:
Continued strength in core businesses and capital expenditures for the balance of 2010" and "Increase in service calls/requests for service.
Offsetting these increases were decreases in the Supplier Deliveries and New Export Orders Indexes, which decreased by -4.0% and -2.5% respectively.
Disclosure: The author of this article has a long position in AK Steel (AKS). Neither the author of this article or any family members own shares in KMG Chemicals (KMGB) or Steel Dyanamics (STLD) as of this writing. For a complete disclosure of my policy regarding ownership of stocks written about or recommended, please see my about page.