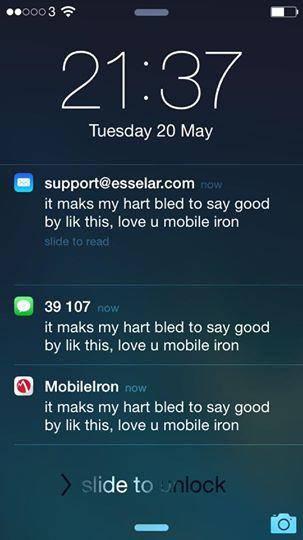 Picture: Message from Aviva UK hackers. Source: crackberry.com
Earlier this month International Business Machines Corporation (NYSE:IBM) and Apple Inc. (NASDAQ:AAPL) announced a partnership to transform enterprise mobility. Their product offering is expected to have four key capabilities:
More than 100 industry-specific enterprise solutions, including apps developed exclusively for iPhone and iPad;
unique IBM cloud services optimized for iOS, including device management, security, analytics and mobile integration;
new AppleCare services and support;
new packaged offerings from IBM device activation, supply and management.
Wow! To say the announcement was met with much fanfare would be an understatement. Some have even suggested the partnership will be the end of BlackBerry Limited (NASDAQ:BBRY), whose bread and butter is technology solutions for the enterprise and government. BlackBerry's stock declined nearly 12% the day the partnership was announced. When I read the press release my first thoughts were, [i] BlackBerry may be damaged initially, but long term it would be a "net-win", and [ii] talk of the partnership destroying BlackBerry are overblown. However, I decided to follow the facts before coming to a conclusion. Here goes:
Software Sales
Win For IBM
Having thousands of iPads and iPhones pre-loaded with IBM apps offers IBM the opportunity to make money on software. IBM could also offer cloud services for iOS devices, including device management, security, etc. It would allow IBM to [i] become more entrenched with its customer base and [ii] become more competitive in cloud services.
Win For Apple
Apple would receive revenue from its AppleCare which offers technical and software support for Apple hardware. This revenue stream would probably only come from the incremental handsets sold to IBM clients who are not using Apple devices already. The revenue stream is so irrelevant it is almost worth not mentioning.
Loss For BlackBerry
Up front, the pact would allow IBM to ward off BlackBerry from poaching IBM clients with its own cloud services, enterprise or mobile device management services. This sounds more like an "opportunity cost" than an actual loss of clients or revenue to BlackBerry. T. Michael Walkley of Canaccord Genuity believes the alliance will allow IBM to steal market share in the global enterprise market:
"While Apple's iPhone and iPad devices have grown share of the enterprise mobility market the past several years, particularly in developed markets, we believe this partnership could further accelerate iOS penetration in and share of the global enterprise market… In fact, we believe this partnership could add some potential upside to our above consensus FY14/FY15 Apple estimates and expectations for a record iPhone 6 upgrade cycle."
My interpretation of these comments is that IBM/iOS could penetrate markets beyond IBM's existing customer base, dealing a blow to BlackBerry. There is definitely a risk of this. However, clients who choose BlackBerry in the enterprise market do so for one particular reason - security. Nowhere has anyone explained how IBM's enterprise suite offers better security than BlackBerry's. Secondly, BlackBerry CEO John Chen is on record as saying, "Everything BlackBerry does is about security. We will not lose that fight." In my silly mind, the unique apps, Apple iGadgets and ease of use offered by the IBM/BlackBerry alliance sounds like more of a threat to non-BlackBerry competitors in the space.
Hardware Sales
Win For Apple
It could mean incremental sales of iPhones and iPads to Fortune 500 clients. Since Apple has already penetrated this market, the incremental revenue would not have much impact on Apple's bottom line.
If iOS becomes cemented as the must-have platform for enterprise management, it presents the opportunity for Apple to sell even more handset devices. I doubt this occurs as corporations [i] may want an "open source" as it pertains to the handsets their employees use, [ii] some corporations allow employees the option to bring your own devices "BYOD" to work, and access confidential information of the company and applications.
Loss For BlackBerry
BlackBerry's loss of market share in handsets to Apple has been well-documented. Apple's potential incremental handset sales from its partnering arrangement with IBM will most likely come at the expense of Android devices. It's hard to take share from BlackBerry when its share is already miniscule.
Public Relations Battle
Win For BlackBerry
The fact that Apple and IBM would provide a press release for their partnering arrangement is rather odd, particularly since the potential revenue is mostly "incremental" and does not appear to warrant a big announcement. The fact the two tech giants have trumpeted their alliance may have been an attempt for IBM to win the PR battle against BlackBerry in enterprise management, or Apple's attempt to take investors' focus off the new iPhone 6's expected cannibalization of the iPad. Chip Chowdhry of Global Equities went so far as to say:
We are skeptical about the timing of the deal, which makes us wonder if IBM, and may be even AAPL are going to miss their revenue expectations... It is something out of the ordinary for both AAPL as well as IBM to make such an announcement, while both companies are in their quiet (sic) period.
The marketing blitz orchestrated by Apple and IBM on the front-end of their pact means one thing - there will be equal fanfare once one of their Fortune 500 clients turn to BlackBerry after a security breach. BlackBerry is known for its lack of advertising. However, high profile security breaches by competitors oftentimes act as de facto public relations for the company.
High Profile Security Breaches By BlackBerry Competitors
German Chancellor Angela Merkel - After Edwin Snowden revealed the NSA had hacked Angela Merkel's iPhone, nothing comes between Angela and her BlackBerry:
The German Chancellor's security advisors dumped the iPhone in exchange for 5,000 BlackBerry Z10s. Ms. Merkel was recently featured in Focus Magazine holding her personal BlackBerry Q10, encrypted by the German company SecusSmart. In effect, other phones' failures are opportunities for BlackBerry.
On my previous article, I highlighted how Aviva UK turned to BlackBerry after its mobile device management systems were hacked and exposed to the heartbleed bug:
Mobile device management systems at UK insurance giant Aviva UK were compromised by hackers who exposed them to the Heartbleed Bug. On May 20th a hacker posted a message to 1,000 of Aviva's mobile devices such as iPhones and iPads... saying something to the effect, "It makes my heart bleed to say goodbye like this. Love you Mobile Iron." Aviva was using BYOD service MobileIron (NASDAQ:MOBL) to manage the devices. The hacker did a full swipe of each of the devices, and allegedly cost Aviva millions in damages... Aviva reportedly moved employees affected by the bug to BlackBerry 10 to manage all of their Apple devices.
We have since received from representatives of MobileIron the following details concerning the reported incident:
"The Aviva incident had nothing to do with Heartbleed. We investigated and concluded that this incident neither resulted from nor exploited any compromise or vulnerability in MobileIron systems or software. All indications are that this was an isolated incident that does not represent a threat to other MobileIron customers."
My Heart Bleeds
My heart bleeds for the Apple/IBM alliance. After security breaches force enterprise clients to turn to BlackBerry, it will [i] create a public relations nightmare and [ii] force existing Fortune 500 clients to realize that having their confidential information protected by BlackBerry's best-in-class security far outweighs the apps and ease of use marketed by Apple/IBM.
My heart bleeds for the IT managers who will be fired with the reminder, "You should have chosen BlackBerry." In the age of the "Internet of Things," it is unacceptable for IT managers to entrust their companies' and employees' confidential information to the sales driven culture of Apple/IBM. The IT managers at the German government or Aviva UK may have been given a pass because after all, "Who knew?" We now know that the more corporations and their employees rely on mobile devices, the more their confidential data is susceptible to hackers.
My heart bleeds for those who sold BlackBerry shares out of fear the Apple/IBM alliance would hurt BlackBerry. Once the market realizes the partnership merely underscores the importance of enterprise technology and will result in de facto PR for BlackBerry, the stock may be too expensive to buy back into.
My heart bleeds for shorts who haven't taken their profits on the pullback in BlackBerry shares. After BlackBerry fights gravity during its next earnings announcement, those paper gains will turn from black to red.
Conclusion
The Apple/IBM pact will further entrench IBM to its enterprise client base and provide incremental revenue for Apple. Those incremental revenue gains will be short-lived once lapses in security spur their clients to turn to BlackBerry. My heart bleeds for Apple/IBM.
Disclosure: The author is long BBRY. The author wrote this article themselves, and it expresses their own opinions. The author is not receiving compensation for it (other than from Seeking Alpha). The author has no business relationship with any company whose stock is mentioned in this article.