Many companies that are successful in their home market try to acquire new subsidiaries abroad. Often this leads to the desired results. But sometimes, the exact opposite is true: The company is not able to handle the acquisition financially and gets into massive troubles. In the worst case there is even the possibility of a bankruptcy. Such a case is Air New Zealand (OTC:ANZFF). After acquiring Ansett Australia the airline was not able to bear the costs and almost went into bankruptcy. Due to the national importance of the airline New Zealand invested NZD885 million (USD761 million) in 2001. The state as a majority shareholder has given the airline the stability that was required for its turnaround. Up to now, the government has received more than NZD500 million (USD430 million) in dividends. As New Zealand is slowly selling its share, there is now the opportunity to get involved for private investors in a highly profitable airline. (NZD1 = USD0.86)
Overview
Air New Zealand is the national airline of New Zealand. Based in Auckland, the airline offers passenger flights to domestic and international destinations on 4 continents. Air New Zealand is also a member of the Star Alliance global airline alliance. With 105 aircrafts (average age: 9.5 years) and about 11,000 employees the company delivers more than 13 million customer journeys annually. Air New Zealand also has subsidiaries that are active in engineering and consulting, both mainly serving the aviation industry. Air New Zealand divides its operations in three zones: Domestic, Tasman & Pacific Islands and International.
As mentioned above, the company has a changeable history. Founded in 1940 as Tasman Empire Airway Limited, the company was first privatized in 1989. In 2000, Air New Zealand merged with Ansett Australia, but was not able to bear all associated costs. In October 2001, the airline was nationalized to save it from bankruptcy. In November 2013, New Zealand government reduced its share in the airline from 73% to 53%.
Air New Zealand's business year starts on July 1, so interim results refer to the period between July and December, that has normally higher revenues than the other half of the year. All numbers in this article refer to Annual Report 2012/2013 and Interim Report 2013/2014.
Results 2012/2013
This period was a very successful year for Air New Zealand, as profit rose by more than 170%. I have summarized the most important numbers in the table below: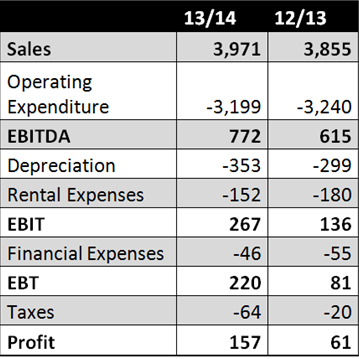 (all figures in millions of USD)
Total revenue increased by 3%, mostly due to passenger revenue that increased by 3.6%. Air New Zealand was able to decrease its operational expenses by 1.2%, mostly attributed to lower fuel costs and efficiency improvement. The combination of changes in revenue and expenditure led to an increase in EBITDA by 25% to USD772 million. A fleet replacement programs resulted in increased depreciation, but also in a reduction of lease costs as owned aircraft replaced operating leased aircraft. Financing costs also went down by 15% due to lower interest rates. Altogether, Air New Zealand was able to increase its after tax profit by more than 150%. ROCE was about 10%.
Cash flow from operating activities was highly positive with USD645 million. It was sufficient to balance the effect of negative cash flows from investing and financial activities (USD412 million and USD126 million, respectively). In business year 2012/2013 total dividend (interim plus final) was 8 New Zealand cents (USD0.069) per share.
Results 6M 2013/2014
Air New Zealand saw a decrease in sales of 1.6% in this period, but was able to increase its profit by 40%. I have summarized the most important results in the following table: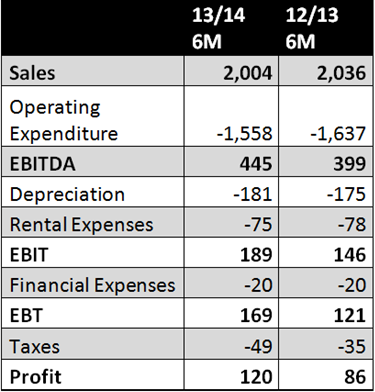 (all figures in millions of USD)
Although the number of passengers rose by 2% compared to the period before, total revenue was down 1.6%. This can mostly be attributed to non-passenger revenue (cargo, contract services and other revenues) that fell down by more than 9%. Operating expenditures went down by 4.8%. Especially the decrease in the cost of fuel is notable (10%). EBITDA rose by 11% and as depreciation and rental expenses remained roughly equal, EBIT rose by 30% to USD189 million. As financial expenses went down, net profit rose by 40% to USD120 million.
Number of passengers carried in segment Domestic and Tasman & Pacific Island rose by 2.7% and 2.4%, respectively, while in division International the number of customers fell down by 2.7%. Reason for this lies in the fact that the company exited from the poor performing Auckland-Osaka and Hong Kong-London routes. This decision is also responsible for the decrease in Cargo revenues. Costs per available seat kilometer went down from 9.6 US cents in 6M 2012/2013 to 9.33 US cents in 6M 2013/2014 due to fleet modernization and simplification.
Operational cash flow in 6M 2013/14 was plus USD285 million. As Air New Zealand invested in new equipment and acquired a further 3% stake in Virgin Australia in 6M 2013/14, investing cash flow rose to minus USD273 million. Cash flow from financing activities was minus USD4.3 million.
In its outlook Air New Zealand's management expects earnings before taxes to exceed USD258 million this business year. Assuming USD275 million and a similar tax rate as the company had to pay last year (29%), this would mean a profit of USD195 million. At today's market capitalization (USD1,959 million; NZD2,246 million) P/E would be about 10 and ROCE 12.5%. P/B is roughly 1.2. Due to the good results an interim dividend of 4.5 New Zealand cents (USD0.039) per share was declared, an increase of 50% compared to the period one year before. At today's share price of NZD2 (USD1.72), dividend yield from interim dividend alone is 2.25%.
At the end of 2013 Air New Zealand had a balance sum of USD4,797 million. As equity was USD1,554 million, debt-to-equity ratio was about 2.08. Air New Zealand held USD970 million on its bank account and in other short term deposits. The biggest parts of the assets consisted of property, plant and equipment, that amounted for USD2,534 million. Hardly any goodwill can be found in the last balance of Air New Zealand, only USD63 million. On the liability side, interest-bearing liabilities amounted to USD1,242 million. Revenue in advance was USD931 million, which can also partially explain the relatively low financial expenses.
Risks
Airlines are active in one of the business sectors, that are most affected by external effects. It is no wonder that terrorism, a sudden rise in fuel prices and war are sometimes known as the greatest threats to aviation. Any such an occurrence could harm Air New Zealand's operations severely.
Additionally, there is always the risk of an air crash.
Conclusion
If I compare Air New Zealand to its biggest competitor in its area of operation, the Australian airline Qantas, I see the true value of ANZFF. Qantas was not able to earn money in the last years and despite its low P/B (0.48) value I would not buy it. On the other hand, the management (the CEO did not change during the last 12 years) of Air New Zealand has proven its capability when it was able to achieve the turnaround after the disastrous expansion. In the last years the airline had a steady and profitable performance. The fact that the majority of its stock was owned by the government did in no way lead to inefficiency. In my opinion Air New Zealand does also have a deep moat. I can hard imagine that any other airline would expand its operations to domestic flights in New Zealand. The necessary investment to compete with Air New Zealand would be much too high. I expect that Air New Zealand will be able to maintain its current profitability and ROCE. At today's market capitalization, the company is a safe investment in my opinion. With a P/E of around 10, a relatively low P/B of 1.3 and a dividend yield above 5% there is not much that can go wrong.
Disclosure: The author has no positions in any stocks mentioned, and no plans to initiate any positions within the next 72 hours. The author wrote this article themselves, and it expresses their own opinions. The author is not receiving compensation for it (other than from Seeking Alpha). The author has no business relationship with any company whose stock is mentioned in this article.
Editor's Note: This article discusses one or more securities that do not trade on a major U.S. exchange. Please be aware of the risks associated with these stocks.