When I study the FASTGraph for Realty Income (NYSE:O) below, I observe a security that is trading at "sound" value. Not a "bargain" or what Ben Graham would describe as a stock trading at a considerable discount from the current underlying value. In the language of a value investor, Realty Income does not enjoy a "margin of safety" that Ben Graham described as "buying a dollar for fifty cents."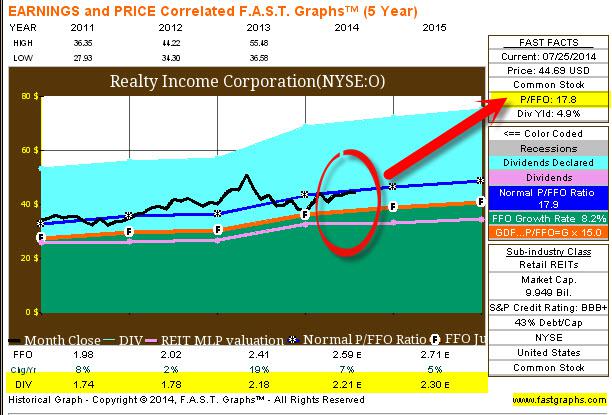 When I compare Realty Income with the other available free-standing Net Lease REITs and specifically, the gap between the price and value of each company, we can see that the variation between a cheap stock and expensive one is wide. Realty Income's Price to Funds from Operations (P/FFO) multiple is 17.2 compared with the peer group average P/FFO multiple of 14.8x.

Sometimes a value investor will review in depth a handful of potential investments without finding a single one that is sufficiently attractive. Such persistence is necessary since value is often well hidden. Summed up, it's the disciplined pursuit of bargains that makes value investing a risk-averse approach.
I have written over 500 articles on Seeking Alpha and while I have purchased around 20 REIT stocks, it's the discipline to NOT invest that has made me stand apart and wait for the right pitch. Also, value investors must consistently reexamine current stock holdings in an effort to make sure that the company is still attractive and that the integrity of the stock is intact.
The latter is the case for me. I purchased shares in Realty Income in August (2013) and January (2014). My dollar cost average in my Realty Income shares is $38.53. I was not a buyer when shares were trading at over $55.00 a share in May (2013) and I waited on the right pitch to get in the game. As evidenced by the snapshot below, my batting average is solid - shares are up 21.51% since January 3rd (my last purchase) and soundly beating the 9.22% return delivered by the S&P 500 (during the same time).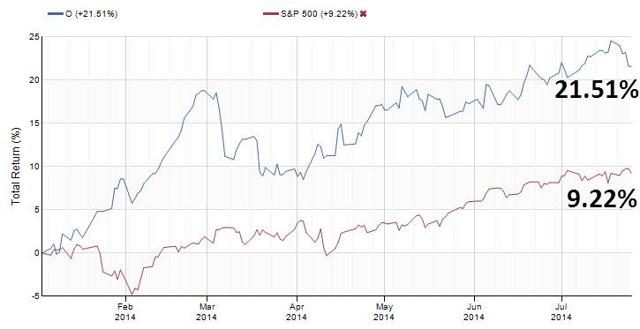 My dividend yield when I purchased shares in January was 5.80% and the current yield (based on a price of $44.69) is 4.91%.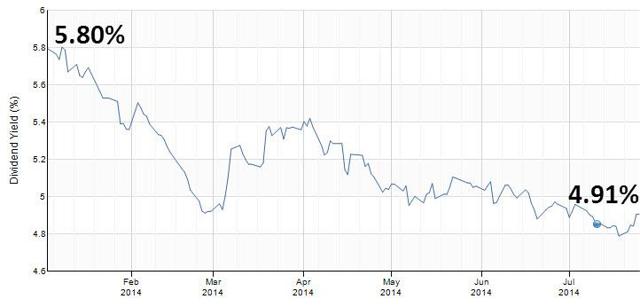 Compared with the peer group, Realty Income's dividend yield is below the average yield of 5.67%.

Realty Income recently increased its monthly dividend from $.1825 to $.1828 and the annual dividend payout has grown by around 1.8%. That's not much of a dividend increase; however, remember that Realty Income increased its dividend by over 22% in 2013. The company's average 3-year dividend growth is around 8.9%.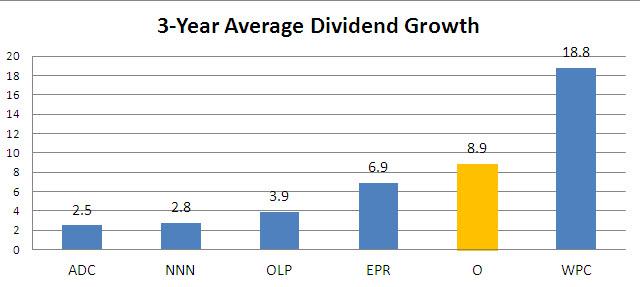 More importantly, Realty Income has increased its annual dividend for almost 20 years in a row. Granted, the increase was modest in 2009 when the raise was a fraction - from $1.701 (in 2008) to $1.716 (in 2009) - the company did not cut and it stayed true to its brand message: "The Monthly Dividend Compan."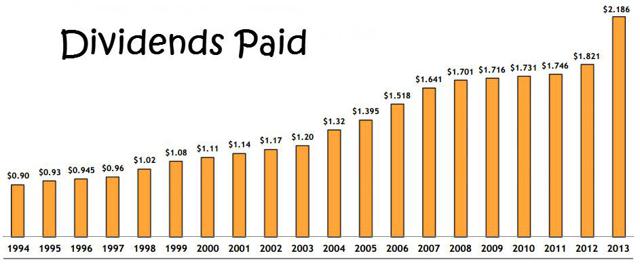 The Latest Earnings
In the latest (second) quarter, Realty Income posted solid operating results with Adjusted Funds from Operations (or FFO) per share increasing 8.5% to $0.64.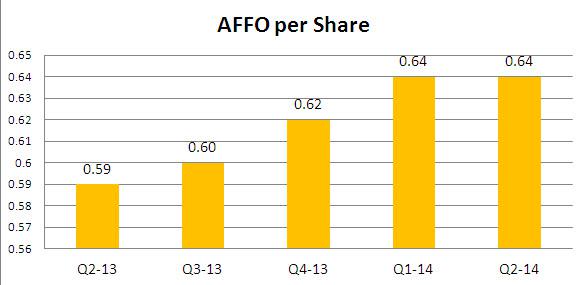 Realty Income raised its FFO guidance for 2014 FFO per share to $2.59 to $2.62 which represents an 8.1% increase at the mid-point of the range over 2013 FFO. Also the company raised the mid-point AFFO per share guidance to $2.55 to $2.57, which represents a 6.2% increase at the mid-point of the range over 2013 AFFO.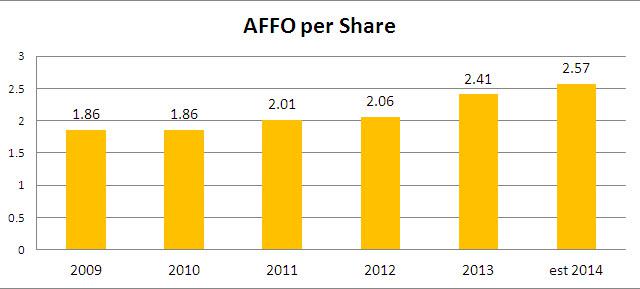 As referenced above, Realty Income increased its cash monthly dividend and the monthly divided now equates to a current annualized amount of approximately $2.194 per share. The dividend is well covered.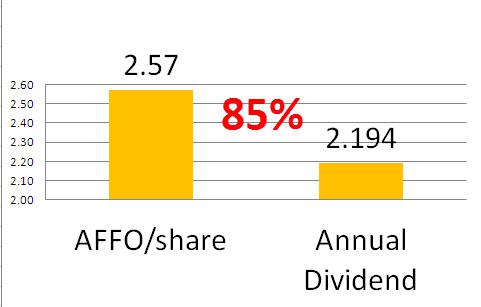 Realty Income's occupancy remains consistent with the previous quarter at 98.3% based on the number of properties with 74 properties available for lease out of 4,263 properties. Occupancy is up 10 basis points from one year ago. Occupancy based on square footage is 99%, economic occupancy is 99.1%.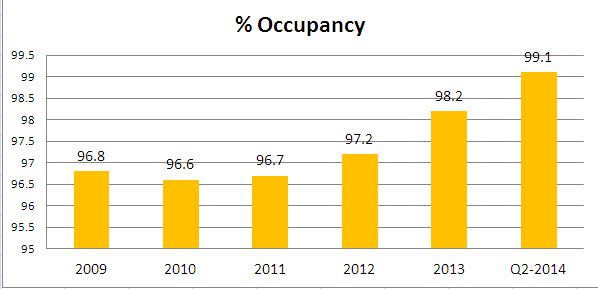 During the second quarter, Realty Income invested $405.1 million in 73 properties located in 27 states at an average initial cash cap rate of 7.3% and with a weighted average lease term of 10.6 years. Out of the total amount approximately 40% or $157 million was invested in non-investment grade retail properties.
Year-to-date 2014, Realty Income invested $1.06 billion in 402 properties located in 39 states at an average initial cash cap rate of 7.1% and with an average lease term of 12.8 years. Out of the total amount, approximately a quarter or $243 million was invested in non-investment grade retail properties. As of the latest quarter, total assets are now $18.81 billion.

Realty Income now has 4,263 properties (as of Q2-14):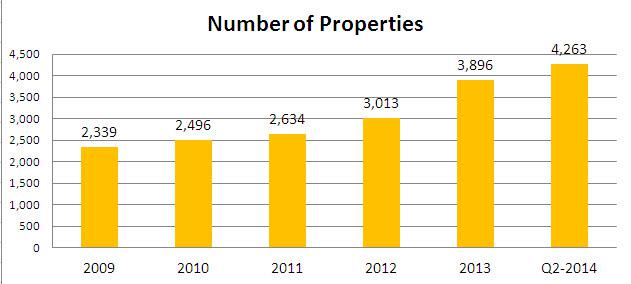 The company's total square footage is 69.18 million (as of Q2-14):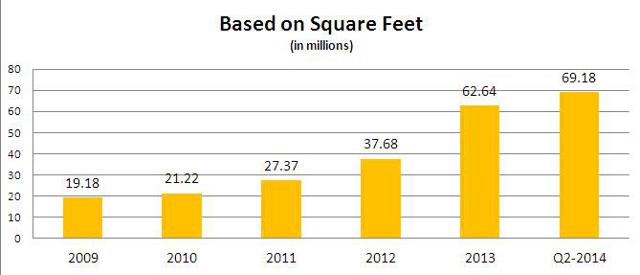 Realty Income's portfolio remains diversified by tenant, industry, geography and to a certain extent property type. At the end of the second quarter, properties were leased to 228 commercial tenants and 47 different industries located in 49 states and Puerto Rico.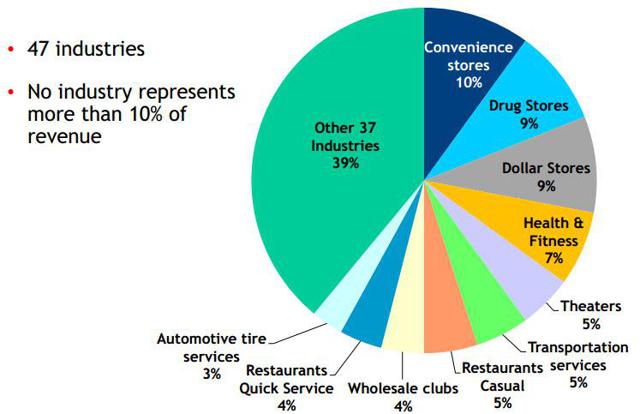 Here's a snapshot of the company's geographic diversification: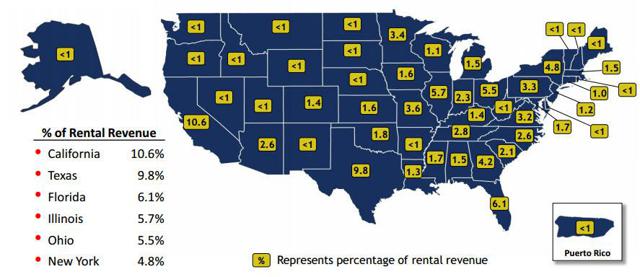 Realty Income's 15 largest tenants accounted for 45.8% of rental revenue and the largest 20 tenants accounted for 52.3% of rental revenue. Beginning Q2-14, Realty Income will start disclosing its top 20 tenants.
Walgreens continues to be the largest tenant at 5.2% of rental revenue which is down slightly from last quarter. FedEx remains the second largest tenant at 5% which is also down slightly from last quarter. Dollar General is the third largest tenant at just under 5%, LA Fitness and Family Dollar were at 4.6% and 4.5% respectively.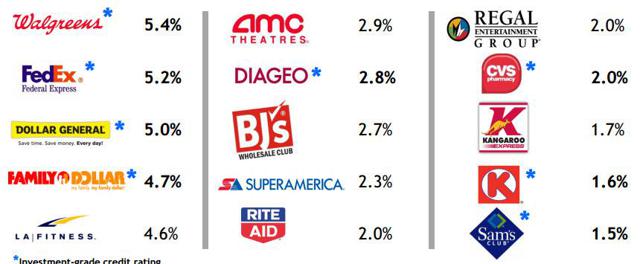 Looking at property type, retail continues to represent Realty Income's primary source of rental revenue, currently at 78%, with industrial and distribution at 11%, office at 7% and the remainder evenly divided between light manufacturing and agriculture.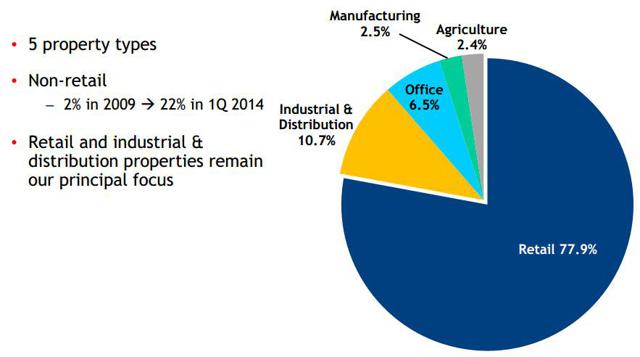 As evidenced by the snapshot below, Realty Income has selectively grown its portfolio into a dominating dividend powerhouse: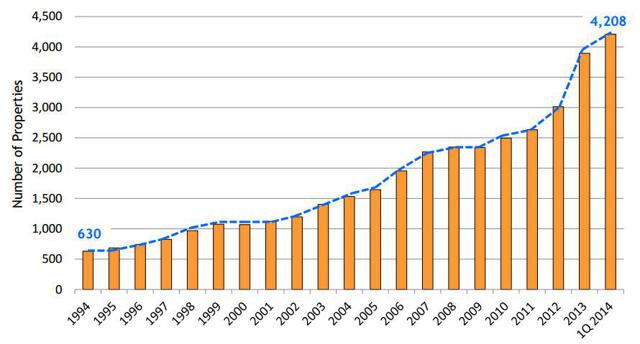 The Fortress Balance Sheet
Realty Income continues to maintain a very conservative and safe capital structure. In April the company raised $529 million of new capital with a common equity offering. In addition, the company raised $52 million of additional common equity through its direct stock purchase plan during the quarter. And in June the company raised $350 million with a 10-year bond offering priced at 3.88% yield.
Proceeds from all of these offerings were used to repay borrowings on the $1.5 billion acquisition credit facility, which had a balance of $70.8 million (as of Q2-14). From time to time, the company does assume mortgage-level debt; however, the current level of secured debt (19.92%) is reasonable.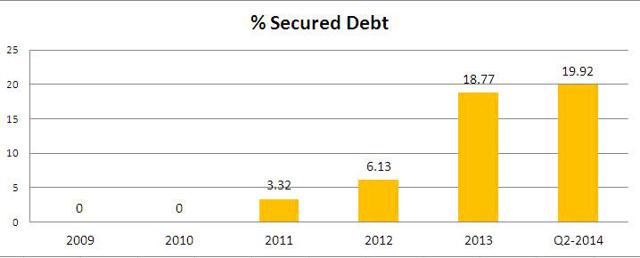 Here's a snapshot of Realty Income's secured debt versus the peer group (Realty Income's outstanding net mortgage debt at quarter end increased to approximately $892 million):

Realty Income's bonds are all unsecured and fixed rate and continue to be rated Baa1, BBB+ have a weighted average maturity of 7.4 years. Also, the company's overall debt maturity schedule is in good shape, with only $57 million of mortgage principal payments during the second half of 2014 and $125 million in 2015. And the next bond maturity is only $150 million due in November of 2015.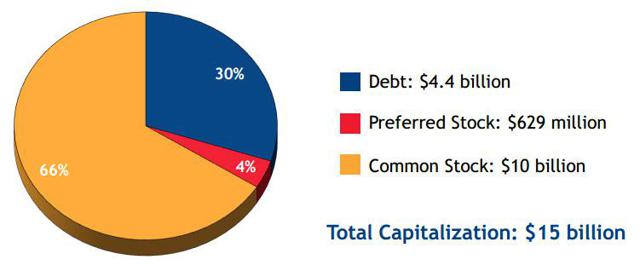 Realty Income's Debt-to-EBITDA (at Q2-14) was only 5.5x. Currently and total debt to total market cap is approximately 30% (and preferred stock outstanding is only 4% of the capital structure).

In summary, Realty Income has demonstrated a very successful quarter or risk management as the capital was used accretively to fund new acquisitions and reduce the outstanding balance on the credit line. The company has over $1.4 billion available to support future acquisitions.
Finding a Margin of Safety in Realty Income
A margin of safety is achieved when securities are purchased at prices sufficiently below underlying value to allow for human miscalculation, bad fortune, or extreme instability. As Ben Graham explained,
The margin of safety is always dependent on price paid. For any security, it will be large at one price, small at some higher price, nonexistent at some still higher price.
Every investor has his or her own risk tolerance level and that simply means that it comes down to how much you can afford to lose. As it relates to Realty Income, I see value in the company's highly sustainable operating model and its extraordinary track record of paying and increasing dividends. I also see value in Realty Income's fortress balance sheet rooted in a conservatively managed debt and equity mix - a strategically modeled platform that delivers above average performance in good times and bad. I also see value in the dedicated management team with aligned interests and invaluable net lease experience.
So when is the right time to take a swing at Realty Income?
If you are reading this article and you got down to the last paragraph, I congratulate you for waiting (being disciplined) and also researching (practicing due diligence). Unfortunately I cannot help you swing the bat, only you can do that. But hopefully you will avoid some bad pitches and wait for the right one, at the right time. You will know when the time comes because you will start feeling stress free and you might even doze off as you dream about your dividends - that's what I call "sleep well at night" investing.

Brad Thomas is the Editor of The Intelligent REIT Investor (aka iREIT Investor). To subscribe to Brad's newsletter, click HERE.
Sources: SNL Financial and F.A.S.T. Graphs.
REITs mentioned: (NYSE:GPT), (NYSE:GTY), (NYSE:NNN), (NYSE:WPC), (NYSE:ADC), (NYSE:LXP), (NYSE:SRC), (NYSE:CSG), (NYSE:EPR), (NYSE:OLP), (ARCP), and (NYSE:GOV).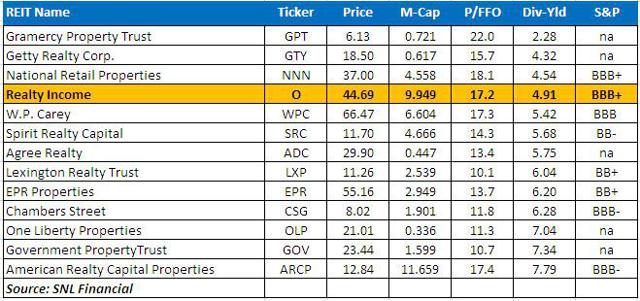 Disclaimer: This article is intended to provide information to interested parties. As I have no knowledge of individual investor circumstances, goals, and/or portfolio concentration or diversification, readers are expected to complete their own due diligence before purchasing any stocks mentioned or recommended.
Disclosure: The author is long O, DLR, VTR, HTA, STAG, UMH, CSG, GPT, ARCP, ROIC, HCN, OHI, LXP, KIM, WPC, DOC, UDF, EXR. The author wrote this article themselves, and it expresses their own opinions. The author is not receiving compensation for it (other than from Seeking Alpha). The author has no business relationship with any company whose stock is mentioned in this article.