Introduction
Deckers Outdoor (NASDAQ:DECK) is a footwear apparel company highlighted by brands UGG, Teva, and Sanuk. The firm is run by President/CEO/Chairman Angel Martinez, an industry lifer that co-founded Keen and has a long track record of value creation. Deckers is a quality name due to brand recognition and management acumen, and trades comparably or below its footwear competitors.
The Company released earnings last Thursday after the bell. They beat on revenue and earnings, although guidance was admittedly a tad conservative. Despite management conservatism, the market responded positively, closing up over 6% and above a clear resistance level of $90 per share.
UGG is central to Deckers' success, accounting for ~67% of revenue. Before readers lambast the UGG brand as a fad, I will cover in detail the extent to which UGG has transformed its branding and its product line with significant movement towards diversification. The segment has extensive breadth beyond its classic sheepskin boot.
My 83-year old grandmother owns three pairs of the shoes; UGGs are no longer the tween, single-product fad phenomenon that they were during the mid-2000's.
Strong Q2 Earnings
Deckers' Q2 earnings accomplished more than any analyst could hope for in disproving doubts over the firm. The firm experienced strong growth in the three core brands. The appeal for prospective Deckers shareholders is just starting to shine through the noise, highlighted by revenue growth, falling sheepskin prices, and leverage to consumers looking for luxury at an appealing price point in an environment of improving economic growth.
In the Q&A, Nomura Securities' Bob Drbul touches on sheepskin costs, which I believe are a central part of the Deckers thesis:
Can you put some numbers around the cost of sheepskin in the fourth quarter? And I guess, corresponding that to the continued penetration of the Pure business on the input cost side and sort of how that's playing through the business model into this year?
Angel Martinez answers:
Given we don't finalize our sheepskin for the next calendar year until October timeframe, what assumptions we have for sheepskin now in the new fourth quarter, which is the March ending quarter is really a continuance of our current, not only sheepskin cost but our current penetration of UGG period at this point in time.
Two things play into this answer. Sell-side analysts adjust their models every quarter to account for changes in a firm's outlook and margin trends. Falls in sheepskin costs would be a driver of gross margin expansion; gross margin was unchanged from the prior quarter and Bob wants to know why.
Thankfully, the answer is simple. Deckers' negotiates contracts with sheepskin suppliers once per year. Prices have dropped compared to the year ago quarter, and the benefit will show sequentially and bolster FY2015 earnings.
Jefferies' Randy Konik asks several questions, one of which coaxes out an interesting bit of color on UGG's recent pricing strategy from Angel Martinez. He touches on how the strategy translates into leverage in luxury footwear in reference to the current economy:
Konik: So I guess my question is around posturing for holiday 2014 by your wholesale accounts relative to holiday 2013. How do you think they are giving us out their business? Going to holiday this year, how they're changing their order patterns?

Martinez: I think retailers have more confidence in the strength of the brand. The assortments are so much better than they have been. We now have very, very competitive product at the key price points that we did not have a few years ago. We have fashion boots. We have weather boots. We have product at say $175 which is a very, very important target for us.

I think what you will see this year versus prior year is the much expanded assortment in the season, much less dependence on core classic and classic derived product. Yes, of course, those are all still very important, but you are going to see a side of UGG that you probably haven't seen in prior years due to the strength of the offering and that will continue.
The $175 target price point highlights an important exposure that is highly desirable at this point in an economic recovery.
What cannot be stressed enough is that Deckers is leveraged to a part of the economy that typically performs well in a mid-cycle expansion. All signs point to 2014 being a 2-3% growth year for the U.S. economy after a long period of tepid growth. Economic growth should provide ample incentives for consumers to splurge on luxury goods.
When Martinez mentions "much less dependence" on the "classic product", he's talking about sheepskin exposure, an issue that put great stress on the firm in 2012. Since those days, UGG has transformed itself for the better. The firm's UGGpure push is a wonderful natural hedge for sheepskin, as UGGpure is made from high quality wool. Deckers is targeting 40% UGG share as a percentage of FY2015 revenue. If a shepherd slaughters a sheep, they get a sheepskin and lamb meat; if they choose not to, they continue to receive wool. I will spend ample time discussing this supply-demand relationship and how it diversifies the firm's costs.
Sheepskin Exposure
The firm has been disliked by the market over the past two years if one uses short interest as a proxy, and although short interest has abated considerably from near-50% levels in 2012, it remains elevated relative to the broad market at 18.5%.
In my opinion, the main criticism of Deckers is that the firm lives and dies based on sheepskin prices. When prices spiked in 2011 due to floods in Australia, the resulting manufacturing cost increases for its UGG boots put pressure on the firm's earnings and the stock price cratered in late 2011. However, I think the exposure is beneficial as long as it does not dominate the firm's costs.
Sheepskin is not a commonly traded commodity so price trends are tough to pin down directly, but investors can use more liquid proxies that have high correlations with sheepskin prices. The most logical proxy is lamb prices. The decision to slaughter a sheep should be made with a cost-benefit analysis of whether a one-time payment in sheepskin and meat is greater than an 'annuity' of wool. UGGpure is a strong hedge because shepherds must decide whether to sell a combination of sheepskin and meat or wool; you cannot have both.
The majority of the revenue from slaughtering a sheep comes from its meat as opposed to its skin. Consequently, if it becomes less profitable to slaughter a sheep for its meat, less sheep will be slaughtered. Less slaughtered sheep results in a lower supply of meat and skin and a supply-demand imbalance, which would result in large price increases for sheepskin.
Here is a graph of lamb prices over the past five years: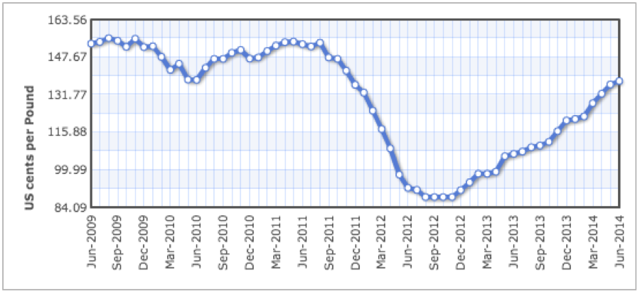 And here is a Deckers stock graph over the same period: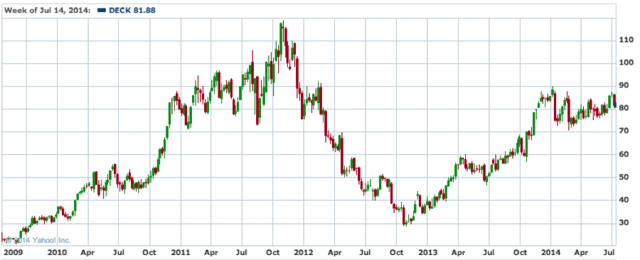 The correlation between the two is unbelievably consistent; similar to the way an oil and gas stock tracks its commodity exposures.
Sheepskin dependence has its downsides, but the bright side here is two-fold. The trend for lamb prices appears consistent and positive. Rising lamb prices should result in more slaughtered lambs, a greater supply of sheepskin, and lower sheepskin prices. Meat prices have skyrocketed in the past two years, particularly pork and beef, and Economics 100 taught us that price increases in comparable goods increases the quantity demanded for substitutes. All of these factors point to further falls in sheepskin prices; beef prices even hit an all-time high yesterday.
The UGG segment only accounted for ~67% of revenue in the first quarter as opposed to 85+% in 2011. This correlation will become less pronounced over time as UGG pure sales improve to the FY2015 target of 40% of UGG sales that management set out in the call. Also, Deckers' other segments outpace revenue growth in UGG and will continue to make up a larger piece of the pie.
For FY2015, sheepskin will make up less than 40% of the firm's gross costs (67% of revenue times 60% UGG Classic share). At 50% gross margins, sheepskin makes up less than 20% of operating costs. Because of this, Deckers unfairly trades on its exposure to sheepskin and should begin to trade on the strength in its core businesses.
I see little reason to discount the firm based on its sheepskin exposure in light of these facts and see it more as a positive when it does not dominate the cost structure.
Euro/Pound Exposure
A poor day for equities two weeks ago in large part due to the Malaysian Airlines plane crash in Ukraine highlighted a need in my portfolio for a quality/value name with hedged European exposure. I ran a screen for higher quality companies to begin the search.
The screen was limited to companies with a market capitalization greater than $300 million, a FCF (free cash flow) yield of 5%, and an ROI of 10%. The cheapest companies nearly all fell within overleveraged, problematic, or declining industries such as auto parts, multi-level marketing, and paper and packaging.
After sifting through the dregs, I came to a higher quality firm in Deckers. A quick read through the latest 10-K informed me that Decker does not earn more than 10% of its revenue from one international currency, which means its exposure to Europe and the central Euro currency is limited in comparison to most luxury retail firms.
The firm sources the majority of its sheepskin for its UGG boots from Europe, meaning Euro/Pound weakness are accretive to the Company's earnings from a cost standpoint and provide a natural hedge for Decker's European sales exposure. The rest is sourced from Australia, and the currency has been weak over the past twelve months and looks to stay weak considering the country's economic troubles.
Company Overview
Deckers Outdoor is a mid-cap apparel company with strong competitive advantages thanks to its portfolio of three core brands and its high growth 'other' brands. UGG, famous for its line of fuzzy boots, has matured its product line and now sells a variety of luxury shoes, apparel, and accessories alongside its classic boots. UGG is most central to Deckers' success and is the only segment of the Company with stand-alone stores.
The other two core members, Teva and Sanuk, manufacture outdoor shoes and in combination have presented steady growth since the recession began abating in early 2010. Deckers' lesser-known brand Hoka One One is the fastest growing of the 'other' brands and produces running shoes in competition with companies such as Nike (NYSE:NKE) and Under Armour (NYSE:UA). The segment's odd shoe shape is apparently very comfortable for running and walking and has formed a cult following in a few short years.
Segment numbers are not out for Q2 yet. Here is a breakdown of the firm's revenue by brand for Q1: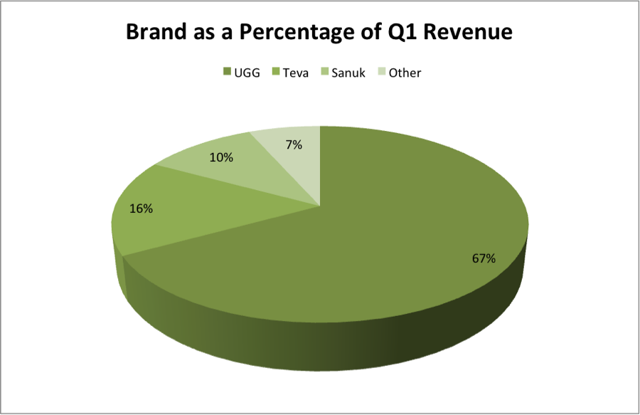 UGG
Now, to UGG. UGG has truly revitalized and diversified its brand since its 2011 troubles. A quote from Angel Martinez from Thursday's conference call does a concise job of explaining the transformation:
The appeal to that tween consumer is pretty significant. I mean, and thinking about this, its also not just footwear, it's handbags, it's accessories.
UGG has a developed product line that is more than shoes. The tween consumer is still important, but thankfully less important to the bottom line than it has been in the past.
Here are a few screen caps from the website to give investors concrete evidence of the transformation: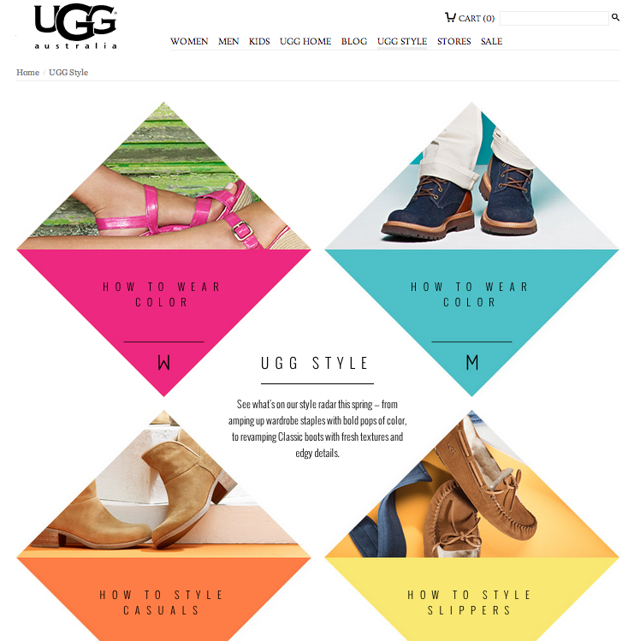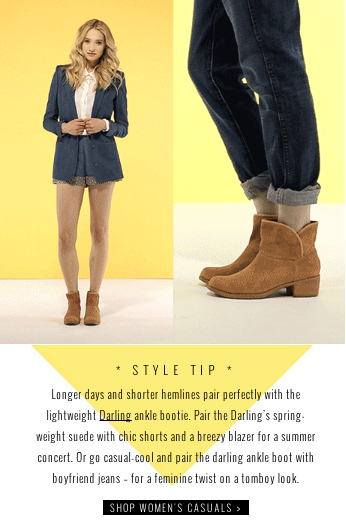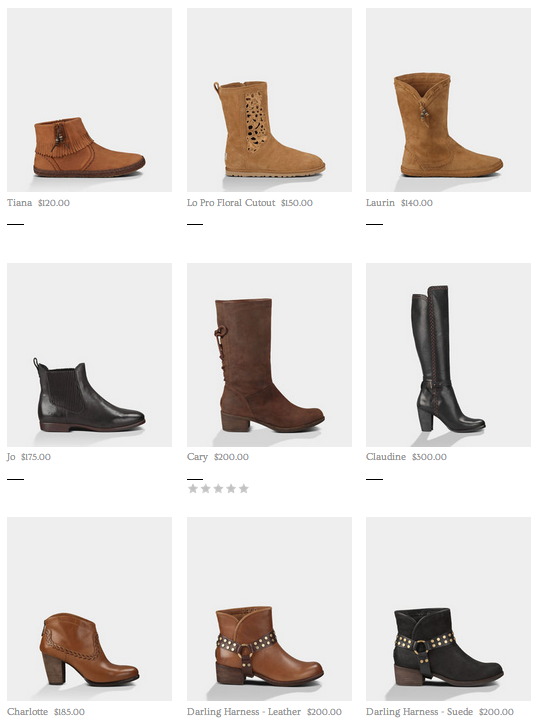 This is not the UGG that I expected when I began this pitch. UGG is not a single product line. The segment offers a diversified selection at an attractive price point. Frye boots are in vogue at the moment and start at a price point 50-100% higher than the shoes featured above.
An accurate criticism of the UGG segment should begin and end with its sheepskin exposure, which I think is overblown. Bottom line, the products are fashionable and the numbers speak for themselves: the segment grew 23% during the last quarter.
I have not covered management aside from Angel Martinez, but I believe that he is the focal point of the firm from an operational standpoint and when the firm is brainstorming fashion trends.
He is the star of the show and deserves the title of President/CEO/Chairman. He has run the Company since 2005 and has 26 years of experience in the retail industry. He was the CEO of the Reebok-owned Rockport Group, CEO and co-founder of Keen, and is a director at Tupperware. Not to mention a 1997 Man of the Year award from Footwear News. He's a rock star.
Valuation and Quality Comparisons
From its low point in October 2012, the stock has nearly tripled, yet it still remains attractive relative to competitors. Not only does it trade at a discount, Deckers runs a high-ROI, FCF-generative business that is rapidly growing and attractively leveraged to improvements in the U.S. economy. Likely due to its sheepskin scare in 2012, the Company is also still highly shorted, which is bizarre to me after poring through the fundamentals. Here's a table comparing Deckers to six competitors in apparel footwear:
| | | | |
| --- | --- | --- | --- |
| | TTM EV/EBIT | TTM EV/EBITDA | Quarterly Revenue Growth |
| DECK | 13.5x | 11.9x | 24.3% |
| BWS | 13.8x | 9.3x | 0.4% |
| SKX | 14.5x | 11.2x | 37.1% |
| WWW | 15.5x | 11.0x | 4.4% |
| ICON | 12.4x | 11.7x | 10.5% |
| NKE | 17.8x | 15.1x | 10.9% |
| SHOO | 10.0x | 9.5x | 10.5% |
Source: Company Filings
Of these companies, Sketchers (NYSE:SKX), Iconix Brand Group (NASDAQ:ICON), and Steve Madden (NASDAQ:SHOO) appear the most attractive in comparison to Deckers.
Sketchers has grown at an unbelievable pace this year, but I would take that 37.1% number with a grain of salt. Its revenue growth path has been fraught with challenges; TTM revenue was down from 2010 revenue. Uneven revenue reflects uneven brand perception.
Iconix Brand Group looks attractive and its royalty stream-based revenues (denominated in U.S. dollars no less) mean the business is reliable, but I am personally uncomfortable with ultra-luxury goods makers at this point in the economic cycle. Luxury goods that are accessible to the average Joe are where the leverage is in the classic mid-cycle stage of expansion that I believe is on the horizon.
Steve Madden trades similarly based on these metrics, but I don't think that it is a high quality name. I question the firm's brand recognition and management in particular. I will admit I have not taken a close look at Steve Madden, but a company that has become infamous due to a 1980's stock fraud is not an investment that screams quality.
Deckers sticks out from the pack in terms of valuation and growth. In terms of quality, Deckers is run by a star in Angel Martinez, a man who built the shoe brand Keen from scratch and has been CEO/President/Chairman of Deckers for almost ten years. UGG also has powerful brand recognition that allow Deckers to charge a premium in furry footwear and beyond. No firm except Nike has more powerful brand recognition among these competitors.
Conclusion
Deckers has all the hallmarks of a great value and quality investment. It trades at a discount to competitors with similar quality and brand recognition. Sheepskin fears appear overdone considering the change in that commodity's outlook and the Company's exposure. The UGG Classic mono-line argument is old and tired; UGG has a fashionable, diversified product offering and has shown phenomenal growth this year. As icing on the cake, the firm's short interest makes little sense and should prove to be fuel for the fire.
A multiple of 16x TTM EBIT to account for this combination of factors results in upside of 18%, or $107 per share. I dislike forward estimates as a general rule, but a 15x multiple of forward earnings results in a similar price target.
Disclosure: The author has no positions in any stocks mentioned, but may initiate a long position in DECK over the next 72 hours. The author wrote this article themselves, and it expresses their own opinions. The author is not receiving compensation for it (other than from Seeking Alpha). The author has no business relationship with any company whose stock is mentioned in this article.