KKR (NYSE:KKR) recently announced second quarter results. The highlights were as follows:
GAAP net income of $178.2 million compared to $15.1 million during the same period a year ago.
Total distributable earnings of $701 million compared to $403.8 million during the same period a year ago.
Declared distribution of $0.67 per share compared to $0.42 during the same period a year ago.
After tax economic net income per share of $0.62 per share compared to $0.18 during the same period a year ago.
While these results were strong, they were not good enough to send KKR shares higher. Analysts had expected the company to report economic net income per share of $0.64 per share. As shown by the chart below, since I outlined by bullish view on KKR heading into earnings in a piece entitled KKR Set To Report Earnings Why I'm Bullish, shares are lower by nearly 2%.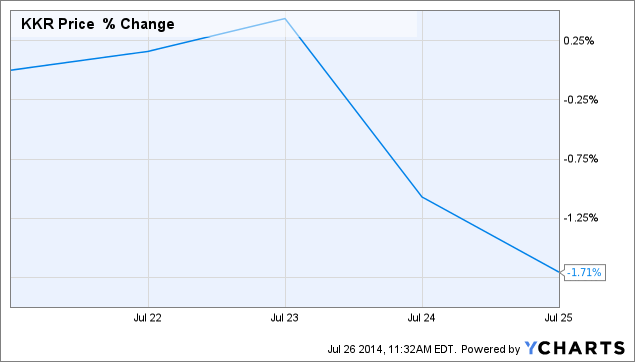 KKR data by YCharts
Why I Remain Bullish
While the company did not report a strong enough quarter to send the stock higher, I believe the company reported a solid quarter that investors should be happy about. It is difficult to predict quarterly results for KKR due to the challenges in predicting the timing of realizations and when profits will hit the bottom line. Given the fact that KKR did not blow away estimates for this quarter, I believe the company could report stronger than expected results in the quarters ahead. In particular, the closing KKR's sale of U.S. Foods to Sysco and Biomet to Zimmer Holdings in the months ahead should help boost KKR earnings.
My Trade
As mentioned in my previous piece, I had taken a long position in the August $26 strike call options. While these options were not very expensive to purchase, they will, more likely than not, expire worthless. However, with the calls now trading for just pennies, I am continuing to hold them. With KKR shares currently trading at just below $25 per share, a move towards $26 over the next few weeks is not impossible. When these calls expire, I will likely open a new bullish options position of a longer term nature or simply buy KKR shares as a long-term investment.
Disclosure: The author is long KKR. The author wrote this article themselves, and it expresses their own opinions. The author is not receiving compensation for it (other than from Seeking Alpha). The author has no business relationship with any company whose stock is mentioned in this article. Long KKR calls.