Lantheus Holdings, Inc (Pending:LNTH), a developer and distributor of imaging agents used in medical diagnostics, plans to raise $125.0 million in its upcoming IPO.
The North Billerica, Massachusetts-based firm will offer 9.3 million shares at an expected price range of $12-$15 per share. If the IPO can find the midpoint of that range at $13.50 per share, LNTH will command a market value of $370 million.
Filing, Underwriting
LNTH filed on June 24, 2014.
Lead Underwriters: Citigroup Global Markets Inc; Jefferies LLC
Underwriters: RBC Capital Markets, LLC; Robert W. Baird & Co. Incorporated; Wells Fargo Securities, LLC
Business Summary
LNTH manufactures and distributes medical imaging agents and products used in the diagnosis of various diseases, especially cardiovascular diseases. The firm's products are commonly used in processes including echocardiography, magnetic resonance imaging (MRI), and nuclear imaging for the diagnosis of congestive heart failure, peripheral vascular disease, coronary artery disease, and stroke, among others.
LNTH's commercial portfolio currently consists of a total of ten products for use in various imaging procedures. The firm's imaging agents include both radiopharmaceuticals, the radioactive agents used in nuclear imaging procedures like PET scans, and contrast agents, used to improve the clarity of diagnostic imaging for procedures like x-rays and MRIs.
LNTH's leading products are DEFINITY and TechneLite. DEFINITY is an injectable contrast agent used in patients with suboptimal echocardiograms. The agent assists in the improved visualization of the left ventricle, allowing physicians to better assess the heart's main pumping chamber. DEFINITY has been used in some five million patients since its 2001 launch.
TechneLite generates technetium, a radioisotope resulting from the decay of Molybdenum-99 used to prepare patient-specific radiolabeled imaging agents. Technetium has a half-life of only six hours, necessitating repeated purchases of the generators on the part of radiopharmacies; LNTH estimates that it had an approximately 40% share of generator sales in the U.S. for 2014.
LNTH's pipeline is depicted below.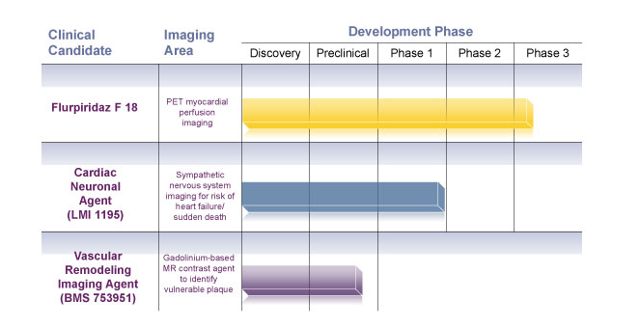 (http://lantheus.com/Pipeline.html)
Valuation
LNTH offers the following figures in its S-1 balance sheet for the three months ended March 31, 2014:
Revenue: $73,336,000.00
Net Loss: ($1,285,000.00)
Total Assets: $260,960,000.00
Total Liabilities: $497,736,000.00
Stockholders' Equity: ($236,776,000.00)
Major Competitors, Customer Concerns
LNTH competes with numerous other firms that provide alternative diagnostic imaging agents, many of which have access to far greater financial and marketing resources than LNTH. Major competitors include GE Healthcare (NYSE:GE), Bayer Schering Pharma AG (OTCPK:BAYZF), Mallinckrodt (NYSE:MNK), and Bracco Diagnostics Inc.
LNTH's radiopharmaceutical business is reliant on a very limited number of customers, which provide a large portion of its revenue; the loss of any of those customers could have significant negative effects on the firm. Cardinal Health (NYSE:CAH), GE Healthcare , and United Pharmacy Partners accounted for 19%, 10%, and 10% of the firm's revenues for the fiscal year ended December 31, 2013.
Management Experience
President and CEO Jeffrey Bailey has served in his current positions since January 2013.
Mr. Bailey previously served as the COO of Fougera Pharmaceuticals, Inc., chief commercial officer of King-Pfizer Pharmaceuticals, president and general manager of Novartis Pharmaceuticals' Northwest Operating Unit. He also worked for over two decades in various roles in manufacturing operations, commercial operations and general management with Johnson & Johnson (NYSE:JNJ).
Mr. Bailey received a B.A. in Business from Rutgers University.
Conclusion: One to Screen Out
We are neutral to negative on this IPO in the current proposed range.
Though LNTH has yet to turn a profit, it appears to be approaching profitability; the firm's first quarter loss and projected second quarter loss for 2014 are an order of magnitude smaller than its losses for the corresponding periods in 2013.
The firm will likely enjoy increasing demand for its products as elderly and obese populations continue to grow in the United States.
However, we are concerned by the instability of supply for resources critical to the firm's radiopharmaceutical agents, especially Xenon and Molybdenum, and by the significant competition that LNTH faces from much larger firms.
LNTH also does not boast the most illustrious underwriters.
We suggest investors screen out LNTH-and hold out for more promising IPO picks.
We invite readers wishing to join the discussion on IPOs to click the +FOLLOW button above the title of this article -- and those looking for the latest developments to click +Get real-time alerts.
Note: As a large sample of information sources does not yet exist for LNTH, we have taken much of the information for this article directly from LNTH's S-1 filing.
Disclosure: The author has no positions in any stocks mentioned, and no plans to initiate any positions within the next 72 hours. The author wrote this article themselves, and it expresses their own opinions. The author is not receiving compensation for it (other than from Seeking Alpha). The author has no business relationship with any company whose stock is mentioned in this article.