On July 17, Advanced Micro Devices (NASDAQ:AMD) reported its second quarter earnings that surprisingly missed analysts' expectations and what followed was for AMD investors a dreadful spectacle. A conservative outlook for the third quarter further amplified the negativity around the stock. AMD shares slipped from 2-year highs, losing more than 19.3 percent since then. But despite this short-term price wiggle, AMD remains a strong turnaround candidate in medium- to long-term.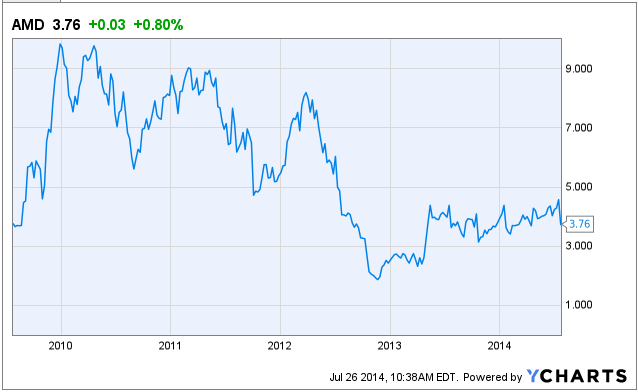 Opportunity manifests from market overreaction
After Intel (NASDAQ:INTC) reported strong growth in its PC segment in the second quarter, the market expected AMD to follow the suit. Clearly that wasn't the case, but even so, the company showed significant signs of improvements during the quarter.
AMD delivered a solid performance with revenues rising to $1.44 billion, up 3 percent sequentially and 24 percent year-over-year. Operating income increased to $63 million from $49 million in the previous quarter and an operating loss of ($29) million in the year-ago quarter. Also, it posted a net loss of ($36) million, a significant improvement over a ($74) million loss reported in Q2 2013.
In non-GAAP terms, AMD reported a net income of $17 million in the quarter, an improvement of $82 million compared to the same period last year. With this, the company has now delivered four consecutive quarters of non-GAAP profitability and it remains on track to deliver non-GAAP profitability for the full-year 2014.
Turning to the balance sheet, AMD's cash, cash equivalents and marketable securities increased to $948 million at the end of the quarter, considerably higher than the target minimum of $600 million and close to its optimal zone of $1 billion. Further, the company continues to re-profile its near-term debt maturities. In the second quarter, the company issued $500 million in principal amount of 7 percent senior notes due in July 2024 and utilizing the proceeds to fully extinguish all $452 million 8.125 percent senior notes due in December 2017. By executing these debt transactions, the company has further extended its term debt maturities and has no significant term debt maturities for roughly five years. According to AMD's CFO, Devinder Kumar, replacing old debt with new debt will save the company approximately $3 million per quarter in debt service starting Q3 2014.
These numbers show that the company is effectively executing its 3-step restructuring strategy, building a stronger business model and enhancing its ability to deliver consistent performances. Back in 2012, when AMD's revenue shrank so much that it was incapable of supporting its operations, it embarked on a restructuring plan to save and restore the company to its former glory. After it announced the plan, AMD underwent rapid changes in its operations that helped grow its revenues. Since then, the company has been diligently managing expenses and lowering cost structure, significantly reducing operating expense, while strategically investing in innovations that it believes will fuel future growth. Consequently, not only has the company managed to expand its revenue, but there has also been a rebound in its operating income. In fact, AMD has reported positive and stable operating income in the last four quarters.
The concerns about revenue decline in computing solutions segment and conservative guidance only seem harmful in the near term, but are actually rather minor issues in the long run. As a result, an opportunity has manifested from this market overreaction. The recent drop presents an opportunity of buying a company whose earnings is forecast to grow over the next few years.
Focusing on profitability
Although AMD reported a 20 percent decline in computing solutions revenue, the company managed a substantial growth in operating profit from the same segment. During Q2 2013, the segment generated only $2 million in operating profit on $841 million of revenues. Compare that to $9 million in operating profit from just $669 million of revenue in Q2 2014, and it can be inferred that instead of aggressively going after market share, AMD is trying to maximize profitability. CEO Rory Read said during the recent earnings call:
"Our PC strategy remains focused on developing profitability by diversifying into the commercial, stabilizing the overall PC business and leveraging the channel to deliver profitability."
This suggests the company plans to go after portions of the market it can effectively compete. A wise strategy, considering AMD still trails behind Intel in PC segment. So, devoting its effort to improve its revenue by relying on its strengths will translate to better results in the long run, even if it paints a blurry picture at present.
The improving profitability trend was also observed in the Graphics and Visual Solutions segment. The company's operating margin for the segment improved to 11.49 percent in the first half of 2014, compared to 2.34 percent during the same period last year.
Plans & Products to boost growth
AMD plans to introduce its products and technologies into new markets. These markets provide tremendous growth opportunities, even alongside industry giants like Intel. AMD is currently expecting to generate around 40 percent of its revenue from these high-growth markets for full-year 2014. This revenue share is expected to grow to 50 percent by year-end 2015.
A continued robust demand for AMD-powered game consoles helped the company ship record semi-custom SoC during the second quarter of 2014. It expects the momentum to continue going into the third quarter, the peak quarter as Microsoft (NASDAQ:MSFT) and Sony (NYSE:SNE) prepare for the holiday cycle. According to COO Lisa Su, AMD is on track to secure one to two semi-custom design wins in 2014.
Furthermore, AMD's groundbreaking Mantle API will be used by Electronic Arts (NASDAQ:EA) in the upcoming Battlefield Hardline, Dragon Age: Inquisition and Plants vs. Zombies: Garden Warfare games. The API creates more immersive experiences that take fuller advantage of modern APUs and GPUs to deliver console‐like experiences. The company reported that more than 40 game titles supporting Mantle are in development with more than 50 developers actively working with the API for future titles. Also, AMD's differentiated x86 and ARM strategy is designed to provide unmatched computing and graphics performance using a shared, flexible infrastructure to drive new innovations.
Additionally, AMD plans to accelerate energy efficiency of its APUs, envisaging 25x efficiency improvements by 2020 through a number of technological advances. As a result, the company expects to outpace the industry's historical energy efficiency trend by at least 70 percent.
AMD's embedded products business also gained momentum during the second quarter. The segment's revenue increased by double-digits compared to the previous quarter, helped by new design wins. AMD launched the 2nd‐generation embedded R‐Series APU as well as the AMD embedded G‐Series SoC and CPU solutions, which will power HP (NYSE:HPQ)'s thin clients and are ideally suited for ATMs, kiosks and medical equipment applications, not to mention, Boeing's (NYSE:BA) next‐generation advanced cockpit display systems will also feature AMD embedded Radeon graphics.
In its professional graphics business, unit shipments increased substantially on sequential basis during the quarter as the company continued to grow its FirePro business with Apple (NASDAQ:AAPL), Dell (NASDAQ:DELL) and HP. AMD FirePro W8100 professional graphics card delivers 38x more performance than the closest competitive offerings based on double precision testing.
Taking a step forward in expanding the footprint of ultra‐efficient 64‐bit ARM solutions for cloud computing and the Internet of Things, the company demonstrated and is actively sampling its 64‐bit ARM‐based Opteron A‐Series processor, codenamed "Seattle," which is likely to move to the production stage towards the end of the year. As such, the dense server business saw revenues more than double in the first half of 2014 compared to the year-ago period.
Although the consumer market for PCs remains under pressure, the company expects to benefit from the market as it is beginning to show some signs of improvement driven by the commercial refresh cycle. And despite a weak performance in this segment, AMD managed to increase its overall microprocessor unit shipment for the first time in four quarters. This was mainly attributed to the introduction of new notebooks from Acer (OTC:ACEIY), Dell, HP, Lenovo (OTCPK:LNVGY), and others, powered by its Beema and Kaveri APUs.
The demand for desktop APUs from AMD's OEM partners also picked up during the second quarter. This business is expected to strengthen further in the coming quarters with the expansion of AMD's A-series APU portfolio and continued production ramp of its first lower-powered socketed desktop APU. Notwithstanding the year-over-year decline, AMD's computing solutions segment saw its first sequential revenue growth in four quarters.
AMD's revenue from graphics processor unit (GPU) decreased sequentially and year-over-year, primarily due to a decline for its enthusiast-class offering in AIB channel as demand from cryptocurrency miners abated. The decline was partially offset by increased sales of notebook GPUs as OEM design wins began to ramp in during the quarter. Looking ahead, the company expects strong GPU shipments in the third quarter as market pricing of its R7 and R9 offerings become more consistent. Unlike the computing solutions segment, regaining graphics market share remains a top priority for AMD and CEO Read is quite optimistic that design wins and go-to-market programs will boost gains in the coming quarters.
Closing thoughts
Although the recent earnings report "seemed" disappointing, it was not really that dreadful to warrant a 16 percent drop in a single session. Even if I were to concede it were, it only seems like a big deal in the near term, while in long term, the company is well on its way to regain (GAAP) profitability. In the past 20 months or so, the company has demonstrated its ability to turn its business around and grew its top line appreciably in recent quarters. In view of the reasons discussed above, investors should take advantage of AMD's recent dip, and my PT is $5.5-$6 within a year.
Disclosure: The author is long AMD. The author wrote this article themselves, and it expresses their own opinions. The author is not receiving compensation for it. The author has no business relationship with any company whose stock is mentioned in this article.