By Chris McKhann
Shares of oil and natural gas company Talisman Energy (NYSE:TLM) are jumping, and the option activity indicates continued bullishness.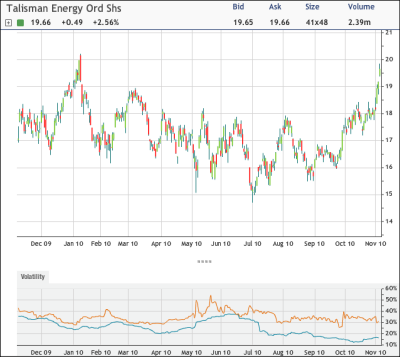 TLM is up 2.5 percent to $19.65. It has only closed higher on one day since July 2008, and that was at the peak in early January. Shares are up 30 percent in the last two months after bouncing off support.
The name has already seen 24,000 contracts change hands -- 10 times the average volume in the last month -- just halfway through the session. Only 149 of those are puts.
One spread makes up almost all of the volume, with 11,700 each of the November 18 and January 21 calls trading together. The November calls were sold for $1.80 against open interest of 13,984, so this is likely a trader closing this position and taking profits.
At the same time, the investor bought the January calls for $0.60. The trader keeps most of the profits from the now in-the-money 18 call sale but continues to have upside exposure out through January in case the shares continue to climb.
Disclosure: No position