The purpose of this article is to give investors an update on Sandstorm Gold (NYSEMKT:SAND), a gold streaming and royalty company which I first covered on June 10.
In that article, I argued that Sandstorm is the best investment vehicle to gain exposure to a rising price of gold, and argued that shares could return much bigger gains than peers Franco Nevada (NYSE:FNV), Royal Gold (NASDAQ:RGLD) and Silver Wheaton (SLW).
Year-to-date, shares of Sandstorm are up 41.05%, outperforming all its peers but Royal Gold: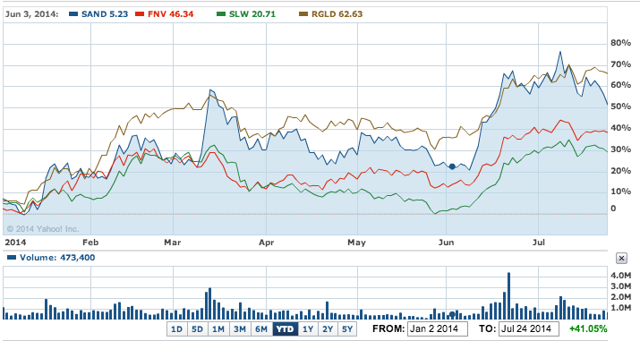 A few things have happened since the article that further strengthens the investment case.
Pinecrest Resources Announces Strategic Alliance With Sandstorm
On July 16, a company called Pinecrest Resources announced a strategic alliance between Pinecrest and Sandstorm, which is subject to Pinecrest's indirect acquisition of a 100% interest in the Enchi gold property, located in Ghana, West Africa. Here are the highlights of the Enchi property:
*The Enchi project contains an inferred resource base of 1.07 million ounces of gold at 1.15 g/t, but the deposit is open for expansion in all directions. Pinecrest believes that there is potential for utilizing low-cost, open pit mining and heap leach on the current, near-surface oxide gold resource base. This could result in a very low cost operation.
*Pinecrest owns a 696 square km land package which is located on a gold-hosted shear zone that also hosts two 5 million ounce gold deposits (Chirano, owned by Kinross, and Bibiano).
*Drill intercepts have intersected .5 - 1.0 g/t gold over 40-80 metres, but the company says that significant follow-up drilling is required to find out the deposit's true potential. Clearly, Pinecrest feels that there is potential to expand the resource base, perhaps to as much as 4-5 million ounces of gold.
*Ghana is a proven gold mining jurisdiction, with gold mines operated by majors such as Newmont (NYSE:NEM), Anglo (NYSE:AU), Goldfields (NYSE:GFI) and Kinross (NYSE:KGC), with Asanko Gold (NYSEMKT:AKG) currently developing the multi-million ounce Asanko Gold Mine. (In fact, Asanko was just approved for construction at the project on July 17. The project is fully permitted and first gold pour is expected in early 2016).
The Enchi project is currently a joint venture between Red Back Mining Ghana, which is owned by Kinross Gold (KGC), and Edgewater Exploration (OTCPK:EDWZF). Pinecrest has entered into letters of intent to acquire the project from both parties and is currently in negotiations.
*Sandstorm will subscribe for $2 million worth of shares of Pinecrest, and it is estimated that Sandstorm will own 18% of the outstanding shares following completion. Kinross will also control 19.9% of Pinecrest.
- Upon completion of the acquisition of Enchi, Red Back will retain a 2% NSR and Pinecrest has the option to buy back half the royalty for $3.5 million.
According to the release: "Upon completion of the acquisition, it is intended that the Company will indirectly assign to Sandstorm all of its then right, title and interest and obligations in the Royalty Buy Back Right." I would then expect Sandstorm to purchase the 1% NSR, bringing the deal value to $5.5 million.
*Upon completion of the acquisition, Pinecrest is expected to grant Sandstorm a right of first refusal to provide metal stream financing sought by Pinecrest with respect to gold produced from Enchi.
The company intends to use the proceeds to advance the Enchi project, including the completion of a preliminary economic assessment.
*I personally love this deal by Sandstorm - it is very low risk with just $2 million invested, but plants the seeds for future growth. CEO Nolan Watson had hinted in a previous video presentation that the company was looking to invest in West Africa, a mining friendly jurisdiction that is growing (Burkina Faso and Ghana in particular). I'd personally love to see the company do more deals in West Africa, in particular, Burkina Faso, where junior mining companies like RoxGold (OTC:ROGFF) and True Gold (OTCQX:RVREF) are developing gold projects.
*It's clear that the intention is for Sandstorm to one day purchase a gold stream on the Enchi gold project, perhaps when the deposit has been further developed. This deal reminds me of a previous deal with Columbus Gold (CBGDF), where Sandstorm bought a 1% NSR on the Paul Isnard project for $5 million, with a right of first refusal on gold streams. Paul Isnard has inferred resources of 4.3 million ounces, but considerable expansion potential remains. Since the deal, Columbus Gold entered into an agreement with a major gold producer called Nord Gold, giving them the right to earn 50.01% interest. I saw this as a huge positive for Sandstorm, since the deposit will likely now be developed faster, by a world class mine developer with deeper pockets.
These are small deals, low-risk deals, but could lead to tremendous payoffs down the line.
New Board of Director Announced
Sandstorm announced on July 2 the addition of Mary Little to its board of directors. Little is a director, founder and CEO of a company called Mirasol Resources, a precious metals company focused on exploration in Latin America.
Little's industry experience includes 15 years in Latin America with major gold miners such as Newmont, Cyprus Amax and WMC Ltd. This is just another positive for Sandstorm as it strengthens its board of directors, adding experience to the team.
Further Deals Ahead
In an interview with Mining.com, CEO Nolan Watson hinted that the company could eventually do deals that buy out entire companies, with the purpose of financing the assets to production:
"We obviously want to continue to do streams and royalties as in the past but now it's about finding good assets and finding a way to get deals done and we would even consider buying out entire companies and financing the assets into production with a stream and building the right team and spinning it out again," Watson said.
With $110+ million in cash, zero debt and a $100 million undrawn line of credit, the team has more than $210 million to invest in further deals.
For the full year 2014, Sandstorm is estimating cash flow of $47 million, increasing to $57 million by the end of 2016, based on $1,300 gold. Of course, this only includes Sandstorm's current assets and assumes no further deals completed.
Investors should keep in mind that Sandstorm has a number of organic growth opportunities as well, including the option to convert its 2.4% royalty on Solitario's (NYSEMKT:XPL) Mt. Hamilton mine into a gold stream:
"If MH-LLC enters into a gold stream agreement with Sandstorm that has an upfront deposit of no less than US$30 million, MH-LLC will have the option, for a period of 30 months, to repurchase up to 100% of the NSR for US$12 million. In addition, MH-LLC has provided Sandstorm with a right of first refusal on any future royalty or gold stream financing for the Mt. Hamilton project."
With $210+ million available, I expect Sandstorm to complete at least another 2-3 deals before the year ends.
Price Targets Raised
Several analysts have recently raised price targets for shares of Sandstorm:
- CIBC raised its price target from $7.50 to $8.
- RBC Capital raised its price target on Sandstorm to $9.50.
- TD Securities raised their price objective on shares from C$7 to C$8.0 in a recent report.
- Zacks upgraded shares to "outperform."
The Bottom Line: Sandstorm Still a Buy
Sandstorm common shares and warrants remain my largest portfolio holdings because I feel the company has tremendous growth potential. While I like Silver Wheaton, Franco Nevada and Royal Gold as investments, none of these companies has the same type of long-term upside as Sandstorm in my view.
Disclosure: The author is long SAND, SLW. The author wrote this article themselves, and it expresses their own opinions. The author is not receiving compensation for it (other than from Seeking Alpha). The author has no business relationship with any company whose stock is mentioned in this article.