I just want to take a moment and offer a quick reminder that I've been bearish on Pandora (NYSE:P) since the stock was trading as high as $43, and I continue to be bearish on it this whole way down.
This has been my history with the company, as pointed out in my Tipranks profile:

Just this month I wrote a piece suggesting Canaccord's recent upgrade and $43 price target was absurd. Judging by the way the stock responded to earnings this past Friday, it's looking like QTR is coming out ahead on this one so far - the company looks closer to my single digit share price target ($8-$9, I've suggested) than to $43.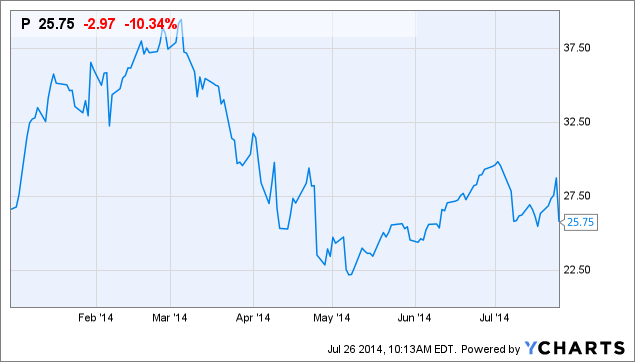 P data by YCharts
If you do a search under my name and look at the Pandora articles that I've penned, you would see a list that looks like this: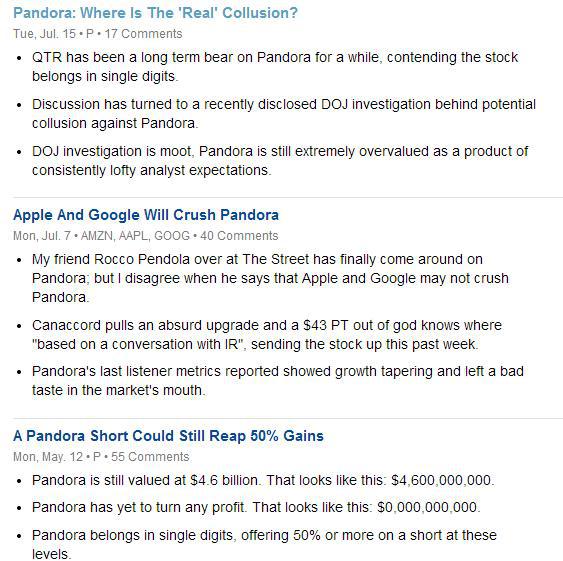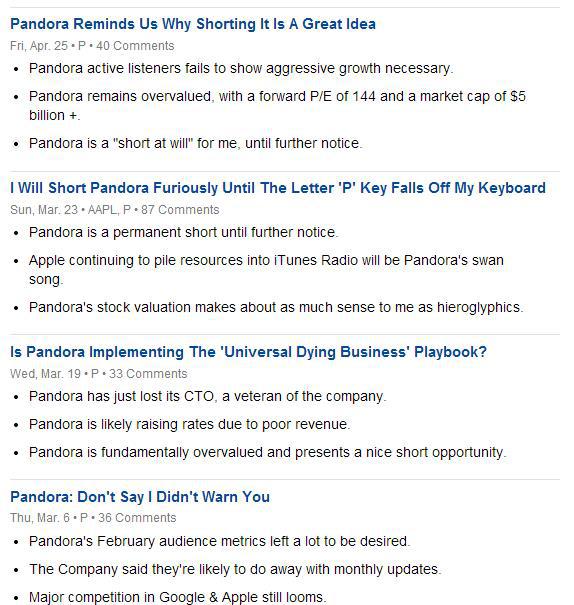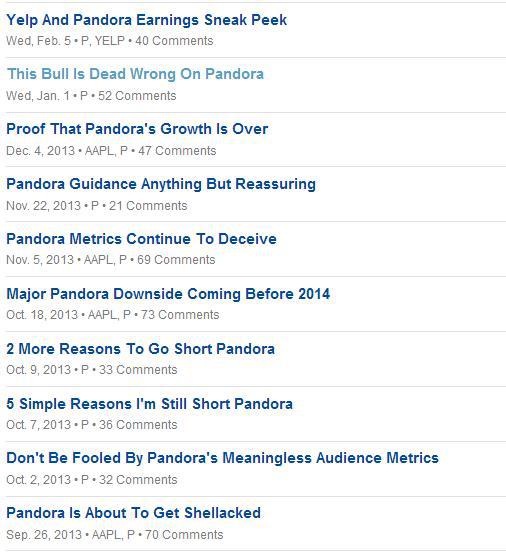 Do you get the picture yet?
But, the purpose of this article isn't to toot my own horn. It's to once again further the case for being short this name. Pandora is a company that still, even after this disappointing earnings reports, is way overvalued.
Pandora reported earnings this past week that failed to impress the street. The company reported non-GAAP earnings of $0.04/share on revenues of $219 million, beating the consensus of $0.03/share on $219 million in revenue. Guidance failed to impress the street, however. Seeking Alpha reported on the company's earnings:
Pandora ended June with 76.4M active listeners, up 7.5% from 71.1M a year earlier but down 1% from 77M at the end of May. By contrast, the company saw a 300K listener increase from May to June in 2013.
Q2 listener hours jumped 29% Y/Y to 5.04B. Favorable comps - Pandora had a 40-hour free mobile listening cap in place from March-August - helped with the growth.
The company faced several CC questions (transcript) over listener growth and competition. SunTrust asked if the Apple/Beats deal had an effect, and Canaccord suggested Pandora isn't investing heavily in customer acquisition for the time being since it still has excess ad inventory to sell.
Pandora insists the competitive landscape hasn't changed, noting it has an estimated 77.6% U.S. Web radio listening share among the top 20 properties (per Triton Digital), and argues seasonality hurt June figures. The company says it's spending more on marketing than ever, but admits it doesn't have a large budget.
The Q2 slowdown in Y/Y subscription/other revenue growth is attributed to tougher comps - the mobile listening cap led to a surge in subscriptions last year. But growth was also relatively modest on a Q/Q basis (+5%). Pandora's subscriber base grew by 100K to 3.5M.
Mobile ad revenue per thousand hours (RPM) rose 22% Y/Y to $36.00. It remained well below a PC ad RPM of $62.43 (+18%). Sales/marketing spend rose 49% to $66.2M, as Pandora continues spending heavily on sales hiring. Content acquisition costs were 52% of revenue.
I know that these subscription comps were going to be an issue when I wrote about how the company was performing their comps in a previous article. The company was selectively using QOQ vs. YOY comps wherever it served them best for these metrics, and it was obvious that growth in subscriptions and active listeners was starting to wane.
In my last article on Pandora, I suggested that the only reason the stock was running up was due to collusion from analysts. Yes, that's a ballsy claim to have made just days before Pandora earnings. I wrote:
As I think anyone should be wary of any analyst suggesting that Pandora can, and needs to, run higher. One of the main reasons I don't work as a sell side analyst at a major firm is because I don't think I'd be able to keep my lunch down recommending a stock like Pandora and suggesting that it could be going to $43.

And that's not to say I hate momentum stocks, because I don't. I'm a fundamentals first guy by nature but the occasional Tesla (NASDAQ:TSLA) that comes along will offer me cause to abandon short term fundamentals for favor of the potential long-term gains. It's just that with Pandora, I feel their best days are behind them already.

To make my point on analysts being the driving force behind this stock, here's some of Pandora's analyst history prior to this Canaccord move:
- source Yahoo! Finance)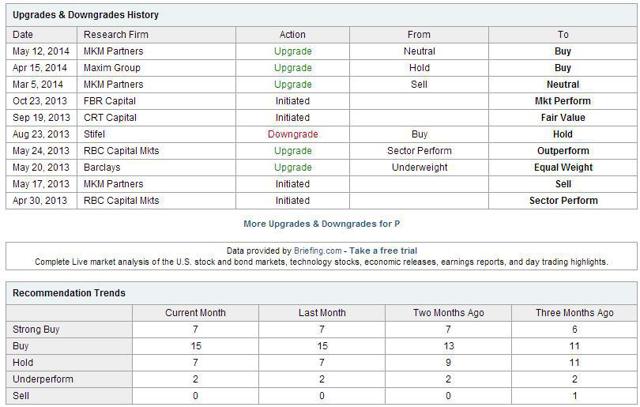 There are ZERO analysts that think you should sell Pandora in its current state, and only ONE analyst that recommended a sell within the last three months. Hilarious, right? Better than that, the consensus recommendation is calling for an average price target of $35/share. QTR thinks this estimate is about $25/share too much.
So, what did we learn from Pandora's earnings?
First, we learned the company is likely toast for the long-term. Short of a buyout (which QTR does not think could happen at these levels - maybe cheaper), Pandora has been destined to become Apple (NASDAQ:AAPL) or Google's (NASDAQ:GOOG) (NASDAQ:GOOGL) lunch.
Second, it's taught us that analysts can be dead wrong. And they can all be dead wrong in unison. This is a super important lesson that I learned years ago. I also touched on this when I wrote my "Definitive 17 Cardinal Rules for Investing Success" last year. I wrote that analysts, usually always have a stake in the game:
As much as I hate (read: love) to bash Jim Cramer in two successive articles, he's the pinnacle example of this rule. Much of the public was absolutely flattened when they watched his interview a couple of years back on the Daily Show. In this interview, Jon Stewart played back for Cramer a YouTube video of himself openly admitting to making up and disseminating rumors about companies when his hedge fund was short them. This was the public's first glance into the dirty work that goes on behind the scenes at hedge funds; if they knew the down and dirty details, jaws would drop all the way to the ground.

The lesson I hoped the public learned from this is that 95% of the people feeding you advice; whether it's here on Seeking Alpha, on CNBC, or in the Wall Street Journal all have agendas and positions that they're trying to make money on. Believing these people disclose these positions all the time is laughable. Take everything, including what I write, as a sales pitch. Go in as a skeptic and question motives. Again, finance is a lesson in cutthroat 101.
So much of performing your own analysis is being able to separate the evidence and the fundamentals from what the sell side is crowing about on Wall Street. As I said in a previous article, the reason I don't think I could become a sell side analyst is because I don't think I could keep my lunch down issuing firm-mandated price targets like $43 for Pandora.
Pandora has survived thus far based on the touting of the name from analysts. Similar to some other stocks that I'm short (not going to mention names, but take a guess), analyst sentiment is only right until it's all proven wrong. Not too many fundamentals based investors looked at this $6 billion company with zero profits and thought it was undervalued.
In this case, I'm expecting analysts to come out and start to re-evaluate the way they've been looking at this company as soon as this week.
I continue to think Pandora is a sell, with a price target of $9.
Disclosure: The author has no positions in any stocks mentioned, and no plans to initiate any positions within the next 72 hours. The author wrote this article themselves, and it expresses their own opinions. The author is not receiving compensation for it (other than from Seeking Alpha). The author has no business relationship with any company whose stock is mentioned in this article.