Contango and Backwardation Strategy
Some of my frequent readers have commented on a strategy for volatility products using contango and backwardation as their targets. I wanted to test out this strategy and give you a visual of how it would perform.
I agree with this strategy. About 95% of my personal strategy in shorting volatility depends on futures being in backwardation. However, I still do not subscribe to the notion that the spot VIX is irrelevant. If the spot VIX went to 80, then my strategy would be to go all in on shorting volatility no matter what the backwardation level. As we saw in 2008, volatility decreasing would more than make up for any loss of value due to backwardation at those levels.
In this article, we are going to focus on how this strategy would work with shorting iPath S&P 500 VIX Short-Term Futures ETN (NYSEARCA:VXX). This same strategy would also apply to ProShares Ultra VIX Short-Term Futures ETF (NYSEARCA:UVXY), VelocityShares Daily 2x VIX Short-Term ETN (NASDAQ:TVIX), and ProShares VIX Short-Term Futures ETF (NYSEARCA:VIXY).
Let's begin by taking a look at how VXX has performed since inception.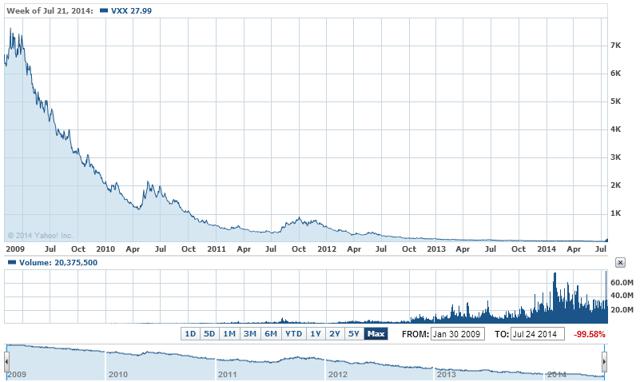 Here is a look at the contango and backwardation levels during the same time period (est.).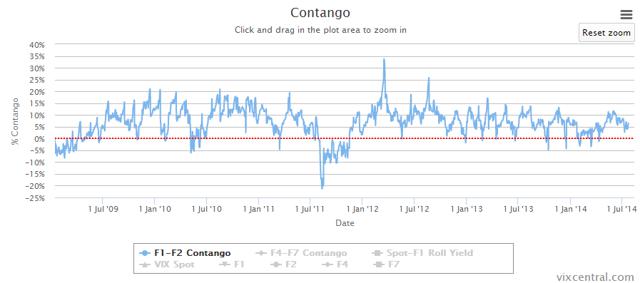 Using actual percentage change data we are going to calculate how VXX would have performed with the following parameters:
Futures enter backwardation and then re-enter contango. This is the trigger point to short VXX.
Hold a short position in VXX until futures re-enter backwardation.
Repeat the same cycle once backwardation reverts to contango.
Strategy performance
| | | | |
| --- | --- | --- | --- |
| Start date (enters contango) | End date (enters backwardation) | Percentage change in VXX | Total value of a $10,000 investment |
| 5/21/2012 | 12/28/2012 | -51.56% | $15,156.00 |
| 12/31/2013 | 2/25/2013 | -16.43% | $17,646.13 |
| 2/26/2013 | 6/20/2013 | -12.50% | $19,851.90 |
| 6/21/2013 | 10/07/2013 | -24.72% | $24,759.29 |
| 10/10/2013 | 10/15/2013 | 2.90% | $24,041.27 |
| 10/16/2013 | 12/16/2013 | -12.02% | $26,931.03 |
| 12/18/2013 | 1/30/2014 | 6.45% | $25,193.98 |
| 2/7/2014 | 3/14/2014 | 5.52% | $23,803.27 |
| 3/17/2014 | 4/11/2014 | -0.44% | $23,698.53 |
| 4/14/2014 | 7/25/2014 (date chart was made) | -35.49% | $32,109.14 |
Chart created by Nathan Buehler with data from The Intelligent Investor Blog.
Over a two-year and two-month period, this strategy would have yielded you a 221.09% return on your initial investment.
2008
For historical reference, I made this chart using historical futures data. For the majority of the severe downturn in 2008 the futures were in backwardation. This strategy would have protected you from severe losses. When to jump back in and short volatility after an event like this is better left to your own judgment rather than a set strategy. Once conditions return to more normal levels, then I would resume the above strategy.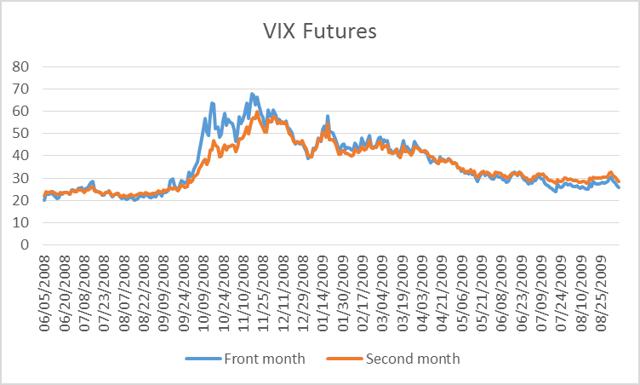 Chart created by Nathan Buehler using historical CBOE futures data.
Outlook for VXX
Currently the VIX futures are far from backwardation and I would sit tight, for a shorting strategy, until that happens.
Remember, economics drives the stock market and the S&P 500 options drive the VIX. Usually I pump the investing.com economic calendar for up to date economic news. I still think this is a great resource for tracking data. However, John Kicklighter publishes a manic calendar, which I also like to review before the trading week starts. These are economic events that have the possibility to bring higher volatility to currencies and markets around the world.
Conclusion
Do I think this is the best strategy to use when shorting VXX or UVXY? My response would be that it is a good strategy, especially if you are new to trading volatility. This strategy protects you from large losses during recessions, etc., as seen in the above chart. The strategy also doesn't win 100% of the time, not a deal breaker.
In comparison to my strategy, which you can view on my Instablog, I would never hold these products (short) for more than 1-2 months. I like to use options because most of these vehicles are hard to short.
Before commenting and saying "well what about XIV," wait until that article is published. Once it is I will update this article with the link.
Please follow me on Seeking Alpha and be on the lookout for a sister article to this where we use the same strategy on inverse volatility ETPs.
Thank you for reading, I sincerely appreciate it!
Disclosure: The author has no positions in any stocks mentioned, and no plans to initiate any positions within the next 72 hours. The author wrote this article themselves, and it expresses their own opinions. The author is not receiving compensation for it (other than from Seeking Alpha). The author has no business relationship with any company whose stock is mentioned in this article.