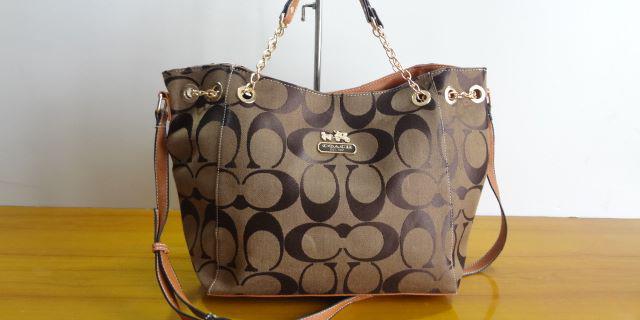 Picture: Coach Bag. Source: newsofsalemcounty.com
Coach, Inc. (NYSE:COH) is set to announce its quarterly earnings on Monday. The die was cast when during its June 19th Investor Day, management delivered bad news that revenue would decline after the company missed key fashion trends:
Coach warned of double-digit revenue declines, 70 store closings and pressure on gross margins in its next fiscal year. The company also admitted that it had under-invested in the business and missed key fashion trends - a death knell for a fashion brand ... The stock fell nearly 9% the following day; the stock has declined approximately 13% in total since the infamous Investor Day.
Management was smart to get the bad news out there and deal with the blowback prior to its earnings release. However, I do not see what could have changed in less than six weeks.
Revenue
Revenue for quarter ended March 29, 2014 ("QE0314") declined over 7% to $1.1 billion from the $1.2 billion achieved for the quarter ended March 30, 2013 ("QE0313"). The decrease was driven mainly by lower comparable store sales in North America.
The average analysts' estimates peg revenue for the quarter at $1.09 billion, which is flat sequentially and about 11% below the $1.22 billion in revenue the company recorded a year ago. Revenue estimates are consistent with management's prediction of "double-digit" revenue declines during Investor Day.
Earnings
Analysts expect the company to achieve earnings per share of $0.53, 40% below last year's $0.89 per share.
Coach is essentially a different company after deciding to downsize its stores and revamp its product line to meet current fashion trends. That is a long-winded way of saying, "Coach's turnaround is way off."
Valuation
Quarterly earnings of $0.53 per share would equate to "run-rate" earnings of about $2.12 per share, and that is being kind.
Given the company's long road to a turnaround - missing fashion trends is not an easy fix - pegging Coach's earnings may be equivalent to "catching a falling knife." Wells Fargo's Paul Lejuez is even more sanguine on the company's turnaround efforts, citing the difficulty for a retailer to change its brand.
Assuming Coach meets earnings expectations, I would expect it to be valued from $21 - $25 per share (10x - 12x run-rate earnings), which is in line with another fallen retailer, Bed Bath & Beyond (NASDAQ:BBBY), which trades at 13x earnings.
Barring any upside guidance from management on the company's earnings call, at $21 - $25 per share Coach would still be priced to perfection.
Disclosure: The author is short COH. The author wrote this article themselves, and it expresses their own opinions. The author is not receiving compensation for it (other than from Seeking Alpha). The author has no business relationship with any company whose stock is mentioned in this article.