Previously, I had highlighted 5 of my top monthly dividend paying stocks, which I feel provide investors with a solid monthly cash flow in addition to appreciation potential. However, not everyone wants individual stocks in their portfolio - some investors might prefer exchange-traded funds (ETFs) for the diversification and simplification they might provide.
First, I'd like to recap the advantages of investing in a stock or an ETF that pays out dividends monthly, as opposed to quarterly, semi-annually or annually.
* Budgeting: If you are retired and need income, it is likely that you'd prefer the convenience of receiving your dividends on a monthly basis, as opposed to quarterly, to handle regular expenses like rent, car payments, insurance, etc.
* Compounding: If you plan on re-investing the monthly dividends, you can compound the money faster and receive higher total returns than those who receive the dividends quarterly. To determine how fast you can grow your money, investors can use this compound interest calculator.
Here's a quick example: if you start out with $5,000 to invest and add $300 a month for 30 years, earning 7% interest, and compound the dividends monthly, you'd have $406,573.79 after 30 years. That same equation with dividends re-invested quarterly, or 4 times a year as opposed to 12 times, results in a total balance of $401,082.49, or $5,000 less, even though you've netted the same returns and added the same exact amount of money!
The most important thing you can do, however, is start early and consistently contribute to your investments. If you had started with $5,000 to invest, but chose not to add any further funds, then after 30 years you'd have just over $40,000 - $360,000 less than the first example. And if you added $300 a month, but only had 15 years to grow your money, you'd end up with $108,366, or $300,000 less than the first example.
Here are three of my favorite monthly dividend paying ETFs:
#3 SPDR Dow Jones Industrial Average ETF (NYSEARCA:DIA)
This monthly dividend paying ETF seeks to provide investment results that correspond to the price and yield performance of the Dow Jones Industrial Average.
Here's why I think the DIA is one of the best ETFs out there:
The DIA currently yields 2.03% and contains 31 blue chip U.S. stocks. The ETF has done its job of providing investment returns corresponding to the Dow Jones - its 10-year annualized returns before taxes are 7.44%, compared to a 7.63% return in the Dow Jones, according to the fund's Fact Sheet. You'll see in the below chart that the ETF has indeed outperformed the benchmark index since 1998: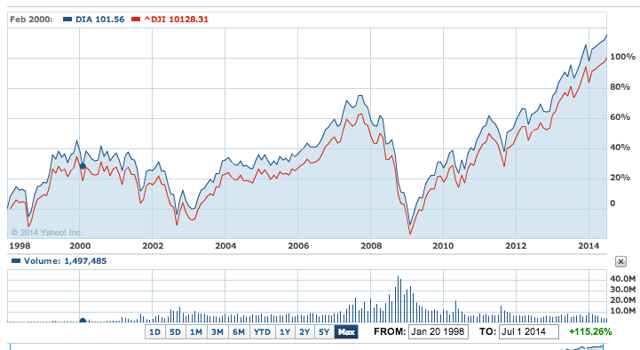 The fund's top 5 holdings include blue-chip names such as Visa (NYSE:V), International Business Machines Corp. (NYSE:IBM), Goldman Sachs (NYSE:GS), 3M Company (NYSE:MMM) and Chevron Corporation (NYSE:CVX).
Sector weighting is 19.88% industrials, 18.68% information technology, 15.8% financials, 13.17% consumer discretionary, 10.45% healthcare, 8.82% energy, 7.48% consumer staples, 3.22% telecommunication services, and 2.5% materials. This provides investors with diversity among asset sectors.
The annual payout is $3.45 a share, giving investors a monthly dividend of $.287. On a $10,000 investment, investors would receive $16.83 a month at current share prices.
Finally, the ETF contains an expense ratio of just .17%, which is very low compared to the average ETF expense ratio of .43%, according to ETFDB.com. Having too high of an expense ratio can eat into your profits over time.
I believe this is a great pick for those seeking a stock ETF that will track the performance of the Dow Jones and provide a solid monthly income.
#2 iShares High Dividend ETF (NYSEARCA:HDV)
The iShares High Dividend ETF seeks investment results that correspond to the price and yield performance of the Morningstar Dividend Yield Focus Index. The ETF provides exposure to 75 dividend-paying, high-quality U.S. companies that have been screened for financial health, according to the fund's prospectus.
Here are a few reasons to like HDV:
The ETF has a distribution yield of 3.16% and in the past 3 years has returned 16.67% on average annually. Total net assets are $4.2 billion. Over the past five years, HDV has slightly outperformed both the Dow Jones and the S&P 500 (NYSEARCA:SPY), as you'll see in the below chart: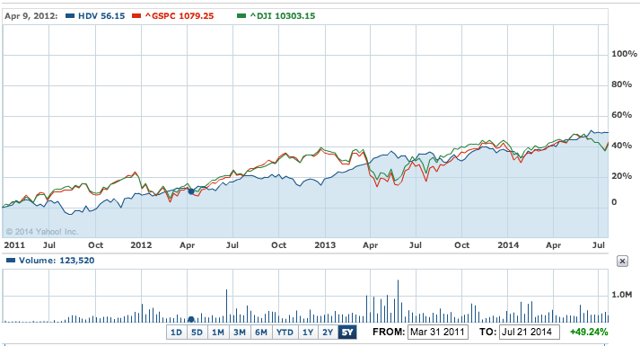 I am long-term bullish on some of the ETF's top holdings, which are AT&T Inc. (NYSE:T), Chevron Corp., Johnson & Johnson (NYSE:JNJ), Procter & Gamble (NYSE:PG), and Pfizer Inc. (NYSE:PFE). These are quality U.S. companies that not only pay dividends but have a history of growing dividends.
The ETF is well diversified, with 23.58% in consumer goods, 19.04% in healthcare, 11.62% in utilities, 9.71% in communication services, 7.6% in energy, 7.16% in oil & gas, 6.75% in financials, 6.21% in technology, 2.65% in consumer cyclical and 1.5% in basic materials.
With an expense ratio of just .12%, the ETF is very low cost.
The fund has a Beta vs. the S&P 500 of .82, which means that it tends to be less volatile than the market.
For these reasons, HDV looks like it could make for a solid core position in one's income portfolio.
#1 Global X SuperDividend ETF (NYSEARCA:SDIV)
The Global X SuperDividend ETF seeks investment results that generally correspond to the price and yield performance of the Solactive Global SuperDividend Index. The ETF contains global equities that pay some of the highest dividends on the market. This is not to be confused with the Global X SuperDividend U.S. ETF (NYSEARCA:DIV).
Here's why I've listed SDIV as my #1 overall pick:
Currently, SDIV yields 5.78%, which is higher than many other ETFs. As of March 31, 2014, the 12-month average yield was 6.55%, which is compared to an average 12-month yield of 5.2% for similar indexes, according to the fund profile. The fund also had a Beta of .94, and a beta below one means the fund is less volatile.
If a company in the index cuts its dividend, that company is removed from the fund at the next quarter.
The current payout is $.125 per month. On a $10,000 investment, investors would receive $47.8 per month in dividend income.
SDIV has outperformed the market over the past year, returning 16.69%, while the Dow Jones returned 16.69% in that time period.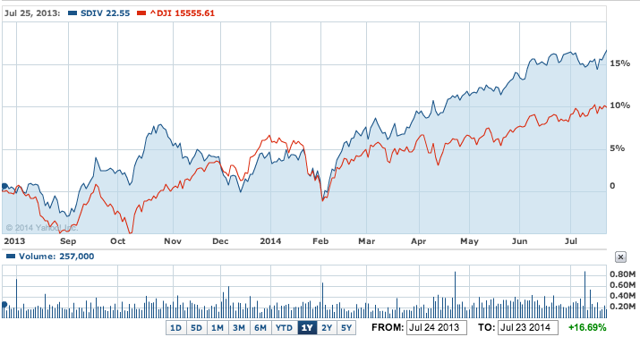 The ETF is very well diversified, with 107 total holdings in various industries, located in countries across the world, with 27 in the United States.
SDIV's industry breakdown is as follows: 24.6% REITs, 20.9% financials, 13.4% utilities, 12.1% telecommunications, 9.1% energy, 5% industrials, 4.7% consumer discretionary, 2.8% healthcare, 2.7% materials, 2.1% information technology, and 2.0% consumer staples.
SDIV's top holdings include Banco Do Brasil (OTCPK:BDORY), Windstream Holdings Inc. (NASDAQ:WIN), David Jones (OTC:DVDJF), Smartone Communications, Canadian Oil Sands (OTCQX:COSWF), Bonterra Energy Corp. (OTC:BNEFF), ARMOUR Residential REIT (NYSE:ARR), Omega Healthcare (NYSE:OHI), etc. A full list of holdings can be found at the Global X Funds website.
For those needing income plus international stock diversification, the SDIV looks like a solid pick.
In conclusion, these three ETFs are my top choices for investors looking for monthly income, as they provide both diversification and the potential for capital appreciation.
Disclosure: The author has no positions in any stocks mentioned, and no plans to initiate any positions within the next 72 hours. The author wrote this article themselves, and it expresses their own opinions. The author is not receiving compensation for it (other than from Seeking Alpha). The author has no business relationship with any company whose stock is mentioned in this article.