In this article, we are going to use the same parameters of a contango and backwardation strategy we discussed with iPath S&P 500 VIX Short-Term Futures ETN (NYSEARCA:VXX). Today we are going to review how this strategy would affect inverse volatility products, specifically VelocityShares Daily Inverse VIX Short-Term ETN (NASDAQ:XIV). This strategy would also be effective with ProShares Short VIX Short-Term Futures ETF (NYSEARCA:SVXY).
Using actual percentage change data we are going to calculate how XIV would have performed with the following parameters:
Futures enter backwardation and then re-enter contango. This is the trigger point to purchase XIV.
Hold a position in XIV until futures re-enter backwardation. This is the trigger to sell XIV.
Repeat the same cycle.
Strategy performance
| | | | |
| --- | --- | --- | --- |
| Start date (enters contango) | End date (enters backwardation) | Percentage change in XIV | Total value of a $10,000 investment |
| 5/21/2012 | 12/28/2012 | 48.28% | $14,828.00 |
| 12/31/2013 | 2/25/2013 | 10.62% | $16,402.73 |
| 2/26/2013 | 6/20/2013 | -2.50% | $15,992.66 |
| 6/21/2013 | 10/07/2013 | 23.57% | $19,762.13 |
| 10/10/2013 | 10/15/2013 | -3.14% | $19,141.60 |
| 10/16/2013 | 12/16/2013 | 11.23% | $21,291.20 |
| 12/18/2013 | 1/30/2014 | -9.51% | $19,266.41 |
| 2/7/2014 | 3/14/2014 | -7.79% | $17,765.56 |
| 3/17/2014 | 4/11/2014 | -0.97% | $17,593.23 |
| 4/14/2014 | 7/25/2014 (date chart was made) | 48.01% | $26,039.74 |
Chart created by Nathan Buehler with data from The Intelligent Investor Blog.
Using this strategy, your two-year and two-month investment would have yielded 160.4%.
Would that have performed better than a buy and hold strategy? Take a look below.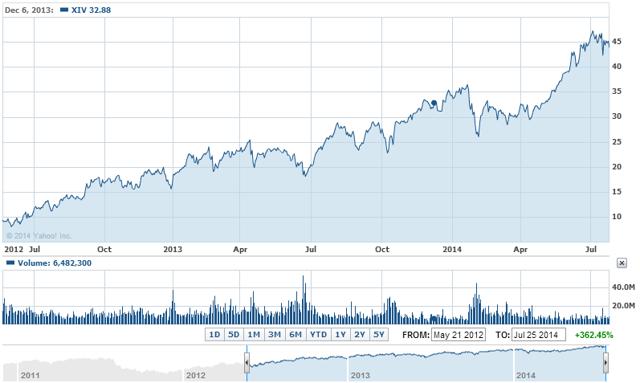 During the same period of time you could have doubled your return with a buy and hold strategy. It is important to point out that the past two years have seen a roaring bull market without significant pullbacks in the S&P 500 Index. I would always caution you to watch the economic outlook and let it be your guide as to when to exit your position in XIV.
2008
For historical reference, I made this chart using historical futures data. For the majority of the severe downturn in 2008 the futures were in backwardation. This strategy would have protected you from severe losses.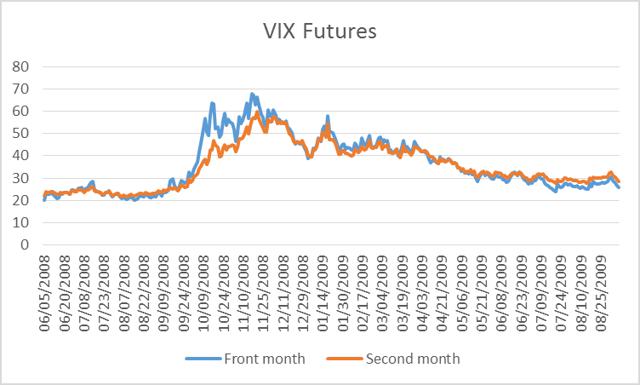 Chart created by Nathan Buehler using historical CBOE futures data.
Outlook for XIV
Through geopolitical crises, XIV has proven to be resilient the past several months. If you currently owned a position, I would recommend you hold it considering the mild level of contango still factored into VIX futures.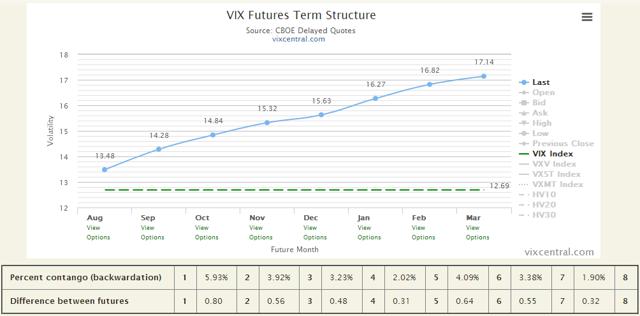 When VIX futures spiked on the downing of the Malaysian Airlines plane (by pro-Russian rebels in Ukraine), contango was still present as futures moved from 12.70 to over 13.70 on 7/17/14.
Until economic conditions worsen, the market will continue to move sideways to higher.
My concerns for the future are rising interest rates, the lack of full time jobs in the jobs numbers, reduced share buybacks, and reduced earnings growth due to the previous points.
Mid-term elections are coming up and we enter a new debt ceiling debate early next year.
Geopolitical turmoil and earnings continue to be the focus of short-term VIX movement.
Please follow me on Seeking Alpha and as always, I sincerely appreciate you reading.
Disclosure: The author has no positions in any stocks mentioned, and no plans to initiate any positions within the next 72 hours. The author wrote this article themselves, and it expresses their own opinions. The author is not receiving compensation for it (other than from Seeking Alpha). The author has no business relationship with any company whose stock is mentioned in this article.