Late last week, I wrote my initial thoughts on the merger between QR Energy (NYSE:QRE) and BreitBurn Energy Partners (BBEP). In that article, I suggested owners of QRE units may want to take some profits. This suggestion seems to have generated quite a bit of discussion, with strong arguments on both sides.
In the following article, I will expand upon my initial piece and delve deeper into BBEP specifically.
Before I start, let me provide some of the key details of the transaction for easier referencing:
QRE unitholders to receive 0.9856 units of BBEP (almost a 1 for 1 trade) for each QRE unit held
Transaction initially valued QRE at $22.48 per unit, a 19% premium to its July 23, 2014, closing price of $18.87
BBEP plans to increase its distribution to $2.08 per unit after closing
Why is BreitBurn buying QR Energy?
If I had to pick one reason, BBEP appears to be targeting QRE due to the later's relative undervaluation.
As I noted in my earlier article, QRE was by far the cheapest upstream MLP, trading at P/DCF multiple under 9.0x before the merger was announced. By comparison, BBEP traded at around a 11.0x P/DCF multiple. As a result, even with the 19% premium (1.19 times 9.0 is 10.71), QRE was by definition accretive to BBEP.
Another potential reason for the merger is oil. QRE is a liquids focused MLP, with around 67% of its reserves coming from oil. By comparison, BBEP is only about 53% oil focused.
Much of QRE's oil production is of the low-risk mature type. This production, especially in the Jay Field, is ideal for EOR investments, such as nitrogen and water injection. The company was planning to deploy up to $63 million in capital this year on these projects and I expect more capital may be deployed under the combined company.
Lastly, BBEP may be simply wanting to diversify its asset base. Currently, BBEP is very much a Western USA based upstream MLP. While this offers mostly Brent based oil pricing, it also carries increased regulatory risks.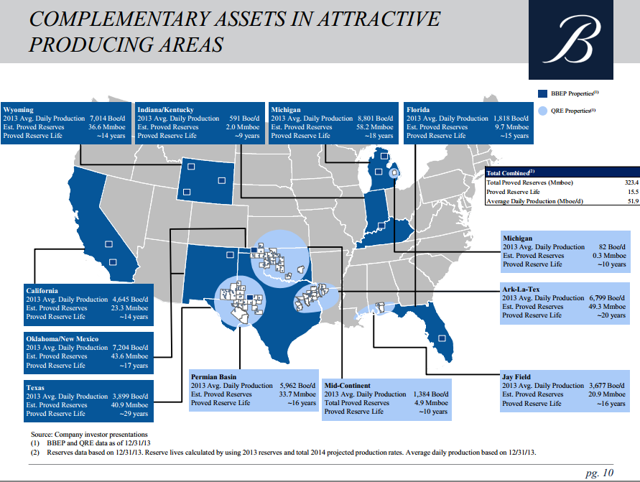 What are the risk involved with this sort of all-stock transaction?
In my decision to sell most of my QRE holdings, my main concern was the risk involved in the all stock deal. I sold at a handsome profit and plan to keep the profits invested in QRE units, almost as if playing with the house's money to use a gambling term.
QRE unitholders are not getting cash. Instead, we would be getting BBEP units, which are technically overvalued compared to QRE's.
As anyone involved with the LinnCo/Berry merger can tell you -- stock prices can change day-to-day, oftentimes totally unrelated to a company's fundamentals.
Furthermore, now that QRE is merging with BBEP, its own operating results are almost an afterthought. Furthermore, its stock price will now be a function of BBEP's and is unlikely to trade independently.
Did BreitBurn's recent quarterly result play a factor?
What's better to hide a poor quarterly result than a major acquisition?
To put it mildly, BBEP missed estimates, sending shares lower. BBEP seemed to suffer from higher than expected derivative losses, both realized and unrealized, as well as lower natural gas prices. Combined, this sent DCF down to $0.431 per unit in the quarter, for a less than robust 0.86x coverage ratio.
However, I do not think BBEP is buying QRE solely to hide these results. These sort of transactions take months of due diligence and are not completed on the fly.
Did QR Energy get a fair price for its unitholders?
As I have written about in the past, QRE was being discounted by the market due to concerns related to its GP and the related management fees.
QRE solved this problem when it agreed to buyout its GP back in May in exchange for 11.6 million class B units, issued over four years in equal installments. If issued all at once, this would have diluted QRE unitholders by 20% at the time.
As a result of this transaction, QRE went from trading at around 8x DCF to 9x. The remaining discount was likely caused by the Class B unit and the remaining dilution overhang.
BBEP is offering QRE around 10.50x DCF per unit. While a large premium to where it was trading, it is still below other upstream MLPs multiples
However, the following from the merger announcement has me slightly flustered:
In addition, holders of QRE's Class B contingent units have agreed to reduce the outstanding number of such units by approximately 42%, subject to closing adjustments.
With BBEP buying QRE, all of a sudden the units outstanding for the GP were reduced by a massive 42%. While not a big deal, it makes me wonder if QRE's GP may have been too greedy with the initial buyout.
Conclusion
With BBEP buying QRE, the hunt for the new "bargain" upstream MLP now begins. Among those with obvious discounts to peers include Atlas Resource Partners (NYSE:ARP), LRR Energy (NYSE:LRE) and Memorial Production Partners (NASDAQ:MEMP). I plan to do a write-up on these name once they all report their Q2 results.
Disclaimer: The opinions in this article are for informational purposes only and should not be construed as a recommendation to buy or sell the stocks mentioned. Please do your own due diligence before making any investment decision.
Disclosure: The author is long QRE, MEMP. The author wrote this article themselves, and it expresses their own opinions. The author is not receiving compensation for it (other than from Seeking Alpha). The author has no business relationship with any company whose stock is mentioned in this article.