"There cannot be a crisis next week. My schedule is already full." - Henry A. Kissinger
It has certainly been a tumultuous past few days for broad stock markets worldwide. Treasuries remain relatively well bid, acting as if either the US economy is about to meaningfully slow down, or as if an event is to come that could quickly break bullish sentiment. US large-caps (NYSEARCA:SPY) have been volatile, but as of yet have not broken down meaningfully. The media is focused on the Malaysian plane tragedy and the on-going crises between Russia/Ukraine, and Israel/Palestine, making the case that war may be what finally brings volatility back into markets.
This all may well be true. July has been a month of whipsaws, and an uncertain market. However, as I stated before earlier in the year, I believe U.S. small-cap stocks are considerably more vulnerable than emerging markets despite lingering fears there. Momentum chasers have largely been focused on less liquid, high flying names, pushing valuations in some to extreme bubble levels. This of course does not mean small-caps have to fall, but it does imply that the risk-reward in US small-caps may not be attractive in the near-term.
Sector movement also does not validate small-cap strength in the near-term. Domestically-sensitive small-caps tend to be highly dependent on the consumer. Discretionary stocks, Homebuilders, and Retailers are not showing the same level of confidence about the future as Yellen is. In the ATAC Beta Rotation Fund (Ticker: BROTX), our stock market sector rotation fund, we had been considerably overweight the energy sector which focuses on companies like Exxon Mobil (NYSE:XOM) and Chevron (NYSE:CVX) lately because our models are showing the strongest momentum potential there, which tends to coincide with leadership in emerging markets and not the US.
No folks - in a world where the news is focused on emerging markets, I believe it looks like it is the US to most worry about. Take a look below at the price ratio of the iShares Russell 2000 ETF (NYSEARCA:IWM) relative to the Schwab Emerging Market Equity ETF (NYSEARCA:SCHE), overlayed with a 20-day MA (moving average) of that ratio. As a reminder, a rising price ratio means the numerator/IWM is outperforming (up more/down less) the denominator/SCHE. A falling ratio means the opposite.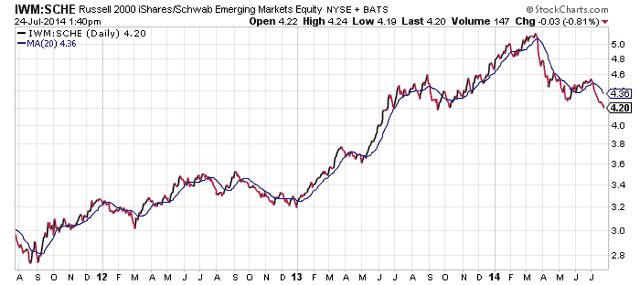 Indeed the ratio is trending lower, showing on-going weakness in US small-caps and strength in emerging markets, despite what the headlines would lead you to believe. Personally, I've always found it amazing that people consider risk to be higher in those areas which failed to rally to begin with after a prolonged period of time.
Would you from an investment standpoint rather hold on to small-caps which have already had a huge run, or position into perhaps the last great value left? If small-cap momentum is over, shouldn't emerging market value attract some of that money? Seems to me the biggest crisis is in logic.
This writing is for informational purposes only and does not constitute an offer to sell, a solicitation to buy, or a recommendation regarding any securities transaction, or as an offer to provide advisory or other services by Pension Partners, LLC in any jurisdiction in which such offer, solicitation, purchase or sale would be unlawful under the securities laws of such jurisdiction. The information contained in this writing should not be construed as financial or investment advice on any subject matter. Pension Partners, LLC expressly disclaims all liability in respect to actions taken based on any or all of the information on this writing.
The fund at date of publication does not invest in any of the following investments: SPY, XOM, CVX, IWM, or SCHE. Fund holdings are subject to change and are not recommendations to buy or sell any security. Current and future holdings are subject to risk.
The Fund's investment objectives, risks, charges, expenses and other information are described in the statutory prospectus, which must be read and considered carefully before investing. You may download the statutory or summary prospectus or obtain a hard copy by calling 855-ATACFUND or visiting atacfund.com. Please read the Prospectuses carefully before you invest.
Mutual fund investing involves risk. Principal loss is possible. Because the Funds invest primarily in ETFs, they may invest a greater percentage of its assets in the securities of a single issuer and therefore is considered non-diversified. If a Fund invests a greater percentage of its assets in the securities of a single issuer, its value may decline to a greater degree than if the fund held were a more diversified mutual fund. The Funds are expected to have a high portfolio turnover ratio which has the potential to result in the realization by the Fund and distribution to shareholders of a greater amount of capital gains. This means that investors will be likely to have a higher tax liability. Because the Funds invest in Underlying ETFs an investor will indirectly bear the principal risks of the Underlying ETFs, including but not limited to, risks associated with investments in ETFs, large and smaller companies, real estate investment trusts, foreign securities, non-diversification, high yield bonds, fixed income investments, derivatives, leverage, short sales and commodities. The Fund will bear its share of the fees and expenses of the underlying funds. Shareholders will pay higher expenses than would be the case if making direct investments in the underlying funds. The Beta Rotation Fund is new with no operating history and there can be no assurances that the fund will grow or maintain an economically viable size.
All investing involves risks. Investing in emerging markets has more risk such as increased volatility, relatively unstable governments, social and legal systems that do not protect shareholders, economies based on only a few industries and securities markets that are substantially smaller, less liquid and more volatile with less government oversight than more developed countries. Investing in small cap companies involve additional risks such as limited liquidity and greater volatility than large companies.
Beta is a measure of the volatility, or systematic risk, of a security or a portfolio in comparison to the market as a whole.
References to other securities should not to be interpreted as an offer of these securities.
ATAC Beta Rotation Fund is distributed by Quasar Distributors, LLC. No other products mentioned are distributed by Quasar Distributors, LLC.
Disclosure: The author has no positions in any stocks mentioned, and no plans to initiate any positions within the next 72 hours. The author wrote this article themselves, and it expresses their own opinions. The author is not receiving compensation for it (other than from Seeking Alpha). The author has no business relationship with any company whose stock is mentioned in this article.