Panera Bread (NASDAQ:PNRA) is set to report earnings this coming Tuesday, July 29th.
As you can see, Panera has been in a sustained downtrend for the better part of the last 6 months. Even so, the stock is only off 18.9% YTD and 15% for the trailing twelve months.
The selling has been on decent enough volume throughout the last 4 months that the RSI on the 6 month chart has only popped above 50 once in the last 4 months. The short term moving average crossed below the long term moving average back in the middle of May, and PNRA finds itself now trading in the low $140 range.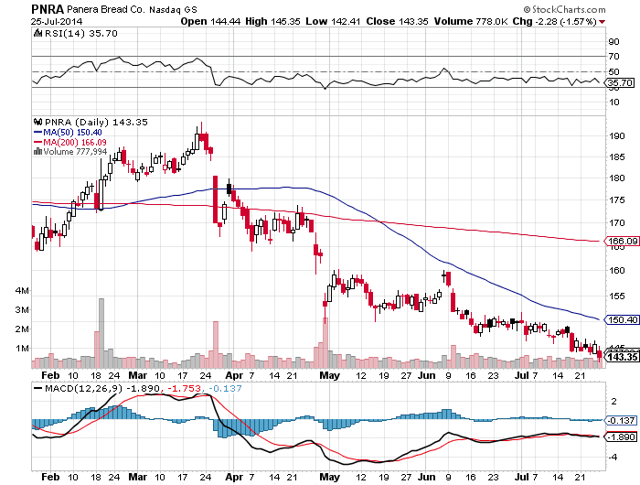 The major question - aside from same store comps - is going to be Panera's plans for continued growth throughout the U.S. and Canada. Yahoo Finance has the consensus at $1.74 on revenues of $640.03 million. This represents 9% growth in revenues YOY.
(source - Yahoo Finance)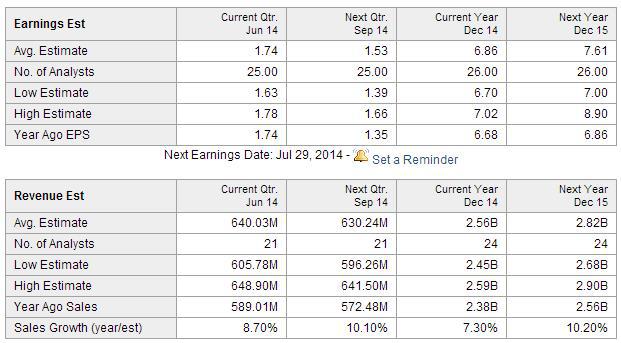 The company is looking to go digital, like many other casual dining companies. They're setting up to implement technology that would allow for automation of orders, while cutting down on staff expenses and keeping efficiency at chain stores at high levels.
Some SA Contributors have made the case for the company to be an LBO candidate. The company's revenue per store and comp store sales have both shown fantastic YOY performance and the company does seem to be the most attractively priced as its been in the last six months.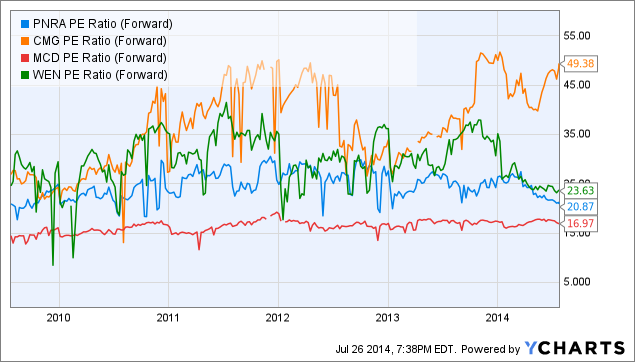 PNRA PE Ratio (Forward) data by YCharts
When you look at how much room Panera still has to grow, and compare it to other casual dining and fast food chains, it becomes evident that it's trading at a relatively low forward P/E.
Comparing it to companies like Wendy's (NYSE:WEN) and McDonald's (NYSE:MCD) - who are no longer in the aggressive expansion growth stage of their company, shows that Panera is already being written off as a company that is ceasing to grow. While its same store sales continue to be sluggish, the company still has plans to open new stores.
Finally, Tickerreport.com gives us some insight as to how research firms and analysts are currently viewing Panera:
A number of research firms have recently commented on PNRA. Analysts at Wunderlich cut their price target on shares of Panera Bread from $170.00 to $162.00 in a research note on Friday. They now have a "hold" rating on the stock. On the ratings front, analysts at Zacks reiterated a "neutral" rating on shares of Panera Bread in a research note on Friday, June 27th. They now have a $156.00 price target on the stock. One analyst has rated the stock with a sell rating, seven have issued a hold rating and nine have issued a buy rating to the stock. Panera Bread currently has an average rating of "Hold" and a consensus target price of $164.93.
QTR thinks that regardless of growth, Panera's attractive pricing in comparison to its other highly aggressive growth peers in the casual dining space likely makes it a good buy, should it dip on earnings.
Despite analyst expectations, the company is trading under its consensus price target and it would take some serious negative sentiment to move the needle to the downside on Tuesday - as most of the bad news appears to be priced in.
I'm a bull heading into Panera earnings this Tuesday.
Best of luck to all investors.
Disclosure: The author has no positions in any stocks mentioned, and no plans to initiate any positions within the next 72 hours. The author wrote this article themselves, and it expresses their own opinions. The author is not receiving compensation for it (other than from Seeking Alpha). The author has no business relationship with any company whose stock is mentioned in this article.