Introduction
New Oriental Education (NYSE:EDU) is the largest provider of private educational services in China, offering courses in English and other foreign languages, overseas and domestic test preparation, and primary and secondary school education.
In light of the growing demand for private educational content, and China's growing internet population, this analysis discusses China's online education market and New Oriental Education's outlook in light of its Q4 earnings release on the 22nd July.
Business Model
The POP range of services is aimed at 3-12 year olds, offering English, Chinese language and math courses. There are both long term and short term classes, where the long term classes are held in the evening and weekends after school on full year cycles. The short term classes are held on 8-15 consecutive days during the winter or summer. There are also summer and winter camps in which students can attend.

The K12 All Subjects U-Can range is aimed at 13-18 year olds, and the curriculum is personalised to the student's location, as different provinces have different GaoKao university entrance exams. New Oriental students outperformed other students on the GaoKao exam this year, with 12 students ranked in the top 3 in provincial cities, and an average of 37% of these top students in the last four years.

New Oriental offers a large range of services for students wanting to study abroad. The international entrance exams, such as GMAT, GRE and English level exams are the most popular, but in addition, there are subject specific entry exams, SATs, A-Levels, GCSEs and various other exams. For students wanting to study in continental Europe, there are language courses available. The company offers a VIP exam service for students, as programs can be developed specifically for each student.
The company also offers a wide range of English courses for students of all ages. This has traditionally been the most important educational service in China as the country emerged onto the international stage in terms of industry and commerce. However, the company has seen a decline in its Adult English class enrolment and revenues over the past few years. This is because kids study English in school and through New Oriental Education for about 10 years, so by the time they reach adulthood, they don't require the adult English classes. When the firm had its IPO in 2006, adult English accounted for between 25%-30% of revenues. This has now dropped to 10%-12%.
New Oriental's online strategy is ramping up quickly. Online education is a major focus for the company, and they continue to invest heavily in R&D and marketing for this area. They are now offering a fully integrated online offline learning ecosystem around the brand. The ecosystem consists of three elements. Firstly, an online based learning system providing O2O integration across all business lines. Secondly, an online learning platform called Koolearn.com and related products. Finally, strategic investments in education companies that complement their own services.
The O2O will be the core element of the firm's online offline education offering. It will work across multiple products, and consist of a series of online education modules and supports classroom teaching. It allows students to track their progress and learn by themselves, as well as facilitating interaction between student, teacher and parent. It will also collect data from different aspects of the student's learning, and then suggest modules for the student to review. This will be rolled out in FY2015, with the first service having this functionality as standard being the newly revamped POP Kids program in Q2. The U-Can service will also get this functionality in the first half of the fiscal year, as well as the overseas and domestic test prep courses.
The Koolearn.com platform will receive continued investment in the near term. It currently has over 2,000 online courses in language training, domestic and overseas test prep, and vocational education, with over 9.2m cumulative registered users and about 177,000 paying users at the end of FY2014. Koolearn recently launched an online test prep program which features live broadcasts of a series of New Oriental's most popular offline prep classes, and has achieved over 264,400 registrations in the second half of FY2014.

The firm has released the Koolearn DONUT game based mobile learning app for children aged 2-8 years old, which had over 8m downloads by the end of FY2014. New Oriental also has agreements with 20 major kindergartens to use the DONUT applications from September 2014.
They're also looking at other ways to expand the Koolearn platform. In 2014, they established a joint venture with ATA Inc, a computer based testing firm, to provide online vocational training and exam prep courses. In May 2014, an English language vocabulary training app called Le Ci was launched on tablets and mobile phones, which already has 310,000 users. Finally, in July of this year, they launched an online education plan called OKAY for primary and secondary schools, which analyses students' after-class self-learning progress.
The third element of their ecosystem strategy is the exploration of investment opportunities within the industry. The plan is to focus on acquiring minority stakes in online education companies that have a business model and technology that are complementary to New Oriental's online educational strategy.
China's Education Market
China's online education market is rapidly expanding as competition for top university places and jobs increases. In 2013, the size of the market was 84bn RMB, representing a growth of 19.9% from 2012. New entrants in the market include content providers, technology provider and platform builders. However, a lot of start-ups have been focusing on elementary education, and this is expected to see strong growth.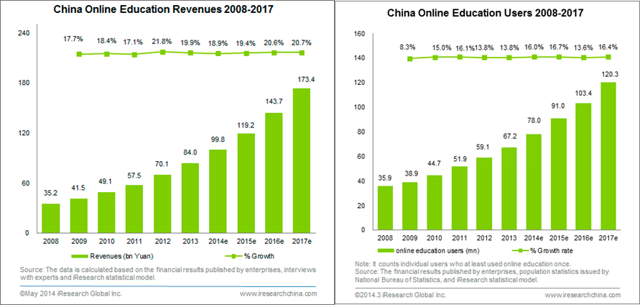 The three major engines of growth are school education, online vocational training and online higher education. Online higher education's market share has been decreasing, and is forecasted to continue to decrease, yet it still currently holds 50% of the market. Vocational and language learning are forecasted for strong growth. Vocational training is growing quickly because employment pressures mean that people are spending more money and time on new skills training to improve their job prospects, particularly certificated skills, such as the CFA or CPA. Yet, whilst a reasonable level of English is required for most jobs in the larger cities, and hence there will always be people wanting to improve their English level, many younger people want to learn other foreign languages. Just as a casual observation here in Shanghai, I know quite a lot of Chinese who are learning French or German, not only for social and cultural reasons, but also because there are a lot of French and German firms in Shanghai, and knowledge of the language would greatly improve a candidate's job prospects.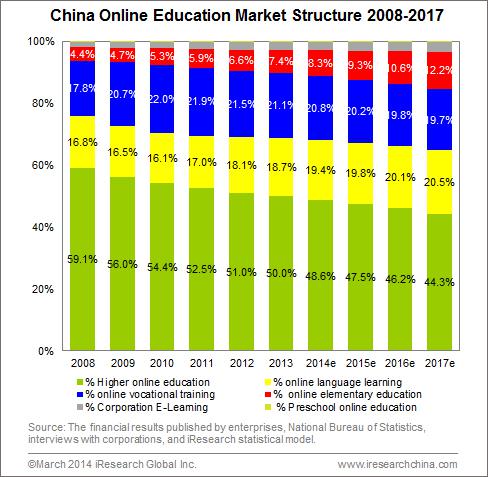 However, there is an issue with language learning, which is that you need the communication with native speakers in order to improve quickly. Therefore the learning atmosphere is important, and online education platforms need to adapt to these needs. In particular, there are many specialized language schools in China, such as Wall Street English and English First, which specifically hire native speakers to teach their classes. In addition, many foreigners in China offer one on one English classes for about US$30 an hour, which gives the student unrivalled access to a native speaker and western culture that firms like New Oriental couldn't offer.
In the future, online vocational education and language learning will contribute more to online education due to their users' rigid demand and high consumption power. China's online education users have reached 67.2m, rising 13.8% from 2012, with that number expected to reach 120.3m by just 2017. The basis of these forecasts is that there is a steady rise of Chinese netizens, which provides a foundation and sufficient growth potential for the growth of online education users. Given China's online population of 568m, it seems that online education only has a small penetration of the potential market. This can perhaps be attributed to a lack of awareness of the products, particularly in terms of whether online courses can offer the same atmosphere and communication as offline courses, and whether the bandwidth quality is suitable for online courses. Likewise, there is a stigma with online courses that users won't have the discipline to continue learning. For example, if you actually attend a class at a set time, students can force themselves to attend. Yet if it's online, there's always a temptation to postpone a class for another time. Also, the internet is flooded with free resources, which reduces the incentive to actually pay for online courses.
From A Valuation Perspective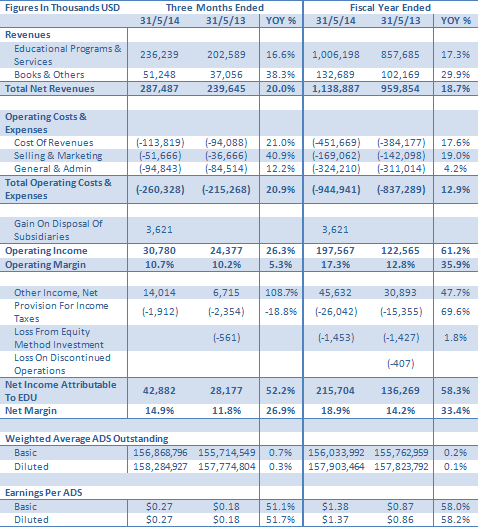 In FY2014, they exceeded $1bn revenue for the first time. Net income for the fiscal year was also a record high of $215.7m, which represents a 58.3% increase over FY2013. Operating income increased 61.2% to $197.6m whilst operating margin improved by 450bp to 17.3%, which beat the original target of between 15% and 16%.
Q4 revenue grew 20% to $287.5m, with operating income growing 26.3% to $30.8m and net income rising 52.2% to $42.9m. Operating margin grew to 10.7% from 10.2% a year ago, and net margin grew to 14.9% from 11.8% over the same period. The firm has been experiencing strong margin and solid bottom line returns throughout the past few quarters, which they account to organic growth and efficiency initiatives. Total student enrolments in academic subjects tutoring and test preparation courses increased by 5.1% year on year in FY2014 to 2,668,700 from 2,540,300 for FY2013.
Looking into the different business segments, the K12 after school tutoring business achieved gross revenue of 15% year on year for Q4 and 20% for FY2014. Breaking this down further, the U-Can middle and high school all subjects after school tutoring business saw gross revenue rise 19% year on year for Q4 and 23% for FY2014. The overseas test prep and overseas study consulting business continue to perform well, with combined revenue growth of 29% in Q4 and 22% over FY2014. Finally, the VIP personalised class segment had 18% revenue growth for Q4 and 19% for the fiscal year. New Oriental believes that this is already achieving health revenue contribution, so they will continue to maintain this level of revenue contribution, whilst shifting marketing efforts to the larger classes.
Selling and marketing expenses increased 19% in the fiscal year, mainly due to brand promotion expenses, whilst general and administrative expenses increased 4.2%.
Looking Ahead
The firm expects to encounter some short term headwinds in the first half of FY2015. One of the main reasons for this is the new GaoKao exam, which is rumored to have lower standards for English. The problem is that this is hasn't been officially announced, so New Oriental can't update their English curriculum. Also, because of the rumor, customers aren't as willing to spend on summer English camps. The summer camp enrolment for U-Can English has declined by 25% for this summer, which is unprecedented. As well as uncertainty over the English requirements for the forthcoming GaoKao exam, parents seem to be unwilling to send their children to these camps in Beijing and Shanghai, when local alternatives are available. But as English enrolment falls, these numbers have been transferring to the math and science classes. In addition, Chinese language is going to be reemphasized on the forthcoming GaoKao, so these classes are also benefiting. However, once the changes to the GaoKao have all been announced, New Oriental will be making changes to its curriculum on a province by province basis.
Another reason for the short term headwinds is that the new POP Kids rollout is taking longer than expected. Given that there have been delays, the company is understandably holding back on marketing and promotion until the whole program is completely released in FY2015Q2. However the company does remain confident that the POP Kids program will perform very well in the second half of the fiscal year. It allows for kids to use tablets and mobile phones, and is much more interactive than the previous 'pen & paper' version. It also allows parents to closely monitor their child's progress. New Oriental states that the O2O rollout across its whole product range will be completed by the end of the first half of FY2015, and investors will begin to see the weakness subside in the second half. Given that the O2O integration is the most important part of the firm's online strategy, the R&D budget for the year will increase 16% from FY2014.
New Oriental has already experienced a weak start to the new fiscal year. In terms of revenue guidance for the whole year, they originally wanted to give 20%. However, Q1 revenues are already down 7% and enrolments down 10%. Whilst they see Q1 growth being driven by U-Can and overseas test prep courses, they are unwilling to give guidance for Q2, Q3 or Q4 for the time being. However, management noted that Q1 will be the worst quarter of the year, and will wait a few weeks before giving guidance. In order to recover from the weak demand that has already been experienced in Q1, they will be more aggressive on marketing in order to try to recover from the weak top line growth. Their expectations for revenue in Q1 are between $412m and $427.5m, which equates to year on year growth of 6%-10%. One of the reasons for this relatively low growth rate is that due to the firm's strictly controlled pay and expansion strategy, they have 23 fewer schools and learning centers than during FY2014Q1. This will obviously affect enrolment top-line growth. However, it also means that growth in the first quarter will be primarily organically driven through improved utilisation of the schools and learning centers.
The success of the K12 business is pulling demand away from the adult English classes, because the program is bringing students into the learning cycle at a much younger age. Therefore by the time they reach adulthood, their English is much better than the same age group ten years ago. When these students need to take overseas exams, their English level is much better, so the adult English business is suffering. The K12 line is experiencing rapid growth, with demand being the highest during the school term, which is Q2, Q3 and Q4 for New Oriental's fiscal year.
Test prep courses traditionally had their peak period during the Q1 summer quarter. However this is shifting early to the late winter and spring quarters, and New Oriental expects this to be a long run trend.
Yet local competition is a prominent theme for New Oriental's outlook, and is partially responsible for the drop off in English summer camp enrolments. There is intense competition in the K12 after school tutoring segment, which New Oriental regards as inevitable given the success of the business line. In response to the increased competition, New Oriental has offered promotions for U-Can summer courses in certain cities, with a price cut of over 10%. Whilst this will affect enrolments and pricing power in the short run, the company believes that quality of its service will see long run demand restored.
The board of directors have issued the repurchase of up to $120m of shares between July 28th 2014 and March 31st 2015. It will be funded through the company's available cash balance. Management also announced that they have developed a strategic partnership with Tencent. They will research and develop unique mobile based English language training learning offerings, which will build on New Oriental's deep resources in terms of content and educational research, and Tencent's technological expertise, online penetration and marketing reach. The product will be launched by the end of 2014, and will be promoted throughout Tencent's online channels and New Oriental's offline networks.
President Louis Hsieh noted that the most recent conference call that the industry is seeing a lot of investment from private equity firms, who are poaching a lot of the firm's staff, which means that they are struggling to find qualified IT staff to help with the roll outs. This is obviously a problem that the firm needs to address, so I think that there are a few outcomes. Firstly, I discussed earlier that new entrants into the industry include platform builders and technology providers. New Oriental could outsource their technology rollout projects to such firms. Acquisition of these firms probably won't solve the problem, because the private equity money would still tempt the top staff to move elsewhere. Secondly, the cooperation with Tencent, in my view, is very important for New Oriental. Management has spoken openly about using Tencent's technological expertise, and in the long run, I believe that Tencent, or if not, then Baidu or Alibaba, should look to acquire a stake in the firm. New Oriental would benefit greatly from the technological capabilities of either of these firms, as well as having access to their platforms and huge online customer base. Likewise, New Oriental provides great access to a fast growing market, and with a market cap of just over $3bn, it is relatively cheap, and in line with the BAT trio's recent acquisition strategy.
Summary
Whilst New Oriental posted decent results and beat analyst expectations, the guidance has left investors with worrying doubts about the company's ability to maintain its position as the market leader. The company has seen 23% of its value disappear during the week of the earnings report. Yet the weakness in FY2015Q1 has clearly taken the firm by surprise, and the reluctance to give guidance for the rest of the year strikes me as worrying. It also puts a lot of pressure on the successful rollout of the new O2O integration products, starting with POP Kids in FY2015Q2.
During the conference call, management were adamant that weak enrolment and increased local competition was due to a weaker Chinese economy meaning that families have less discretionary income to spend on New Oriental's products. Yet in the long run, demand would return because of the quality of their services and the reputation of their brand, which for me is naive. A weaker Chinese economy is not a new occurrence, and whilst I don't believe that the decrease in discretionary spending is as severe as the company suggests, they should have foreseen the issue of local competition. Parents are clearly still investing in their children's education because local competition is taking enrolments from New Oriental. The firm should be focusing on growing enrolments, and making sure that the top GaoKao students in every province are New Oriental students. That is the best way to improve brand recognition. To beat the local competition, New Oriental should be lowering prices, particularly in the poorer provinces, in response to a weaker Chinese economy. I believe that the key importance of enrolment is that parents are unlikely to disrupt their child's education, particularly if they are seeing positive results. This customer retention would allow New Oriental to increase prices as and when the economy improves.
Management also discussed spending trends for their products, and it seems that Q1 is becoming the weakest in terms of revenue generation. The K12 services typically generates revenue during the school term, which excludes Q1, and the test prep courses, which traditionally saw the biggest revenue generation in Q1, have been trending earlier in the calendar year to late Q3 and Q4. This is a worry, because there is also the risk that the English summer camps could see revenue generated in Q4 as parents want to guarantee a place for their child.
However, perhaps investors could just see the results as a collection of misfortune that has occurred at the same time. The rumours of changes to the English curriculum in the GaoKao are perhaps unfortunate, and understandable that summer camp enrolment saw such a drop in FY2015Q1. This also just happened to occur when they are having delays at releasing their new POP Kids program. Yet given that the firm isn't marketing the POP services until it's fully rolled out, the second half of the year will be key for New Oriental.
On the bright side, the Tencent cooperation has the potential to be huge for New Oriental. This is because access to the Tencent platform, including the QQ instant messenger and the WeChat app will give New Oriental access to billions of potential customers. I discussed earlier that the size of the overall market is very small relatively to the size of China's internet population, this deal could be a strong driver for future growth.
Disclosure: The author has no positions in any stocks mentioned, and no plans to initiate any positions within the next 72 hours. The author wrote this article themselves, and it expresses their own opinions. The author is not receiving compensation for it (other than from Seeking Alpha). The author has no business relationship with any company whose stock is mentioned in this article.