A study performed on 118 patients is casting doubts on the benefits of Intuitive Surgical's (NASDAQ:ISRG) da Vinci robotic surgery platform. The study claims that patients with bladder cancer facing same complication rate and hospital stay regardless of the fact whether their bladder was removed using ISRG's robotic platform or traditional invasive procedure.
Intuitive Surgical said that the results are "grossly misleading" because the complications typically occur during the bladder reconstruction phase of the surgery, which is done openly regardless of how the bladder is removed. Intuitive Surgical said last week that its second quarter profit fell 35% and sales fell 11.5% year-over-year. However, the company's second quarter earnings beat analysts' expectations, and as a result the shares of the company rose substantially. In this article I will analyze whether ISRG is still a "buy" at the current price.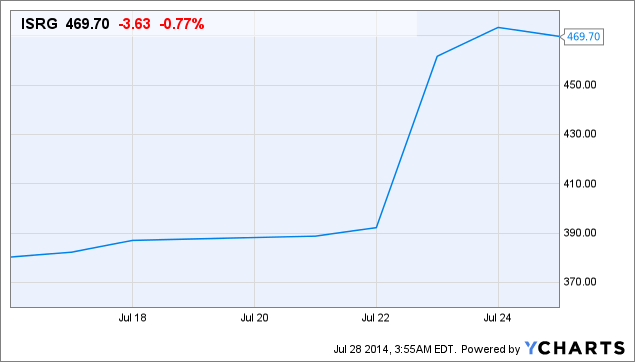 Intuitive Received lots of Negative Criticism for da Vinci
The company's da Vinci robotic surgery platform helps surgeons perform MI (minimally invasive) procedures from specially designed computers that control the robot's arms and surgical tools. Although surgical procedures that are done on da Vinci cost about 10% more than traditional open surgery, surgeons prefer da Vinci since robotic technology is superior to human hands. The da Vinci system has been approved by the FDA for use in both adult and pediatric robotic surgery procedures. Its application is approved in the following areas:
Urological surgeries
General laparoscopic surgeries
General non-cardiovascular thoracosopic surgeries
Thoracoscopically-assisted cardiotomy procedures
Despite robots make it easier to perform MI procedures for some surgeons, a doctors' group said last year that robotic-assisted surgery for hysterectomies doesn't improve outcomes and shouldn't be the first choice for most women. A 2013 study questioned the cost benefit of da Vinci-based hysterectomies, or uterus removal, compared to MI laparoscopic procedures. Since da Vinci robotic systems cost as high as $1.5 million, Intuitive Surgical's sales have declined recently as hospitals struggle with budget constraints.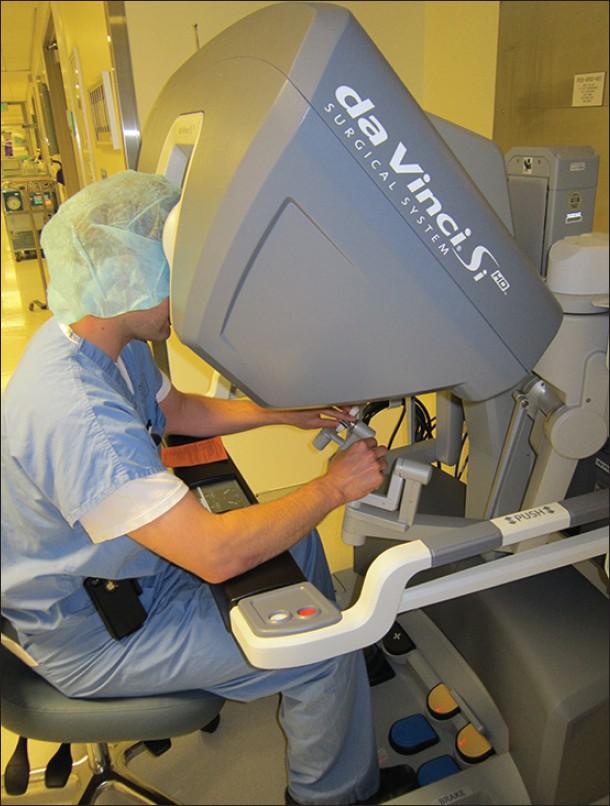 Future Potential of da Vinci amid the Negativity Surrounding It
In spite of the prevailing negative sentiment, robotic-assisted MI surgery undoubtedly provides several advantages to the patient, including minimal muscle dissection, retraction, and bleeding. However, the real benefits of employing robotics in surgical procedures take the form of improved dexterity with a reduction in physiological tremor, reduced X-ray-induced radiation, visualization in three dimensions, and improved ergonomics.
A new research revealed that patients who undergo robotic-assisted laparoscopic hysterectomy have a significantly lower chance of readmission within 30 days after surgery compared to those who undergo laparoscopic, abdominal hysterectomy, and vaginal approaches. I believe that robotic-assisted surgery isn't seeing enough adoption currently despite potential benefits due to the huge expenses associated with installing an effective robotic platform like da Vinci, which is priced around $1.5 million. Installing da Vinci drives up surgical costs by as much as $2,189 per procedure without reducing complications compared to standard less-invasive procedures.
However, I expect that hospitals will certainly understand in future that high costs of installing robots will far outweigh the risks associated with performing MI surgical procedures without the help of robots.
Valuation in Light of Future of Robotic Surgery
At the current price, ISRG is trading at significant premium compared to other prominent players in the medical device industry, such as Medtronic (NYSE:MDT) and Becton Dickinson (NYSE:BDX) in terms of 1 year forward P/E multiple and trailing 12-month Price to FCF.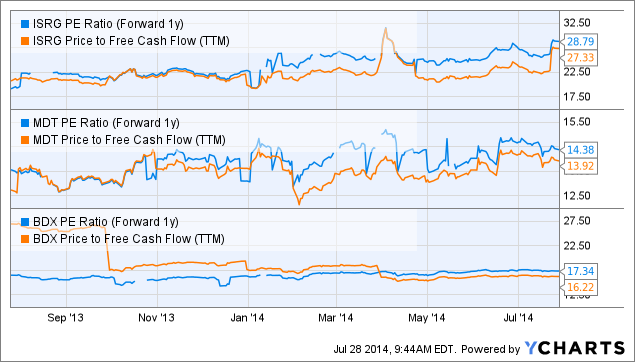 ISRG PE Ratio (Forward 1y) data by YCharts
However, I believe that such premium valuation is absolutely justified because Intuitive has a bright future due to the following reasons:
The future of robotic surgery is quite promising and I believe it would not be unreasonable to assume that the current advantages of robotic-assisted MI surgery, as mentioned above, will be expanded further with the arrival of next generation robots, such as Intuitive Surgical's da Vinci Xi.
The company recently announced the FDA clearance and U.S. introduction of the da Vinci Xi surgical platform. Since da Vinci Xi has broader capabilities than earlier generation da Vinci platforms, da Vinci Xi is considered a technological leap forward in replacing large-incision abdominal surgeries (open surgery) with a minimally invasive approach. The da Vinci Xi has seen positive market adoption so far and going ahead the adoption rate is expected to increase further.
In next generation robots, removing human contact during surgery may be taken to the next level with robotic-assisted surgical platforms capable of functioning at greater distances between surgeons control console and the patient side table robotics, which is expected to completely eliminate intraoperative infection.
Potential Risks
In spite the advantages of da Vinci Xi and a promising future of the company, its shares aren't risk-free. Investors should consider the following risks before investing in ISRG:
Intuitive Surgical's potential competitors are working hard in order to come out with an alternative to the da Vinci system. The University of Washington's Raven II, Titan Medical's Amadeus systems, SOFAR's Telelap ALF-X, and the ARAKNES project are all looking to capture a meaningful pie of the $5 billion annual market for robotic surgery platforms.
The FDA and others have raised questions rearding surgeons' level of training on the da Vinci device. On top of it, Intuitive issued a recall of more than 1,300 systems in November 2013.
Further, da Vinci's ASP has recently declined from about $1.5 million to $1.2 million, primarily due to the recent launch of the upgraded da Vinci Xi, and the company announced a deferral program allowing customers to trade in recently purchased da Vinci instruments and accessories for their upgraded counterparts. However, the program reduced the company's quarterly revenue by $26 million.
The Bottom Line
Although apparently ISRG is trading at a rich valuation, if investors delve deeper in analyzing the company's future potential in light of technological advancements, the valuation should appear reasonable. Furthermore, with competitors' systems years away from commercial availability, ISRG will continue to strengthen its foothold in the robotic surgery market. For me, the stock is a "decent buy" around the current price.
Disclosure: The author has no positions in any stocks mentioned, and no plans to initiate any positions within the next 72 hours. The author wrote this article themselves, and it expresses their own opinions. The author is not receiving compensation for it (other than from Seeking Alpha). The author has no business relationship with any company whose stock is mentioned in this article.