By Tony D'Altorio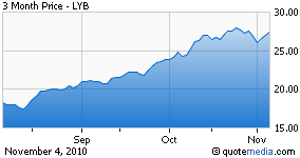 If you want a good comeback story, check out chemical firm LyondellBasell (NYSE:LYB). The world's third largest chemical manufacturer, it came about when Lyondell and Basell merged in December 2007. But things went wrong right from the start…
Swamped with $24 billion in debt from mergers and acquisitions, management tried buying even more. Yapping about growth, they just added to their debt burden. Additionally, prior management never truly integrated the two companies. So Lyondell and Basell still operated separately.
Enter: commodity price volatility, the global debt crisis and the economic downturn. And by January 2009, it was filing for Chapter 11. Notably, it continued expanding even as it filed for bankruptcy.
These days, it has come full circle, with a recent listing on the New York Stock Exchange. Even better, the Rotterdam-based company produces the world's largest amount of polypropylene and polypropylene compounds. And it's also a top global producer of ethylene, propylene and polyethylene. All told, this company looks like a solid buy.
A New Sheriff in Town
Things finally began looking up for LyondellBasell in May 2009, when Jim Gallogly became CEO. Previously, he headed exploration and production at ConocoPhillips (NYSE:COP), and had 29 years of experience running big assets. Once in, Gallogly immediately went about pulling LyondellBasell out of bankruptcy. It only took him until April 30, 2010, to do just that. That was not easy to achieve.
He had to fight off an unsolicited $14.5 billion takeover bid by Reliance Industries earlier this year.
He set benchmarks for the company's various chemical and refining facilities.
He focused on obtaining the same cost structure, performance, emission levels, efficiencies and headcount as comparable facilities.
And he cut $1 billion in fixed costs savings and reduced the workforce by 3,000.
Finally, Gallogly realized the synergies from the 2007 merger by running it as one. Of course, the Chapter 11 protection from creditors certainly helped. Among other debt and cost reductions, it enabled the company to convert $18 billion of debt into equity.
In the end, LyondellBasell eliminated $1.7 billion per year in interest payments. With the $1 billion in fixed costs savings, that amounted to $2.7 billion in savings per year. As conditions continue to improve in the industry, the company will explore selling non-core assets. And the new CEO assures it won't be making any acquisitions any time soon.
Timing Is Everything
Mr. Gallogly is seeking further savings today. By spending $1 billion over the next five years, he hopes to improve energy efficiency across LyondellBasell's 59 manufacturing sites in 18 countries. With 75% of its products tied to energy, it needs to reduce those costs. Fortunately, the CEO has made good so far in this area.
The US natural gas boom is certainly helping the company, with its 23 manufacturing sites in North America. LyondellBasell is enjoying a glut of American shale gas and expensive crude oil right now.
For example, take ethylene, a basic petrochemical used in many plastics, which can be produced from gas-derived ethane or oil-derived naphtha. From the mid-1980s through 2003, neither really had an advantage; US firms relied more on natural gas and European firms on oil.
The boom and bust in US natural gas prices initially made producers here uncompetitive. But ethane-reliant US chemical companies like LyondellBasell now have margins of 14-15 cents a pound, compared with about zero for naptha-dependent European plants. So Lyondell's 20% higher revenue and ensuing profit in the third quarter comes as no surprise.
A year earlier, it recorded a loss. And while the industry usually suffers in the fourth quarter, Gallogly commented on conditions holding "reasonably well during October." LyondellBasell is well positioned for the next few years before the next ethylene cycle peak. And more importantly, natural gas prices – which hit a record $13.69 per million BTU in July 2008 – shouldn't be spiking to double-digit levels again anytime soon. That gives the company just one more thing to bank on… and investors one more reason to bank on it.
Disclosure: Investment U expressly forbids its writers from having a financial interest in any security they recommend to our subscribers. All employees and agents of Investment U (and affiliated companies) must wait 24 hours after an initial trade recommendation is published on online - or 72 hours after a direct mail publication is sent - before acting on that recommendation.
Disclaimer: The Oxford Club LLC/Investment U and Stansberry & Associates Investment Research are separate companies, and entirely distinct. Their only common thread is a shared parent company, Agora Inc. Agora Inc. was named in the suit by the SEC and was exonerated by the court, and thus dropped from the case. Stansberry & Associates was found civilly liable for a matter that dealt with one writer's report on a company. The action was not a criminal matter.