Arena Pharmaceuticals (NASDAQ:ARNA) will be hosting its quarterly conference call on Friday, August 1st, 2014 at 8:00 AM Eastern time. This particular call carries a pretty substantial importance for an equity that has essentially tumbled through 2014 and has seen an even more substantial sell-off on the news that CEO Jack Lief sold over 200,000 shares in early July.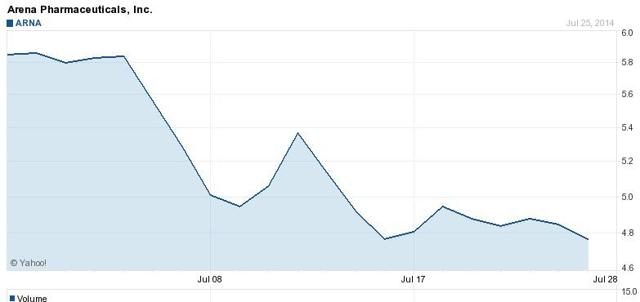 Chart Source - Yahoo Finance
With three more days of trading prior to the conference call, many of even the most faithful Arena fans are nervous. Outside of very compelling news, this equity seems to be suffering from a severe lack of street confidence. Perhaps that nervous feeling in the pit of your stomach should be telling you something.
The street is expecting Arena to deliver a loss of $0.11 on revenues of $9.8 million. One major problem here is that analysts have not updated models recently and many of the expectations set up by the street are based on old information when sales expectations were more robust than they are today. Alas, this is one of the problems with a smaller company like Arena. It simply is not as high on the priority list of analysts as some other players. The bottom line here is that a miss on EPS and revenue is very likely.
Last quarter Arena delivered a loss of $0.12 per share on revenue of $6.8 million. I anticipate the company having expenses that are at least $5 million more than last quarter, bringing the cost side of the equation to $35.4 million. The impact of an additional $5 million in expenses would carry an impact on the EPS of just over 2 cents. Thus, in order to meet antiquated expectations of the street, we would need to see the revenue line jump substantially. Is $9.8 million in revenue possible? Even if it were, the loss this quarter would be $25.6 million ($35.4 million in expenses minus $9.8 million in revenue). A loss of $25.6 million translates to an EPS of $0.12.
Certainly the company could have cut expenses, but unless it is coming from the administrative lines, such cuts would mean slowing the research and development. Let's take a moment to consider that overall expenses remained the same as last quarter and the company got to a very bullish $9.8 million in revenue. The loss at that point would be $20.6 million or $0.09 cents per share. Such an event would certainly be welcomed, but in my opinion is not likely.
Before moving forward, let's break down exactly what revenue should be for the quarter. In my opinion the revenue from the sale of Belviq will come in at between $4 million and $4.2 million. For the purposes of this analysis, I will use $4.1 million. The company should be able to realize about $3.4 million from the Eisai collaborative agreement. That brings the revenue total to $7.5 million. Arena offers up some manufacturing services because it owns a plant in Switzerland. It is more likely that outside contracting services will decline as the plant becomes more and more needed to produce Belviq. Manufacturing revenue should come in somewhere between $400,000 and $500,000. If we split the difference, we arrive at $0.45 million. This would bring the revenue total to $7.95 million. There could be a bit of other revenue, so essentially, the revenue line should be in the neighborhood of $8 million to $8.2 million.
On the cost side, the least possible amount of money spent would be matching last quarter at $30.4 million. The maximum I see being spent is $40 million. What I realistically expect is $35.4 million. With revenue and cost estimates now assessed, we can look to the spread:
Revenue of $8.1 million - expenses of $30 million = EPS loss of $0.10 per share
Revenue of $8.1 million - expenses of $35.4 million = EPS loss of $0.12 per share
Revenue of $8.1 million - expenses of $40 million = EPS loss of $0.15 per share
In my opinion the wild card is in the expenses. As you can see, there is a chance that the company meets the $0.11 per share loss expectation, but in my opinion the most likely situation is a miss by a penny. If the company trims the expenses, it will be critical to see where that happens. The most favorable place to cut cost is in administrative, in my opinion. If the company is slowing down the spend in research and development, it could mean that the pipeline is being delayed in some manner.
For the call itself, I anticipate that Arena will speak to the positives that have transpired in sales of Belviq and the pipeline advancement. There are indeed positives in Belviq sales. The bigger issue is the pace at which things are happening. The quarter over quarter sales improvement sounds impressive, but the revenue Arena realizes from sales in the quarter will be a bit over $4 million, and this number will not impress the street. The company will speak to an additional 200 sales reps, a refocusing on television advertising and advertising slots, and traction in doctors being visited, as well as doctors that are willing to write a prescription for Belviq. In the end, I expect Arena to once again speak to the potential, leaving investors, analysts, and the street to begin modeling based on assumptions and not able to really assign meaningful revenue to projections this year. Make no mistake, Belviq sales are on a pace to eclipse $100 million in 2014, but the revenue Arena realizes from each $100 million in gross sales is about $17 million to $18 million.
I would like to see the company instill some confidence in the street by addressing the expectations, expenses, cash burn, and cash need. The street needs something more concrete than what has been offered up in past calls. Arena has rolling projections from its marketing partner Eisai (OTCPK:ESALY) that go well beyond a year in advance. With a year's worth of sales under its belt, the company should be able to answer some of the tough questions it has avoided in the past. Key things to look for include:
Will the company give flavor on how long the average person stays on the drug. At a year into the process, not answering or addressing this point will bring doubt rather than confidence to the street.
What percentage of scripts are free trials?
What is the percentage of free trials that continue the drug?
What percentage of scripts are covered by insurance. Not covered lives percentage, but what insurance is paying.
Is guidance given in February (revenue and expense) still holding?
What are the company plans for the investment in Taigen? Would the company consider a sale of this to keep operations running longer?
What is the status of applications in other countries? What is the status of deals for the countries that are, as yet, unsigned?
The bottom line with Arena at the moment is the confidence level of the street. There needs to be a compelling shift in sentiment. That shift can only come from concrete results, a compelling deal (much bigger than just one country for one drug), or a level of transparency that we have not yet seen. In my opinion Arena will miss on EPS and revenue and the equity will suffer because of it. The "clear skies are ahead" mantra has pretty much worn out its believe-ability at this stage. This is not to say that Arena lacks potential. Potential is still there. It is simply that the street needs more concrete evidence that some potential can be realized. With Orexigen (NASDAQ:OREX) about a month away from potential approval, the already modest prescription weight-loss sector could have yet another player. I think that a lot of money will be on the sidelines for this quarterly call and there is a lot hinging on how well the company performs this quarter. Savvy investors may try to call a bottom on this equity, but more conservative investors will wait for clear signals. Stay Tuned!
Disclosure: The author is long ARNA. The author wrote this article themselves, and it expresses their own opinions. The author is not receiving compensation for it (other than from Seeking Alpha). The author has no business relationship with any company whose stock is mentioned in this article.
Additional disclosure: I have no position in Orexigen, Eisai, or Taigen.