Avalanche Biotechnologies, Inc (Pending:AAVL), a clinical-stage biotechnology firm engaged in the discovery and development of gene therapies for the treatment of ophthalmic diseases, plans to raise $75.6 million in its upcoming IPO.
The Redwood City, California-based firm will offer 5.4 million shares at an expected price range of $13-$15 per share. If the IPO can hit the midpoint of that range at $14 per share, AAVL will command a market value of $353 million.
Filing, Underwriting
AAVL filed on June 30, 2014.
Lead Underwriters: Cowen and Company, LLC; Jefferies LLC; Piper Jaffray & Co.
Underwriters: William Blair and Co., L.L.C
Summary of Gene Therapies
AAVL is a clinical-stage biotechnology firm in the early and pre-clinical phases of development of gene therapies for the treatment of patients with ophthalmic diseases.
The firm uses its gene therapy platform, which it calls the Ocular BioFactory, to develop its product candidates, which function by inducing the expression of therapeutic proteins through a single administration.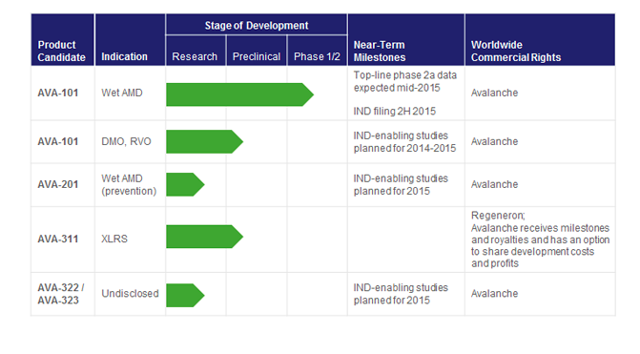 (http://avalanchebiotech.com/pipeline.php)
AAVL's lead product candidate, AVA-101, is designed to treat wet age-related macular degeneration (NASDAQ:AMD). AAVL hopes to replace current therapies for wet AMD, which require several weeks worth of consistent and uncomfortable eye injections, leading to significant issues with patient non-compliance and resulting vision loss. The firm is currently conducting a Phase 2a trial on the AVA-101, and expects top-line data from the trial in mid-2015.
AAVL's other product candidates include AVA-201 for the prevention of wet AMD and AVA-311 for the treatment of juvenile X-linked retinoschisis (XLRS). AVA-201 operates similarly to AVA-101, but can be administered earlier in the progression of the disease through customized delivery mechanism. AVA-311 is being developed in collaboration with Regeneron, and would be the first approved therapy for XLRS.
AAVL's collaboration with Regeneron on AVA-311 is part of a research collaboration and license agreement with Regeneron for the discovery of novel product candidates through the Ocular BioFactory platform for up to eight therapeutic targets. The firm may receive up to $80.0 million in milestone payments for each therapeutic target, as well as royalties on the sales of such products, and may choose to share up to 35% of worldwide product candidate development costs and profits for any two of the therapeutic targets.
Low Revenues Noted
AAVL's very low revenues of $50,000.00 are typical of an early-stage biotechnology firm and should not be taken as an indication of its potential for future success. The firm will not be able to generate significant revenues until it has commercialized one or more product candidates or reached further milestones in accordance with its agreement with Regeneron.
Competition
If approved, AVA-101 will face competition from current therapies for wet AMD, particularly anti-VEGF therapies, which inhibit a protein that leads to abnormal blood vessel growth in web AMD cases.
Some such therapies are marketed by established firms with far greater financial and marketing resources than AAVL, such as Genentech, Inc., Novartis AG (NYSE:NVS), Regeneron Pharmaceuticals, Inc. (NASDAQ:REGN), and Bayer HealthCare LLC.
Experienced Management
Co-founder Thomas W. Chalberg, Jr., Ph.D. has served as the President and CEO of AAVL since October 2010. Dr. Chalberg previously worked in various oncology and ophthalmology positions at Genentech.
He was also a Howard Hughes Medical Institute Fellow at Stanford University, where his research focused on retinal diseases and new technologies for gene therapy.
Dr. Chalberg received an A.B. in Biochemical Sciences from Harvard University, a Ph.D. in Genetics from the Stanford University School of Medicine and an M.B.A. from the Haas School of Business at the University of California, Berkeley.
Conclusion: Investors Should Consider Holding Off
We are neutral on this IPO.
AAVL is still a great distance from commercializing any of its product candidates, and there is no guarantee that the firm will receive FDA approval for any of its products.
However, we find the firm's recent agreement with Regeneron a highly encouraging sign, as the agreement may help the firm both to develop revenue flows and to avoid falling into the massive debt that ultimately inflicts many pre-commercial biotech companies.
AAVL's continuing efforts to expand its product pipeline are also a positive
We are less encouraged by the relatively small group of underwriters.
We suggest investors consider holding out for more clearly promising IPO picks.
We invite readers wishing to join the discussion on IPOs to click the +FOLLOW button above the title of this article -- and those looking for the latest developments to click +Get real-time alerts.
Note: As a large sample of information sources does not yet exist for AAVL, we have taken much of the information for this article directly from AAVL's S-1 filing.
Disclosure: The author has no positions in any stocks mentioned, and no plans to initiate any positions within the next 72 hours. The author wrote this article themselves, and it expresses their own opinions. The author is not receiving compensation for it (other than from Seeking Alpha). The author has no business relationship with any company whose stock is mentioned in this article.