Last week, I wrote an article on Seeking Alpha that talked about the strong growth of Qihoo 360 (NYSE:QIHU), and why I felt shares had upside of more than 65%. Since then, shares have already climbed close to 10% and look to be on the way of a major breakout as you can see in the chart below.
For those technical investors out there, the next couple of areas to keep an eye out for is the resistance levels around $105, $112, $120 and of course the 52-week high at $124.42.
With Qihoo's new found momentum over the last month or so, I feel that shares could possibly test the 52-week high before earnings roll around which will most likely take place in the middle of August.
Analyst Views On Qihoo 360
Last week, Citigroup announced its new lead analyst (Thomas Chong), for its China Internet sector. Because of the transfer of coverage, Chong's view on how to value the sector is quite different.
According to Chong, Chinese Internet companies should be valued on a PEG basis (Price/earnings to growth), instead of the discounted cash flow model. Chong believes the earnings growth in the medium term can best capture the performance of Internet companies amidst the fast-changing developments of the sector. According to his report, Chong gave ratings on Tencent (OTCPK:TCEHY), Baidu (NASDAQ:BIDU) and Qihoo.
Tencent was given a PEG of 1.2x on 2015 earnings. Chong believes Tencent will continue to grow at an annual rate of 20%.
Baidu was given a PEG of 1.0x on next year's earnings ($7.71), with an annualized growth rate of 32%. This implies a price target of $245.
So what kind of rating did Qihoo receive? Before we get to that, let's first take a look at what Chong had to say about the search, software and gaming company;
"We expect Qihoo to reach high single-digit market share in terms of revenue in 2015," or "compared to mobile games developers, we believe Qihoo faces lower risks given its platform for mobile games distribution."
Chong gave Qihoo some well deserved kudos as the Company has demonstrated strong execution in monetization through PC search and mobile app stores with a focus in the China Market. On top of that, Chong believes Qihoo will be able to provide a one-stop search service to PC and Mobile advertisers through its formulated multi-channel strategy.
Last but not least, Chong believes Qihoo will more than triple revenue in 2014 ($289M), driven by mobile games, etc.
So what's the new price target? Surely will all of the positive praise Chong gave, a raised price target seemed to be in the making. Boy was I wrong! Chong initiated coverage of Qihoo with a BUY rating and a price target of $114.10, down from $165 (from former analysts).
Chong gave Qihoo a PEG of just 0.60x based on next year's earnings ($4.32), with an annual growth rate of 44%. This of course translates into a price target of just over $114.
I'm sure longs everywhere were just as perplexed as I was when I first read the report. Here we have continued growth with estimates being raised yet again -- adding it all up, somehow this contributes to a lower price target? What gives?
In the words of Chong, "Qihoo is too young". "...It (Qihoo) does not have enough operational history to show for. As a result, "we apply 40% discount to PEG on its short history in search and mobile monetization."
I'm not really buying the "Qihoo is too young" argument. Yes, Qihoo has not been around as long as Baidu and Tencent has, but we're only talking about a couple of year's difference here.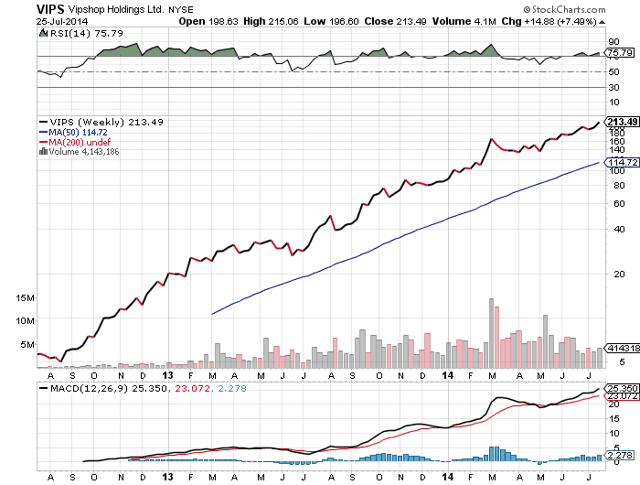 Also, if Qihoo is "too young", then what about another high profile company in Vipshop holdings (NYSE:VIPS). Vipshop was founded in 2008 (three years after Qihoo), but has emerged as a legitimate powerhouse. If you don't believe me, then just take a look at the chart on the right. Shares are up more than 3,700% since its IPO in 2012. If VIPS can trade without a big discount on a PEG basis, then why should Qihoo?
That is why I went ahead and set up my own table and put some figures together that shows what the value of Qihoo would be based on a number of different PEG ratios.
| | | | | | |
| --- | --- | --- | --- | --- | --- |
| Qihoo 360 (PEG Ratios) | 40% Discount (0.60 PEG) | 30% Discount (0.70 PEG) | 20% Discount (0.80 PEG) | 10% Discount (0.90 PEG) | 1.00 PEG |
| Price Target | $114 | $133 | $152 | $171 | $190 |
For those of you that are not familiar with the PEG ratio, here is a little overview for you. The PEG ratio compares a stock's price/earnings ratio to its expected EPS growth rate. If a PEG ratio is equal to one, that means the market is pricing the stock to fully reflect the stock's EPS growth.
If the PEG ratio is less than one, it can indicate a couple of things. The first and most likely scenario is that shares are just simply undervalued. On the other hand though, shares could be undervalued for a reason as investors believe XYZ company will not be able to reach its intended growth rate.
If the PEG ratio is greater than one, it can also indicate a couple of things. First, that shares most likely are on the overvalued side. At the same time though, shares could still be somewhat undervalued because the markets expect the Company to continue growing at a blistering pace and above Wall Street's projections. More likely than not though, shares turn out to be on the overvalued side.
Breaking it all down, finding a stock with a low PEG that is consistently surpassing Wall Street's expectations is what every investor should be closely watching. Luckily for investors in Qihoo, they have already found one of those Wall Street gems.
Conclusion
As you can see from my PEG table above, based on a PEG of 1.0x, like Tencent, Baidu, Sina, etc and many other companies are currently going for, shares would have a price target well over $190. That would imply a return of more than 100% based on Friday's closing price. Even applying a 10%-20% discount to PEG, shares of Qihoo would be well into the $150-$170 range. This implies upside of more than 50%, or 30% above Chong's price target of $114.
With the earnings season in full swing, investors everywhere are looking closely at the competition to try and gauge what kind of numbers the companies they have invested in are likely to put up.
Last week was no different as Baidu posted another round of impressive results Thursday afternoon, easily beating the top and bottom lines. Shares of other high profile Chinese companies such as Qihoo and YY (NASDAQ:YY), received a nice boost in the process.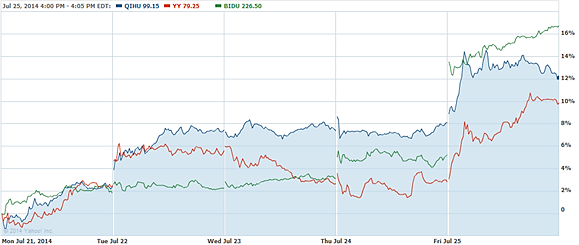 Qihoo Continues To Take China's Market Share

One of the biggest things to help fuel Qihoo's strong growth over the years has been its transition into the search engine business. In August of 2012, Qihoo, which is well known for its anti-virus software among many other things, entered into the Chinese search engine space.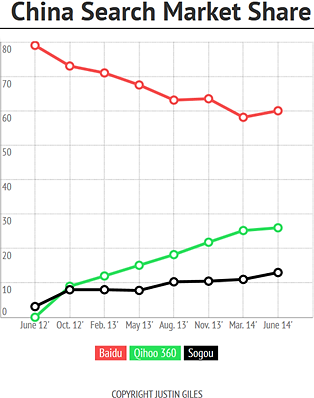 In just a short amount of time, Qihoo tapped into its hundreds of millionS of users to become the second most popular search engine in China.
As we can see in my infographic on the left, Qihoo has consistently grown its market share over the last two years.
In fact, over these last two years, Qihoo has gone from nothing, to becoming the second biggest search platform in China with over 26% in market share.
Baidu, has taken the biggest hit over the years as its seen its market share fall from 80% to under 60%, thanks in part to Qihoo. As of last month, Qihoo has increased its market share to 26% with Baidu hanging on to just 60%.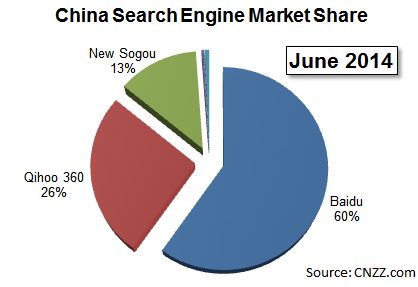 Long before Qihoo came around, Baidu was enjoying a dominating performance with a market share well over 80%. Certainly Qihoo has shaken things up in China, as the Company now expects to have at least 30%-35% of the market share by the end of this year.
It seems that investors are starting to finally take notice of Qihoo again as shares have broken out of downtrend and are on the verge of a nice breakout.
It doesn't hurt either that options traders are also betting big on Qihoo as calls outnumbered puts by a 12-to-1 ratio, a reflection of the session's bullish sentiment last week.
On top of that, there was heavy volume for the $130 September strike calls. Volume was more than 19 times the previous open interest at the strike, suggesting that new money was put to work on the long side.
In conclusion, I believe shares of Qihoo have at least 50% in additional value over the next 12 months based on a number of different factors (Fwd P/E, PEG ratio, etc.). With revenue looking to continue growing at a blistering pace over the next couple of years, investors should be rewarded with plenty of gains over the coming months and years.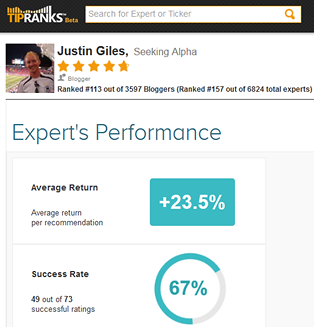 As always, I'm providing you with my track record and other particular stocks that I recommend. The link provided will show you all of my picks, how they have fared, and where I think they will be going in the near future. I think you will find my track record to be very impressive and useful.
Disclaimer: Link
Disclosure: The author is long VIPS, QIHU. The author wrote this article themselves, and it expresses their own opinions. The author is not receiving compensation for it (other than from Seeking Alpha). The author has no business relationship with any company whose stock is mentioned in this article.