Many readers on this forum will already know the bull thesis for the aerospace industry - on the commercial side, it's a form of transportation that has few alternatives; growing incomes in emerging economies continues to increase the passenger demand; margins are pretty healthy because competition is limited given the moat provided by safety regulations; and of course, you have the huge backlog for new planes. The chart below shows backlogs for Boeing (NYSE:BA) and Airbus (OTCPK:EADSY):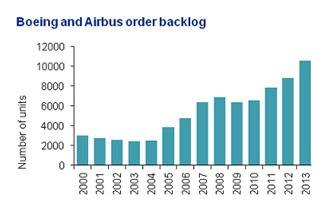 Unfortunately, these dynamics have pushed up valuations. Looking at a handful of the options, Boeing trades at 19x earnings, Transdigm (NYSE:TDG) trades at 49x earnings and Astronics (NASDAQ:ATRO) trades at 36x. In the paragraphs that follow, I will argue that Safran (OTCPK:SAFRY) offers exposure to a high quality company at a fraction of the price, with the added benefit of earnings visibility for the next 10 years.
Let's start by looking at the business. Safran is based in France and operates four divisions - Propulsion, Equipment, Security and Defense. Of the four divisions, we'll only focus on Propulsion and Equipment as they make up over 80% of revenue.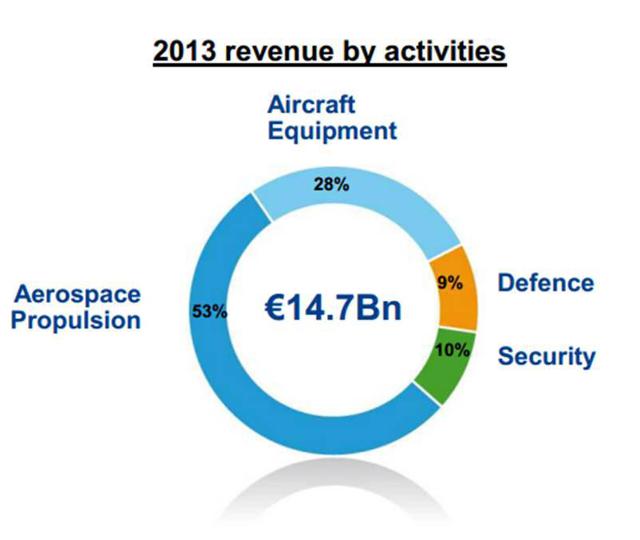 Within Aerospace, Safran is #1 in single aisle engines, helicopter turbines, landing gear, wiring and power transmission. They have equally strong products in space propulsion, engine nacelles and wheels & brakes where they rank #2.
The largest driver for Safran has been the CFM56, an engine they produce with GE as a 50/50 JV. Originally put in service in 1974, over 20,000 have been built. Still in production today, Safran continues to secure new engine orders. Most recently at the Farnborough airshow, they secured new orders from easyJet and 9 Air among others.
The beauty of this program isn't the fact that you can design an engine and sell it for 40 years. It gets interesting when you look at the razor/razorblade model they use. New engines are sold at a reasonable margin but nothing exciting. Over the life of that engine, the FAA and global peers will require routine maintenance which consumes spare parts, equal to roughly 3x the original purchase price of the engine. Not wanting to have a safety problem, the airlines come back to Safran for OEM parts providing them with great pricing power and margins that are 60%+. The two slides below, layout Safran's anticipated spare part revenue and the impact on margins.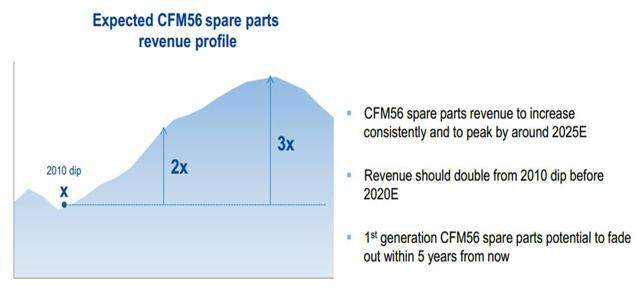 A CFM engine with proper maintenance can last for 25+ years and the newer generation engines can fly 25,000 hours before their first shop visit removal - all this adds up to a tremendous amount of pent up service revenue as the installed base of engines is large (and growing), and all of the engines sold in the last 2-3 years are yet to begin producing higher margin service revenue.
Management anticipates that this increase in spare parts will take corporate margins from 10% to mid teens over the next five years.
Now, you might be thinking this is great but how do you know which of those Boeing and Airbus planes in the backlog will end up with these engines? Safran hasn't been sitting still the last 40 years, they've been continually working on R&D to secure their position. That work has led to the new LEAP engine which will replace the CFM56. The LEAP continues to impress Boeing and Airbus, to the point that Boeing has selected the LEAP as the exclusive option for the new Boeing 737 MAX and Airbus picked LEAP to be one of two options for the new A320neo. As of orders placed by April, LEAP secured 50% share with Airbus for a total combined market share of 68% on single aisle aircraft.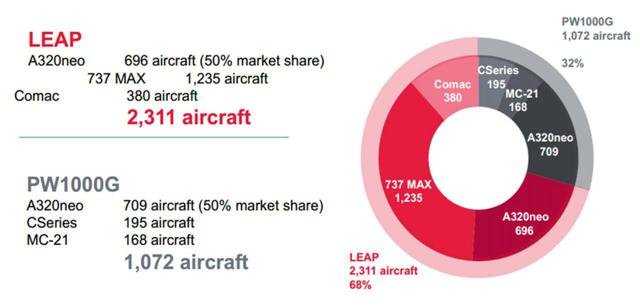 In the interest of time, we've focused on the narrow body or single aisle segment because it's the largest currently and anticipated to remain the largest over coming decades as this chart from Boeing suggests.
But Safran has an equally strong franchise in wide body planes and a growing source of recurring revenue from brakes and landing gear.
So what do you have to pay for a monopoly/duopoly company with visibility on continued earnings growth for at least 10 years? Only 13x earnings - not even a market multiple. It's a shame that such a great company is available at this price, most likely, because it trades in France and doesn't have a liquid ADR available for US investors.
I should also add that Safran has something for the yield hungry investors too. With a current dividend yield of 2.5%, you get reasonable income but taking a look at management's policy of paying out 40% of earnings, the dividend should continue to grow between now and 2025. In fact, management has already increased the dividend 4.5x the 2008 level and they are still running below their 40% target. This is a cash machine and soon shareholder's will see it in their dividend checks.
Disclosure: The author is long SAFRY.
The author wrote this article themselves, and it expresses their own opinions. The author is not receiving compensation for it (other than from Seeking Alpha). The author has no business relationship with any company whose stock is mentioned in this article.
Editor's Note: This article discusses one or more securities that do not trade on a major U.S. exchange. Please be aware of the risks associated with these stocks.