In this second portion of my two part series on Plug Power (NASDAQ:PLUG), we will be taking a deeper look at the company as a socially responsible investment, what that means for valuations, and sizing up the companies current socially responsible footprint. In our first article, we gave the company pretty strong remarks with a $6 price target for the year. We think it could go even higher, if the company executes as strongly as they are expecting. Overall, though, the company needs to show better liquidity as well as deliver on earlier promises before we will roll out the red carpet.
Given the company's niche in the "green" energy revolution, it is a decent candidate to look at for building a socially responsible investing portfolio. In this report, we will take a more holistic approach investigating:
Gender Equality
Green (carbon footprints, investments in green technologies, etc)
Board of Directors
Community Involvement
Diversity
Compensation Packages
Other
The screening of companies for these criteria is challenging given the availability of data. My hope is to continue to expand on these, grow my presence, and eventually be able to dialogue with companies directly.
For now, we will do the best we can with the resources available.
Overall, we believe Plug Power is on the right track. The company appears to be concerned with corporate responsibility through a number of their actions, and we believe they also present a unique technology that is very green in its nature. We see some weaknesses in the company's diversity leadership, but they have the right frame of mind for many issues. For example, the company was one of the presenters at Society for Organizational Learning Business Innovation for Sustainability Forum. The company was a lead presenter here, and the focus was on how companies can work together to promote sustainability. That kind of leadership is what we are looking for in a company.
Pricing Recap
First, we want to do a quick recap of pricing and what we thought the company was worth.
Here is how our two cases set up:
Mid-Case Scenario
PROJECTIONS
1
2
3
4
5
2014
2015
2016
2017
2018
Income from Operations
-20
-10
0
5
12
Income Taxes
-2
-1
0
1
1
Net Op. Profit After Taxes
-18
-9
0
5
11
Plus: Depreciation
4
5
6
6
6
Less: Capex
-2
-3
-5
-6
-8
Less: Increase in W/C
-7
-7
-7
-7
-7
Available Cash Flow
-9
0
8
12
16
Best-Case Scenario
PROJECTIONS
1
2
3
4
5
2014
2015
2016
2017
2018
Income from Operations
-20
-10
5
10
15
Income Taxes
-2
-1
1
1
2
Net Op. Profit After Taxes
-18
-9
5
9
14
Plus: Depreciation
4
5
6
6
6
Less: Capex
-2
-3
-5
-6
-8
Less: Increase in W/C
-7
-7
-7
-7
-7
Available Cash Flow
-9
0
13
16
19
We use a 1.5% cap rate for each because this is a high growth stock. The company has no debt, so there is not a huge concern of them not being able to pay their interest. In the mid-case scenario, we come up with a $3.50 2014 price target. In the best-case scenario, we come up with a $6 price tag. These are 2014 targets, so we are looking at some upside for the name. The company is likely to hit the $6 level if Q2 is solid.
Diversity/Gender Equality
I'll preface by saying that the company has limited information available in this department. The company does note that they support "Diversity" in their hiring process, but there are no stats about that information. One of the easiest gages of diversity that I look at is looking at the leadership team. Of all the employees, all are white men. On the board, there is one woman. All board members are also white. While this does not signify that the company does not hire a diverse workforce, we like to see a better diversity in the leadership team. Why is that?
Social responsibility is about companies taking a pledge to improve the world. Companies can make profits (big-time profits) and also put forth agendas that lead. Many companies rank very well in these areas that are profit machines: Procter & Gamble (NYSE:PG), Qualcomm (NASDAQ:QCOM), Pfizer (NYSE:PFE), and many others. There are many qualified individuals that bring a more diverse approach to business as well as allow the business to push a more socially responsible agenda.
The company did not make any of the standard lists we look at for diversity equality as well. The information we could gather was minimal at this point, though, so we won't put a lot of weight into this piece of criteria.
Community Involvement
This one sometimes is not considered, but a company has an integral part to play in the furthering of communities. Companies are often the main sources of jobs in a community, and they are often the leaders in communities. That is why companies are so important to be civic minded.
We have a lot of information about the green/environmental aspects of Plug Power, but we are left in this area with what we can find without interviewing the company. From what we could find, though, the company seems to be pretty active in its community. The company is very active in bringing in youth from surrounding areas and educating them on science, fuel cells, etc.
Overall, though, we have very limited information, and we aren't able to make a very strong conclusion here.
Environment/Green
The company is a leader in developing more sustainable, green energy. The question for Plug Power is how efficient is the company's products, and what does the long-term outlook for the company look like. The "green" aspect of the company is a strong part of the equation for investor value. Green stocks are attractive to investors, and the company can get a break on some other issues (liquidity, sustainable growth, long-term realities) if it can continue to generate the "green" appeal.
How beneficial is the company's product? Is it green? How about fuel cells? Are they beneficial? What do we do with fuel cells when they are used up?
The best way to frame this question is to look at the product Plug is building in comparison to its competition. Right now, forklifts and other means of material movement are powered by lead-acid batteries. Ballard Power (NASDAQ:BLDP) has a very effective layout of the financial benefits to firms for fuel cell usage: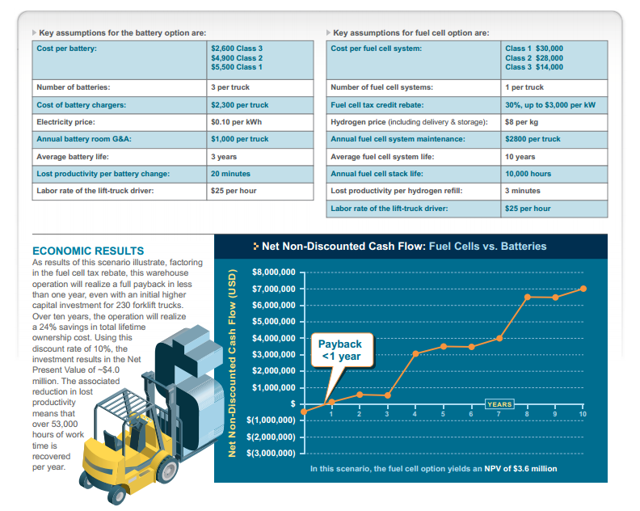 The discount rate to companies is clear. Generating a smaller carbon footprint and saving companies money at the same time is very positive to us as it means more money goes to shareholders, employees, and hopefully other "green" initiatives. Yet, what about the environment. Does the fuel cell really benefit the environment?
The fuel cell has no emissions, has a longer life, does not require non-renewable forms of energy to power, and it makes companies more efficient. Yet, is hydrogen power really a benefit. Here is National Geographic's take on fuel cells:
Fuel cells have strong benefits over conventional combustion-based technologies currently used in many power plants and cars. They produce much smaller quantities of greenhouse gases and none of the air pollutants that create smog and cause health problems. If pure hydrogen is used as a fuel, fuel cells emit only heat and water as a byproduct. Hydrogen-powered fuel cells are also far more energy efficient than traditional combustion technologies.
Interesting. Here is Triple Pundit take on fuel cell pro/cons:
Fuel cells that operate at high temperatures are well-suited for combined heat and power (CHP) applications, which increase their overall efficiency. This could be done at a large industrial scale, or at the residential level. Imagine having a fuel cell in your basement that would take in gas and use it to produce both electricity and heat, as well as hot water in a highly efficient manner.

Pros

Clean. Carbon free when using H2 and O2.
Can use renewable fuels
Do not need recharging.
Can run continuously (as long as fuel is available)
Provides base load power (good complement to renewables)
No moving parts
No noise
Certain types are well suited to CHP applications
Fuel can be made from water which is abundant or many other things
Highly scalable-cell phones to power plants.
Well suited for distributed generation, eliminating distribution losses.
Can be run in reverse for energy storage, producing hydrogen from electricity and water

Cons

High cost due to expensive materials like platinum
Requires fuel
Reliability still evolving.
Durability, particularly at high temperatures.
Robustness. Many are sensitive to temperature and contamination.
Hydrogen fuel not readily available
Little (but growing) infrastructure for hydrogen delivery
Safety concerns with hydrogen (though it is less dangerous than gasoline)
Low density of fuel, compared to gasoline
Could become irrelevant if batteries got good enough
The pros are very positive. Let's look at cons. Cost is really the issue right now, and that is not an SRI concern. If scaled, the cost would reduce. Right now, they require an intensive amount of resources to pursue and build out, but once the technology is more stable, the efficiency of the product is there and the efficiency to build it will be established. In fact, Plug has noted that they are using less and less platinum each year in production.
Ross Dueber, the CEO of zPower throws some caution to the fuel cell euphoria, though:
Keep in mind that fuel cells are devices for converting energy into electricity, much like an engine converts gasoline into mechanical energy. Both the fuel cell and the engine need fuel, such as gasoline, diesel, alcohol, or hydrogen. Fuel cells can be more efficient on energy conversion than engines, but the byproducts are still the same in both cases.

All fuel cells require their incoming fuel to be converted into hydrogen first. Most hydrogen today is created from natural gas, a fossil fuel. It can also be created from water by electrolysis, but this process requires electricity, which most likely comes from a fossil fuel. Bottom line is that fuel cells seem clean, but they rely on fossil fuels just like everything else which makes them a part of the problem rather than the solution.

Hydrogen is very energy intensive to make and store. In fact in takes more energy to make and store hydrogen, than the hydrogen yields as output in a fuel cell. Hydrogen has to be stored at very high pressures or as a very cold liquid. In both cases it takes a lot of energy and space to create and store.
With most technology, though, in the optimal conditions and with the right investments, they are a better alternative. In their current state, though, are they significantly better? No. Yet, part of social responsibility is about discovery, and we support what PLUG is doing. Further, if they can stabilize their technology and scale it, the company will get a lot of prospects interested as we can see from cost savings. Further, if they create the energy from water, and that process is done with a renewable energy source...the loop is closed a lot more.
Wells Fargo included Plug Power in its conversation about alternative energy in Identify Opportunities in Alternative Energy. Sarah Douglass, Wells Fargo VP of Investment Research Publications, noted:
Plug Power, a manufacturer of fuel cells designed to generate electricity...may look attractive from a technology and market-positioning point of view.
Yet, she also cautions that the stocks have been very volatile, and that the stock is not suitable for most investors unless they want to take on more risk. We agree with this assessment. We are talking about a very forward thinking company in the sense of technology, but part of any SRI portfolio also has to be an assessment of risk, which is high with Plug Power.
When we discuss "disruptive" technologies it is important to note this issue.
A further example of the company's dedication to green energy and sustainability. Recently, the company participated in the Green Retail Decisions Summit, which was a sustainable focused gathering of senior executives of retail. The company was one of the keynotes at the event, and they continue to build a focus on providing green, sustainable technology to the country. Many companies, like Kroger (NYSE:KR) and Walmart (NYSE:WMT) are using PLUG as a way to meet sustainability and carbon footprint reduction goals at these corporations.
Executive Compensation
This past year, Plug Power executives earned 2.5M. We believe fair compensation is an important part of a socially responsible company. While executives should be paid well, there are many companies where executives make significantly higher rates than other employees that are not justified. Additionally, high rates of executive compensation show no signs of larger shareholder value and often detract from both shareholder value and employee satisfaction. Pug Power executives are making about 10% of revenue per year, even sometimes less. Additionally, compensation performance moved at a slower rate than stock performance in the last twelve months. How does the less than 10% rate compare to other companies.
BLDP is at 6% of revenue for executive compensation. Apple (NASDAQ:AAPL) is less than 1%. General Motors (NYSE:GM) was at roughly 2%. FuelCell Energy (NASDAQ:FCEL) is at 1%. It might be nice to see executives paid a bit less until revenue starts to pick up, but if revenue expands dramatically this year and executive pay is more flat...that would make the rate drop dramatically. Overall, we don't have solid stats on executive-to-employee pay, but given that CEO Andrew Marsh is only paid $750K in compensation, this is a company that appears to be more on track.
Conclusion
One of the most interesting recent developments for Plug Power is that the company partnered with Eric Mower and Associates, a public relations firm, that specializes in helping companies with social responsibility. The firm is helping Plug Power to draft its first corporate sustainability report. We believe a move like this is both good for investors as well as good for the company's SRI capabilities. From the standpoint of investors, a corporate sustainability report will help springboard the "green" and social responsible avenues that can help increase valuations. Additionally, it will help the company identify weaknesses in their sustainability and make changes.
Overall, we believe that the "green" aspects of the company are promising, and we believe that fuel cells is a great way to reduce carbon footprints for companies. The sustainability aspects that the company has taken on are intriguing, and we believe that they are taking a lot of positive steps.
Disclosure: The author has no positions in any stocks mentioned, and no plans to initiate any positions within the next 72 hours. The author wrote this article themselves, and it expresses their own opinions. The author is not receiving compensation for it (other than from Seeking Alpha). The author has no business relationship with any company whose stock is mentioned in this article.