Shares of EMC Corporation (EMC) have surged 8% over the last ten days on calls from Elliot Management to spinoff the VMware (NYSE:VMW) software unit. While the activist investor has built a good case for the spinoff I doubt that the company will be split apart. The upside to the company's long-term strategy is stronger with both segments and shares could go higher near-term on management's response.
A spinoff of VMWare could be worth billions
Elliot Management has built a stake in the company in excess of $1 billion to push for a spin off of VMware, arguing that the company could become a takeover target after the split. Analysis of the combined company does support the idea that the current valuation is lower than the sum of the two parts.
Shares of EMC are trading on an enterprise value of 2.4 times trailing sales but that is accounting for a 6.5 times multiple on the VMware side of the business which makes up 23% of sales. That implies that the storage side of the business is worth just 0.80 times sales, nearly two-thirds the 1.4 times enterprise multiple on shares of storage peer Western Digital Corporation (NYSE:WDC).
My estimate for the upside to a spin-off is shown in the table below. I have calculated current and post-split enterprise values from 2014 expected sales and estimated multiples.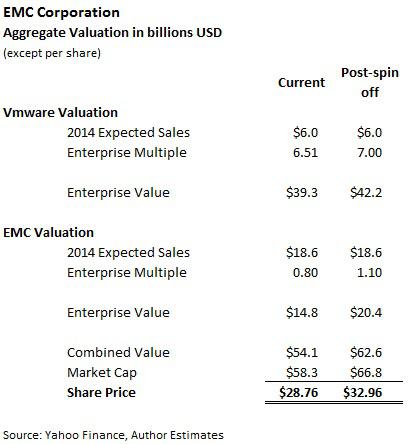 If EMC were to get a 7.7% premium on VMware's current value and were to boost its own enterprise multiple to just 1.1 times sales, shares could be worth $32.96 and a significant upside from the current price.
Long-term strategy is worth more
Despite the upside to a split or sale of VMware, the case for keeping the segments together is stronger and I do not believe that management will opt for a deal. Slower growth in storage is mitigated by faster growth on the cloud virtualization side, while cash flow from the mature storage market helps to fund projects.
Pivotal, a joint venture between the two companies, was spun out of assets in 2012 to separate application infrastructure technologies from VMware systems infrastructures. The new company is helping both VMware and EMC gain relevance in the cloud and announced a strategic partnership with General Electric (NYSE:GE) earlier this year. The spinoff or sale of VMware would leave this key collaboration in question.
Keeping the companies together also brings synergies of scale and strong technical expertise. The loss of institutional knowledge and intellectual communication in a spinoff would leave both companies weaker.
Revenue has increased at an annualized pace of 9.3% over the last five years though growth slowed to 7.0% last year. Capital spending by businesses has disappointed the market for several years but there is good reason to believe that spending on technology should ramp up this year. Tech spending as a percentage of total business investment was near a 15-year low last year and Charles Schwab's Sonders is pointing to a confluence of events that could benefit technology and industrial firms this year.
Management increased its full-year profit guidance after the second-quarter report, noting an increase in storage demand and growth in virtualization. Analysts covering EMC are expecting sales to grow just 5.8% this year to $24.58 billion. While this is well below the longer-term average and likely does not include a pickup in capital spending, shares are relatively cheap even on this assumption. Storage accounted for 70% of 2013 revenue with intelligence and security accounting for another 7% of sales. Revenue from the company's ownership of VMware accounted for 23% of total sales.
I am forecasting a slightly stronger 6% increase in sales to $24.61 billion this year and further improvement in the company's operating margin to just over 22% for $1.96 per share. Sentiment should improve on sales growth and higher margins leading to my $35.28 price target on a trailing earnings multiple of 18.0 times.
Over the next quarter or two, there is also the possibility that management responds to the activist interest. With long-term benefits to the continued structure, I think management will try to boost shareholder value to take the pressure off a split. They could do this by increasing the share buyback program or seeking other strategic partnerships. There's also the chance that activists get more vocal or that a suitor for the combined company comes forward.
As a shareholder, I am glad that someone has finally come forward to propose shareholder value for EMC Corporation but I am not sure that a split is the way to go. While I see value in a split, the two companies are strategically stronger together and I think that is the direction management will choose. Investors can benefit over the next few quarters as opposing sides argue their case or can stick around for a strong long-term investment.
Disclosure: The author is long EMC. The author wrote this article themselves, and it expresses their own opinions. The author is not receiving compensation for it (other than from Seeking Alpha). The author has no business relationship with any company whose stock is mentioned in this article.