The National Association of Realtors (NAR) released its Pending Home Sale Index for June today (July 28). It showed an unexpected decline of 1.1% from May's index level. Taking into consideration that June is supposed to be the strongest month of the year for home sales, today's report can be interpreted as quite negative for the housing market. Further, it is a blow to the view that the housing market is in recovery from the collapse of the housing bubble. Although the homebuilder stocks (DJUSBH) are down 1.6% today on this report, I believe they have a long way to fall from here.
June's Pending Home Sales Index (PHSI) was not only down 1.1% vs. last month but it was down 7.3% vs. June 2013 (source: NAR, edit in red is mine):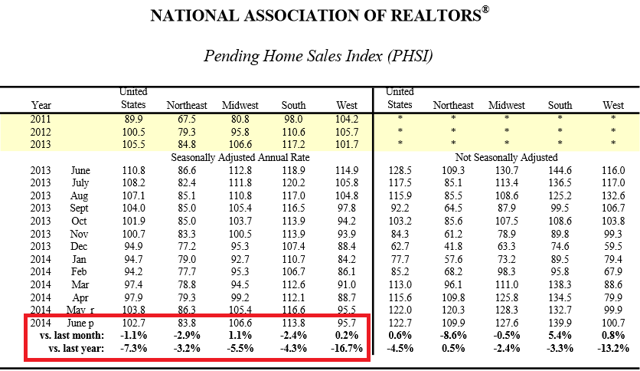 As you can see from the data table above, pending home sales are down from May in two of the four regions and down from last June in every region.
Per the NAR definition (link at the top), a pending home sale occurs when a contract is signed but the transaction has not closed. According to the NAR the sale is typically finalized in one or two months. The NAR's existing home sales report is based on contract closings. With June's contract signings below that of May's, it is likely that the existing home sales report for July, released toward the end of August, will disappoint Wall Street forecasts because a lower level of contract signings is likely not factored into these forecasts.
The NAR tried to put a positive light on the report by pointing out the index had increased month to month for the previous four months. However, on a seasonal basis it should be expected that home sales increase on a monthly basis starting in February. That this occurred this year should not surprise. But the fact that pending home sales dropped in June vs. May is a surprise, as June is always the strongest calendar month for home sales. Even more significant is the fact that the index has dropped every month in 2014 vs. the same month in 2013: January -9%, February -10.5%, March -8%, April -9.2%, May -5.2% and June -7.3% (data source links can be found in my previous articles on this topic). This fact is suggestive of the possibility of a renewed bear market in housing.
I have yet to see any Wall Street analysts or industry groups reporting on the fact that housing market statistics for 2014 are consistently below the same statistics for 2013 on a monthly comparison basis (pending home sales, new home sales, existing home sales, mortgage purchase applications). Yet this is the best way to eliminate seasonal adjustments and annualization of monthly data. For this reason, I believe that homebuilder stocks are valued at levels which reflect unrealistically high expectations for the market going forward. Long positions should be sold and, in my view, money can be made shorting the homebuilders. At the very least, money managers have a fiduciary duty to their investors to closely scrutinize the homebuilder sector and re-evaluate any long positions they may have.
Although the Dow Jones Home Construction Index (DJUSHB) is down over 8% since last Wednesday's close (July 23), including 1.7% as I write this, I still believe there is plenty of downside in new homebuilder stocks. One confirmation of this view is the fact that DR Horton's (NYSE:DHI) stock is down 14% since releasing its earnings last Thursday morning (I am short DHI). In addition to DHI, I continue to be short KB Home (NYSE:KBH) and Ryland (NYSE:RYL). I also like shorts in Toll Brothers (NYSE:TOL), Pulte (NYSE:PHM), Beazer (NYSE:BZH) and Lennar (NYSE:LEN). Traders who like to take on the risk of a low share float and high volatility can short NVR (NYSE:NVR).
Disclosure: The author is short DHI, KBH, RYL. The author wrote this article themselves, and it expresses their own opinions. The author is not receiving compensation for it (other than from Seeking Alpha). The author has no business relationship with any company whose stock is mentioned in this article.