The following is a list of stocks in a new uptrend, as defined by the Average Directional Index, or ADX(14) index. All of these stocks have seen significant institutional buying over the last 3 months.

To create the list, we started with a universe of stocks in an uptrend that have an ADX(14) value above +20, which signals strengthening upward momentum. We then reduced the size of this universe by only focusing on stocks that have had positive earnings and sales growth over the past five years. In addition, all of these stocks have high EPS growth projected for the next five years.

ADX data sourced from Stockcharts, profitability and short float data sourced from Finviz.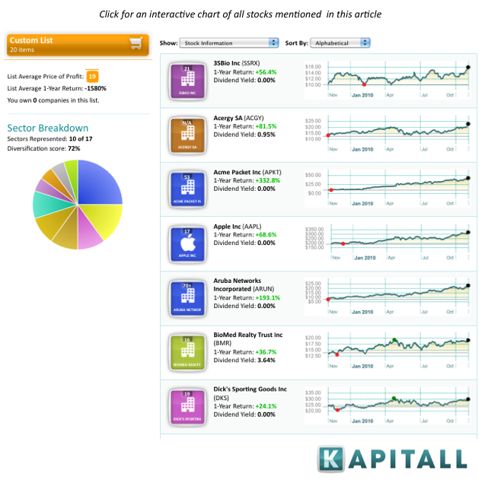 The list has been sorted by an average rank of EPS and sales growth, and projected EPS growth.

1. Aruba Networks, Inc. (NASDAQ:ARUN): Networking & Communication Devices Industry. Market cap of $2.27B. Daily ADX Line(14) at 20.952. EPS has grown by 67.21% over the past 5 years, with EPS growth projected at 20.00% over the next 5 years. Sales have grown by 85.78% over the past 5 years. Short float at 17.42%, which implies a short ratio of 6.83 days. The stock has gained 203.78% over the last year.

2. Apple Inc. (NASDAQ:AAPL): Personal Computers Industry. Market cap of $291.95B. Daily ADX Line(14) at 20.526. EPS has grown by 57.78% over the past 5 years, with EPS growth projected at 17.94% over the next 5 years. Sales have grown by 36.17% over the past 5 years. Short float at 1.27%, which implies a short ratio of 0.62 days. The stock has gained 66.8% over the last year.

3. 3SBio Inc. (NASDAQ:SSRX): Biotechnology Industry. Market cap of $345.28M. Daily ADX Line(14) at 21.827. EPS has grown by 52.9% over the past 5 years, with EPS growth projected at 18.00% over the next 5 years. Sales have grown by 32.62% over the past 5 years. Short float at 1.14%, which implies a short ratio of 3.04 days. The stock has gained 55.79% over the last year.

4. The Dolan Company (NYSE:DM): Publishing Industry. Market cap of $394.54M. Daily ADX Line(14) at 22.253. EPS has grown by 43.52% over the past 5 years, with EPS growth projected at 14.75% over the next 5 years. Sales have grown by 38.45% over the past 5 years. Short float at 4.94%, which implies a short ratio of 6.22 days. The stock has gained 6.41% over the last year.

5. Dolby Laboratories Inc. (NYSE:DLB): Diversified Electronics Industry. Market cap of $7.42B. Daily ADX Line(14) at 20.281. EPS has grown by 37.44% over the past 5 years, with EPS growth projected at 16.5% over the next 5 years. Sales have grown by 20.01% over the past 5 years. Short float at 7.04%, which implies a short ratio of 5.19 days. The stock has gained 57.08% over the last year.

6. Acme Packet, Inc. (NASDAQ:APKT): Communication Equipment Industry. Market cap of $2.66B. Daily ADX Line(14) at 20.3. EPS has grown by 6.49% over the past 5 years, with EPS growth projected at 25.67% over the next 5 years. Sales have grown by 54.65% over the past 5 years. Short float at 5.1%, which implies a short ratio of 1.86 days. The stock has gained 340.53% over the last year.

7. Triangle Capital Corporation (NYSE:TCAP): Asset Management Industry. Market cap of $205.91M. Daily ADX Line(14) at 20.826. EPS has grown by 16.43% over the past 5 years, with EPS growth projected at 9.5% over the next 5 years. Sales have grown by 69.44% over the past 5 years. Short float at 6.05%, which implies a short ratio of 6.09 days. The stock has gained 59.89% over the last year.

8. Nalco Holding Co. (NYSE:NLC): Synthetics Industry. Market cap of $4.1B. Daily ADX Line(14) at 20.676. EPS has grown by 23.24% over the past 5 years, with EPS growth projected at 21.25% over the next 5 years. Sales have grown by 4.32% over the past 5 years. Short float at 1.6%, which implies a short ratio of 2.37 days. The stock has gained 38.52% over the last year.

9. Tenaris SA (NYSE:TS): Steel & Iron Industry. Market cap of $25.65B. Daily ADX Line(14) at 20.845. EPS has grown by 10.37% over the past 5 years, with EPS growth projected at 18.5% over the next 5 years. Sales have grown by 16.99% over the past 5 years. Short float at 2.72%, which implies a short ratio of 3.98 days. The stock has gained 12.3% over the last year.

10. ValueClick, Inc. (VCLK): Advertising Agencies Industry. Market cap of $1.26B. Daily ADX Line(14) at 22.271. EPS has grown by 15.74% over the past 5 years, with EPS growth projected at 12.18% over the next 5 years. Sales have grown by 23.05% over the past 5 years. Short float at 8.6%, which implies a short ratio of 5.32 days. The stock has gained 56.91% over the last year.

11. Empresa Nacional de Electricidad S.A. (NYSE:EOC): Foreign Utilities Industry. Market cap of $15.66B. Daily ADX Line(14) at 21.374. EPS has grown by 56.37% over the past 5 years, with EPS growth projected at 9.% over the next 5 years. Sales have grown by 17.72% over the past 5 years. Short float at 0.12%, which implies a short ratio of 1.37 days. The stock has gained 27.83% over the last year.

12. Synaptics Inc. (NASDAQ:SYNA): Computer Peripherals Industry. Market cap of $1.01B. Daily ADX Line(14) at 21.345. EPS has grown by 11.58% over the past 5 years, with EPS growth projected at 14.17% over the next 5 years. Sales have grown by 19.86% over the past 5 years. Short float at 35.15%, which implies a short ratio of 16.37 days. The stock has gained 22.18% over the last year.

13. BioMed Realty Trust Inc. (NYSE:BMR): REIT . Market cap of $2.18B. Daily ADX Line(14) at 20.265. EPS has grown by 21.56% over the past 5 years, with EPS growth projected at 6.% over the next 5 years. Sales have grown by 62.% over the past 5 years. Short float at 6.63%, which implies a short ratio of 4.81 days. The stock has gained 44.6% over the last year.

14. Dick's Sporting Goods Inc. (NYSE:DKS): Sporting Goods Stores Industry. Market cap of $3.44B. Daily ADX Line(14) at 21.253. EPS has grown by 12.% over the past 5 years, with EPS growth projected at 15.44% over the next 5 years. Sales have grown by 15.91% over the past 5 years. Short float at 10.68%, which implies a short ratio of 8.05 days. The stock has gained 22.68% over the last year.

15. Acergy SA (ACGY): Oil & Gas Equipment & Services Industry. Market cap of $4.18B. Daily ADX Line(14) at 21.202. EPS has grown by 35.67% over the past 5 years, with EPS growth projected at 11.5% over the next 5 years. Sales have grown by 14.97% over the past 5 years. Short float at 0.09%, which implies a short ratio of 0.81 days. The stock has gained 78.39% over the last year.

16. The Kroger Co. (NYSE:KR): Grocery Stores Industry. Market cap of $14.8B. Daily ADX Line(14) at 22.208. EPS has grown by 7.82% over the past 5 years, with EPS growth projected at 22.37% over the next 5 years. Sales have grown by 6.34% over the past 5 years. Short float at 2.35%, which implies a short ratio of 2.4 days. The stock has gained 2.25% over the last year.

17. Equity LifeStyle Properties, Inc. (NYSE:ELS): REIT. Market cap of $1.81B. Daily ADX Line(14) at 20.218. EPS has grown by 56.36% over the past 5 years, with EPS growth projected at 7.03% over the next 5 years. Sales have grown by 11.09% over the past 5 years. Short float at 5.28%, which implies a short ratio of 8.94 days. The stock has gained 31.82% over the last year.

18. Enersis S.A. (ENI): Foreign Utilities Industry. Market cap of $16.24B. Daily ADX Line(14) at 20.13. EPS has grown by 32.69% over the past 5 years, with EPS growth projected at 8.73% over the next 5 years. Sales have grown by 17.43% over the past 5 years. Short float at 0.35%, which implies a short ratio of 2.14 days. The stock has gained 44.85% over the last year.

19. Time Warner Cable Inc. (TWC): CATV Systems Industry. Market cap of $22.15B. Daily ADX Line(14) at 21.38. EPS has grown by 10.00% over the past 5 years, with EPS growth projected at 11.2% over the next 5 years. Sales have grown by 17.85% over the past 5 years. Short float at 2.42%, which implies a short ratio of 3.29 days. The stock has gained 59.45% over the last year.

Disclosure: No positions