When discussing investments, one will invariably hear anecdotes of a trade someone nearly made, but inevitably didn't pull the trigger. This hindsight bias gives investors the false notion that they could be an investing savant, if only they had the courage. The truth is, when you truly uncover an exceptional opportunity, there is no courage necessary. A phenomenal investment will allow you to have near-absolute conviction in the outlook.
Now, I do not claim to be a savant, I am young and have a tremendous amount still to learn. However, I believe that I was uniquely positioned to analyze Facebook (NASDAQ:FB) and determine its inevitable success. The experience that I've had investing in Facebook has allowed me to unearth principles that I will use to uncover more exceptional companies in their nascent stages.
"It is not necessary to do extraordinary things to get extraordinary results." -Warren Buffett
Hopefully, my narrative will provide you with insight to uncover more extraordinary companies in the future.
Facebook IPO
On May 18th, 2012 Facebook held its initial public offering. During the road show, underwriters saw impressive demand and ultimately priced the stock at the high range of the target $38 per share, which valued the company at $104 billion.
In the days before the IPO, I reviewed their S1, but was not enamored with what I saw. At a P/E ratio north of 100 coupled with GM notably pulling its $10 million advertising campaign just days before the IPO, I had concerns. Friends and family members asked me if they should invest, and I expressed my concerns to them.
Trading History
On the first trading day, I watched as the stock was delayed due to technical glitches and then shot up to $45 per share. The stock eventually closed at $38.23, just $0.23 above the IPO price. Facebook's share value subsequently fell nine of the next thirteen trading days. Over the coming months, I watched as the stock traded down to below $20 a share.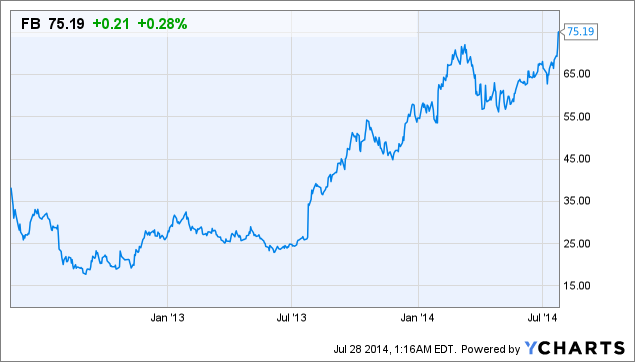 The reason for the sell-off was that investors were anxious about Facebook being able to pivot and monetize the burgeoning trend to mobile. Further, the looming threat of the share lock-up period flooding the market with shares was pulling the share price down. At this time, I began a deep-dive into Facebook to determine if it would be a prudent investment at this level.
First Common Stock Purchase -November 9th
I began using Facebook in 2007 and have used it daily since. Once I saw mobile ads that were not too intrusive, I began to seriously consider an investment. With the company trading at half its IPO price at approximately $19 a share, I began to accumulate Facebook common stock. I still had some trepidations, but believed the risk/reward was worth it at this level.
After my initial investment, I followed the stock extraordinarily closely. Each day I would check to see how it traded and constantly read articles on it. When hanging out with friends and family, I would invariably ask them their opinions of the platform. Everything I was gathering was positive and my conviction strengthened.
On January 15th 2013, Facebook announced graph search, and I realized the true gold mine that Facebook held. As I watched the example uses of Graph Search during the announcement, I realized that the information Facebook gathered was a competitive advantage that would be unreplicable.
First Option Purchase -January 16th
The day after the Graph Search announcement, I purchased long-term dated out of the money call options on Facebook. At this time, Facebook was trading at roughly $30 per share. In retrospect, I purchased these options at a near-term peak, as the shares traded down from that level until the summer.
Most investors would be extremely upset if their trade did not work out, however, I was quite satisfied. My conviction in Facebook was stronger than ever, as I began to realize the advertisements I was seeing were actually interesting. I found myself buying several products that showed up in my news feed, and enjoyed reading several sponsored news articles. I also vetted my friends and family to hear what their Facebook usage level was like and if they felt the ads were intrusive. The results were positive and I was euphoric that I could gather more options at a discount. I purchased more of the long-term dated call options throughout July.
During this time, I also accumulated more common shares, as I felt this was a less-risky trade. Although I truly felt Facebook would eventually be a lucrative investment, I was uncertain when that would occur. FB traded in the mid-$20 range when I purchased more options and common stock during July.

Source: Author's Trading Account
Just two days after my last option and common stock purchases, Facebook announced its quarterly report, and blew out analyst estimates. The shares rallied, and the stock eventually rose to over $50 per share.
Then, in late January, Princeton released a study that Facebook would lose 80% of its users by 2017. I was tempted to take my profits, but I still felt the network effect it cultivated would retain users. However, I did have trepidations, as Princeton is home to some of the brightest minds in the country.
I decided to do more due diligence. At this time, I was working at a hedge fund in Princeton, so I sought out some of the students involved in the study to discuss it with them. After a few days, I eventually was able to find someone that could extensively explain it to me and I realized the ludicrousness of the comparison. I held my shares and options through this time of uncertainty.
In late February, Facebook announced the acquisition of WhatsApp, for a staggering $19 billion, mostly paid with stock. I immediately downloaded the app and made some friends do the same. The interface was easy and intuitive, but as a U.S. user, I did not see the draw. Then, I did more due diligence and began to understand why Facebook paid such a vast sum of money for it. The application was used so heavily by people in foreign countries, such as Brazil. Moreover, the app was growing at a tremendous pace, which was much faster than Facebook or Twitter, and had engagement levels well above other social networks. I continued to hold my shares and options, as the stock dropped from $70 to the mid-$50 level.
Then Facebook announced a positive earnings report and Facebook gained a bit of traction. At this time, I had just started writing for Seeking Alpha and wrote my first article on FB: "Facebook Firing On All Cylinders."
In early June, Facebook announced the acquisition, of Pryte, a company that sells consumers short-term passes to use wireless data. Coupled with WhatsApp and Ascenta (a satellite drone company), I realized the potential monetization ability for WhatsApp and wrote the article entitled: "Facebook Pryte Acquisition Provides a Clear Picture Of The Future."
In mid-June, Facebook introduced the hyped SnapChat killer, Slingshot and I once again annoyed friends and family by making them download it. Although nothing material has happened with Slingshot, this anecdote just shows you the level of depth that I went to, in order to fully understand the company. At this time, I also outlined a possible monetization strategy for their messaging platforms in this article: "Facebook Mobile Monetization Strategy Is Clear."
The next acquisition that made me extremely sanguine about the future was LiveRail. At this time, I noticed a few auto-play ads in my news feed, but realized that they were quite rare. With the cost of these ads being between $1 million-$2.5 million a day, I was ecstatic with the purchase. I realized that LiveRail would allow them to integrate more of these ads into the news feed without disrupting the user experience and wrote two articles about it entitled: "Its Viral Spread Is About To Reach The Rest Of The Internet," and "Facebook is About To Step On Google's Toes."
In mid-July Facebook announced the addition of a "buy" button and I was further ecstatic about its mobile monetization ability and wrote an article about the announcement: "Facebook Is Getting Closer To E-Commerce."
Throughout the summer, Facebook had been slowly rising, and going into earnings it began to rise further. At this time, it was trading at a P/E ratio in the 90s and I began to question if I should take my profits. I never contemplated selling my common shares, but with only a few earnings releases between then and my options expiration date, I was seriously contemplating selling. If Facebook did not meet earnings expectations, this could be the high-water mark for the value of my options.
I created several models to determine where the earnings could fall, but I was still uncertain. These models are extremely subjective and a model is only as good as its inputs. I then had to use a more macro approach to determine where user growth rates and engagement levels would be reported. These figures are so essential because revenue ultimately is derived from them.
Facebook then announced the number of interactions with the World Cup and I realized that the engagement levels for the last two weeks of the quarter would be prodigiously boosted by the event. I accounted for this in my models and inevitably decided to hold onto my options into the earnings release. I also wrote an article alluding to the World Cup boosting engagement, and the new "save feature" sustaining that level: "Save Feature Could Mean Sustained Engagement Rates."
The earnings release exceeded expectations and I wrote about it in this article: "Facebook Delivers Stellar Earnings." Facebook shot up and now sits at the $75 level. The fact that revenue grew a staggering 61% y/y and margins improved makes me optimistic about the company's outlook.
The value of my call options went from roughly $1,700, at the time of my original purchase, to over $40,000 in the matter of one year. Further, my average purchase price of common shares is $23 so they over tripled as well.
Going forward, I believe Facebook could reasonably earn $2.30 per share next year and trade with a P/E ratio of around 45. Thus, my price target is $103.50. I will continue to hold my common shares until something material changes or optimism propels it to above my PT. In the short term, I will look to sell my options in the mid $80s, which I believe it will reach in the next couple of months.
Now that I have provided an extensive narrative into my Facebook trades, I hope to highlight a few principles that will allow you to find more of these opportunities in the future.
Take Away Principles From Warren Buffett
1. The first and most salient step is to complete such an acute level of due diligence that you understand more about the company than most fund managers. Fund managers must manage extensive portfolios and you have the advantage, as yours is much smaller. I believe I also had an advantage to most fund managers because I had youth on my side. I grew up with Facebook, and truly understood all of its possibilities. Further, I researched every aspect of the company. I am certain that I have annoyed my loved-ones by making them download and test new acquisitions, but the info I received was well worth it.
"Never invest in a business you can't understand."- Warren Buffett
2. Another principle to take away is that the market does not always price a stock correctly in the short term. If I had chosen shorter-dated options, I may have ended up losing money. Therefore, if you uncover a truly wonderful opportunity, do not let short-term vicissitudes change your outlook. The market often views investments through myopic lenses. Moreover, do not attempt to make short-term profits. In the end, the market will price a company correctly, but betting on it doing that in the short term is foolish.
"Time is the friend of the wonderful business, the enemy of the mediocre." - Warren Buffett
3. In that same vein, the market tends to overly discount negative news. If a company you have conviction in has a pull-back, due to a one-time event that doesn't change your long-term outlook, accumulate more shares. Facebook has had several pull backs, such as with the Princeton Study. Analyzing and dismissing these problems before the market does is essential.
"A great investment opportunity occurs when a marvelous business encounters a one-time huge, but solvable problem." - Warren Buffett
4. The final and most crucial aspect to determine is whether or not the company has a competitive advantage. Without one, a competitor will come in, under-cut them and deteriorate margins. Warren Buffett coined the term "economic moat" to explain this phenomenon. Facebook has two apparent competitive advantages. First, its sheer size, 1.32 billion users, gives it a network effect, which ensures it will not fall the same fate as MySpace. Second, Facebook has much more user information than any other social media platform. This abundance of user information allows FB to target ads effectively and gives advertisers a superior ROI.
"In business, I look for economic castles protected by unbreachable 'moats'." -Warren Buffett
Hindsight is always 20/20. One could refute my article by stating that I can retrospectively view this situation. However, the fact that I put money on the line at critical times, helps to validate my article and thesis. The narrative I provided allows you to see my reasoning for an investment during those occasions and how I held conviction in times of turmoil. Grounding investment decisions based on these principles and on fundamental data will allow you to enjoy outsized returns, such as I did with Facebook. Your 2,000% trade is just around the quarter, if you are willing to put in the work.
Disclosure: The author is long FB. The author wrote this article themselves, and it expresses their own opinions. The author is not receiving compensation for it (other than from Seeking Alpha). The author has no business relationship with any company whose stock is mentioned in this article.
Additional disclosure: I also own FB LEAP call options.