By G C Mays
An updated look at US potash producer prices for June and the second quarter reveals that Potash Corp. (POT), and other North American producers such as Mosaic (NYSE:MOS), and Agrium (AGU), are in fact executing the pricing strategy that Potash Corp. CEO Jochen Tilk outlined in a recent interview. Given what we know about recent sensitivity of potash demand to price, I found it surprising and revealing that Potash Corp. recently reported flat year over year potash sales volumes despite a drop in the average price of 26 percent during the second quarter.
According to producer price data, potash prices in the US rose just under 7 percent in the second quarter. In fact, UREA was the only fertilizer down in price as illustrated in figure 1.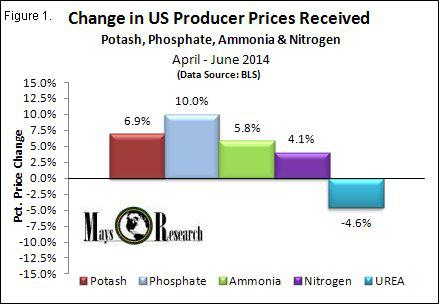 However, year over year, potash prices in the US were 2 percent higher according to producer price data. The large divergence in average pricing is because nearly 63 percent of tons sold by Potash Corp. during the second quarter were to offshore accounts. Globally potash and phosphate prices have not yet rebounded. As shown in figure 2, global potash, phosphate, and urea prices were all lower during the second quarter of 2014 and the average potash price was down by a whopping 27 percent year over year versus a 3.2 percent increase in the US. Year over year potash prices had been down for 17 straight months in the US before turning positive in May.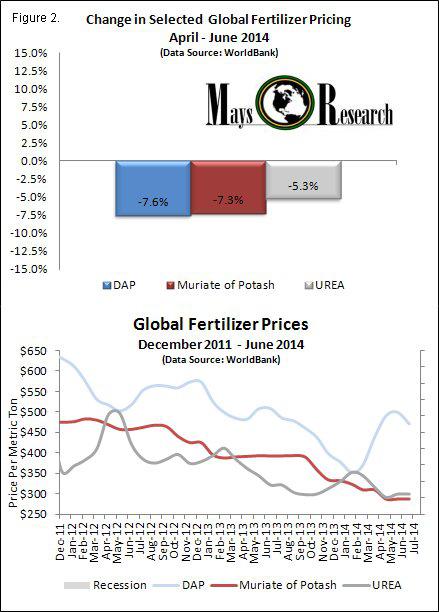 In the first quarter of 2014, the divergence between average global and North American prices affected Potash Corp. more than Mosaic and Agrium as those firms seemed to shift more of their potash sales volumes to North America. Historically, all three firms have shipped more tonnes to customers outside of North America. It will be interesting to see Mosaic's and Agrium's second quarter sales volumes and average potash pricing when they report on July 31 and August 7, respectively.
Although North American potash prices have returned to within $100 or so of their long run averages, North American dealers and crop producers will remain reluctant to make too much of a financial commitment until sometime between the coming harvest and winter wheat planting seasons in my opinion. At this time, there will be a better idea of where average wheat (NYSEARCA:WEAT), corn (NYSEARCA:CORN), and soybean (NYSEARCA:SOYB) farm prices will settle.
Wheat, corn, and soybean prices continued their descent from drought driven 2012 highs. Soybean prices have remained relatively high compared to corn and wheat due to strong exports in the last two years, which has kept domestic soybean supplies low. As figure 3 illustrates, soybean prices diverged from corn in the second quarter.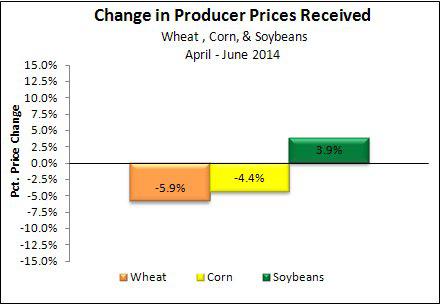 With the USDA reporting that producers planted more soybean acres than expected in its Acreage report released on June 30, the price divergence has already begun to correct as soybean futures have plunged since the report. The USDA lowered its estimate of the 2014/15 average farm price to $10.50 per bushel, which is still well above the legumes long-run average price of $7.19 per bushel.
In my opinion, not allowing potash prices to find their natural equilibrium only serves to prolong a sustainable reversal of demand. Taking capacity offline to cut ready supply and reducing labor costs is a prescription to treat the illness of declining prices, it is not a cure.
Disclosure: The author has no positions in any stocks mentioned, and no plans to initiate any positions within the next 72 hours. The author wrote this article themselves, and it expresses their own opinions. The author is not receiving compensation for it (other than from Seeking Alpha). The author has no business relationship with any company whose stock is mentioned in this article.