The monetization machine of Facebook (NASDAQ:FB) continued in full force during Q214. The machine is great at showing better ads to users and collecting higher fees from advertisers. What the social network site hasn't done is indicate to the market that users are locked into the service for eternity.
The site has constantly dealt with concerns over teens leaving the site and a shift towards older users to account for all new user growth, leaving limited further upside. Unlike other social networks, Facebook faces an issue with a saturated market in prime U.S. and European markets. This leaves the main growth avenue either in international markets or in obtaining more time from existing users.
Daily Active Users Peaking
In news that isn't really new, Facebook daily active users (DAUs) in developed countries are seeing limited gains. Though the social network saw a total of 829 million DAUs during the quarter for a gain of 27 million, only 5 million of those increased users came from Europe, U.S., and Canada. In fact, the U.S. & Canada region only saw DAUs growth of 6.6% over the second quarter of 2013. The monthly average users (MAUs) were worse with only 3% growth.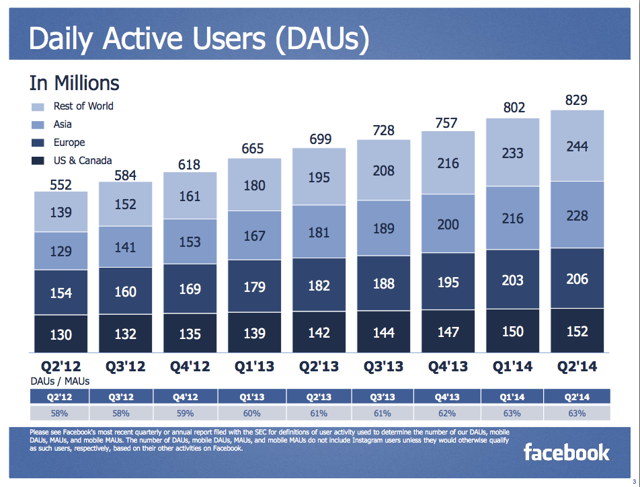 The lack of user growth brings up the importance of obtaining more usage from existing users. According to CEO Zuckerberg, the average U.S. user spends roughly 40 minutes a day on the social site. On that front, another survey found that users much more prefer Pinterest to Facebook and even LinkedIn (LNKD). The American Customer Satisfaction Index found that Facebook had customer approvals of only 63%. Ironically, the ACSI claims that customer satisfaction correlates back to financial performance.
The real question is when do the slow user growth trends and low customer satisfaction finally hit the financial performance. It also places a strong objection to Zuckerberg's hopes that Facebook will eventually claim a larger portion of a person's digital time now estimated at around nine hours per day.
ARPU Trends
If the dominoes were to fall with users and especially daily usage in the U.S. and Europe, the next concerning number is the revenue focus of an unhappy user group. The current average revenue per user (ARPU) trend is exceptionally bullish for Facebook. The social media site saw the highest worldwide ARPU of $2.24 per user in Q214. More importantly though as the slide below highlights, domestic users and European users to a lessor extent drive revenue numbers.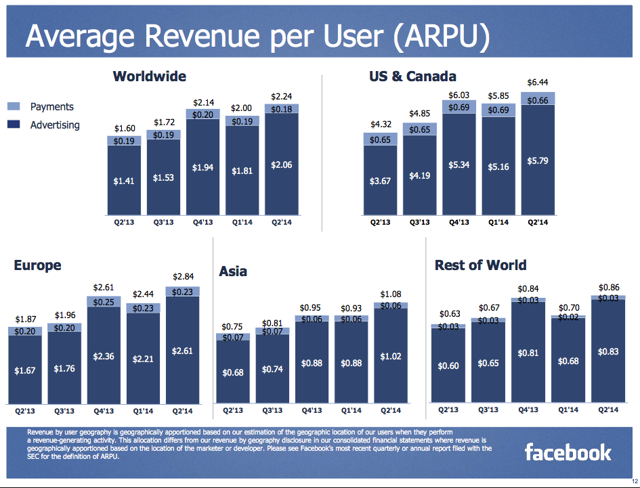 Wild Cards
Facebook offers several wild cards with recent purchases and production developments that don't currently add to revenue, but will start adding to costs in a big way. These below products could allow the company to become less dependent on Facebook.com or the Facebook app in the future:
Messenger - 12 billion messages per day and April had 200 million MAUs.
Instagram - biggest updates in history during June with early positive demand from marketers. The photo sharing service has over 200 million users.
Search - one billion daily search queries.
WhatsApp - over 500 million MAUs with a majority of users outside the U.S.
Oculus - virtual reality acquisition that recently closed.
Instagram probably has the best ability to monetize users in the near term with the company already integrated into the Facebook systems in the testing phase with ads. WhatsApp has the long-term ability for significant revenue do to the size of the user base. The remaining products have questionable monetization abilities with Search being the one that probably is the most over-hyped. The suggestion is that it can take on Google (NASDAQ:GOOG) for a part of the large search pie, but the quantification that is needed is whether users on Facebook search for products to buy or for friends or even a business to follow.
Conclusion
For investors interested in shorting a stock worth nearly $200 billion that only reported quarterly revenue of $2.9 billion, the biggest concern has to remain that existing users are monetized at higher and higher rates. The concerning user trends continue to march onward and slightly upward without derailing the stock. It might take an actual dip in domestic users to change the tune of advertisers and hence stall the ARPU growth.
In reality it doesn't add up that Facebook hasn't already seen domestic MAUs or DAUs dip considering the customer surveys and teen issues, but the social network continues to survive regardless. Maybe users are so connected they just can't get away despite the unhappiness and preference for Pinterest, amongst others. The fallacy is that it never ends well for social sites and especially ones trading for nearly 12x forward revenue.
Disclosure: The author has no positions in any stocks mentioned, but may initiate a short position in FB over the next 72 hours. The author wrote this article themselves, and it expresses their own opinions. The author is not receiving compensation for it (other than from Seeking Alpha). The author has no business relationship with any company whose stock is mentioned in this article.
Additional disclosure: The information contained herein is for informational purposes only. Nothing in this article should be taken as a solicitation to purchase or sell securities. Before buying or selling any stock you should do your own research and reach your own conclusion or consult a financial advisor. Investing includes risks, including loss of principal.