Company Overview
Panera Bread Company ("Panera" or "Company") (NASDAQ:PNRA) is a national bakery-café ("café") concept with 1,800 (as of April 29th, 2014) company-owned and franchise-operated bakery-café locations in 45 states, the District of Columbia and Ontario region, Canada.
As of December 31, 2013, Panera employed 40,100 total associates. Approximately 37,700 associates were employed in bakery-cafe operations as bakers, managers, and associates, approximately 1,300 were employed in fresh dough facility operations, and approximately 1,100 were employed in general or administrative functions.
Panera has grown from serving approximately 60 customers per day at the first cafe to currently serving nearly 7.5 million people per-week today.
Company operates under the three brands: Panera Bread, Saint Louis Bread and Paradise Bread and Café.
Cafes mostly located in the urban, suburban and strip mall locations.
Panera has mainly two points of attraction for potential customers:
healthy and organic food at reasonable prices.
a unique environment, where people would visit not only for satisfying basic physiological needs like - food consumption, but also see as a location where both students could come for group studies, and business people can visit to discuss work related matters (all for a reasonable price).
Company operates as two business segments: baker-café operations and fresh dough/other products operations. Fresh dough/other products facilities supply fresh dough and other products to both company-owned and franchisee-operated cafes on a daily basis.
There were 1,800 bakery-cafes open system-wide as of April 29th, 2014. Among them, 881 were owned and operated by the company, while 919 were operated by the franchisees (~51% franchised).
There were 24 fresh dough/other products facilities system-wide as of April 29th, 2014. Among them, 22 fresh dough/other products facilities were owned and operated by the company, while only 2 fresh dough/other products facilities were operated by the franchisees.
The revenues mainly derived from (1) company-owned net bakery-café sales, (2) fresh dough and other product sales to franchisees, and (3) franchise royalties and fees. Fresh dough and other products sales to franchisees are primarily comprised of sales of fresh dough, produce, tuna, and cream cheese. Franchise royalties (5% of sales) and fees include royalty income and franchise fees.
Financial Summary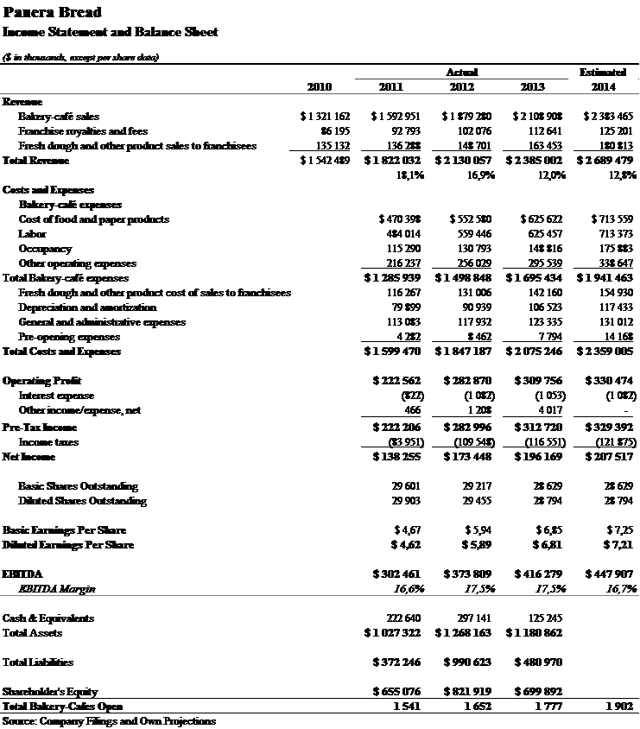 Qualitative Moats of the Business
Excellent Brand Appeal and Customer Satisfaction
Panera's original line of business has over 30 years of operating history and is currently one of the fastest growing chains in the fast-casual sector of the US. Panera has excellent brand loyalty and brand recognition amongst customers according to the latest poll results by 2013 Harris Poll EquiTrend Rankings.
According to the statistical research that was organized by "Consumer Reports" magazine, in the category of fast-casual restaurants, Panera Bread was among the top 9 restaurants that has collected the most praise from the customers for the inside conditions.
Anyone who enters Panera is always met with a message of freshness. The first thing customers see when they enter each café, are massive displays of bread, all of it hand-formed and baked on-site throughout the day. The baguettes and bagels, often are tagged with what time they came out of the oven. This level of attention to details shows the level of dedication to customer service.
While the general trend in dining is to scale back on upscale ingredients (especially after the recent financial crisis), trim portion sizes, and create value menus, Panera is selling fresh food and warm bread at full price, and encouraging customers to linger around. That's why; Panera has a reputation of a place that caters for a community that vibe with free Wi-Fi, fireplaces and no time limit for dining.
Healthy Eating - Menu Advantage
People are becoming more health conscious in their choices. This trend paved the way for Panera to strengthen its foothold in minds of its customers. Panera, from the very beginning had a clear message which helped them to earn a loyal following. In all of its stores, one can observe a distinct focus on antibiotic-free chicken, whole grain bread, organic and all-natural ingredients.
Panera is positioning itself as a healthier alternative to traditional fast food joints, and the company's stores provide a great atmosphere that's inviting to consumers. Consumers just love the atmosphere, more than anything else. Often times, when Panera is mentioned among fans, they are most likely to praise the free Wi-Fi as they are to gush about the Thai Chicken Salad, or Asiago Steak Sandwich or Napa Almond Chicken Salad Sandwich.
Loyalty Program - MyPanera
Revamped loyalty program - My Panera, accounts to more than 50% of sales system wide. One of the features of having a MyPanera card is that customers are made aware when they are eligible for an award and when it will expire. This is an excellent tool, which helps to increase order frequency of loyal customers.
Many restaurants' loyalty programs operate more like a discount program, which is not the case at Panera's. The loyalty program that Panera has been implementing is about being able to talk to the customer on an individual basis, and it's about getting information so that Panera can give a better service to each and every customer.
Panera's Food Policy
Since the early days, Panera has always striven to provide the best possible choice for its customers. In doing so, it has drawn a clear picture of a place where one not only would have a healthy meal, but also feel good about it. Panera has not only helped to establish the market for antibiotics-free chicken, but also expanded to other proteins since then.
Fast forward to today; Panera has officially announced the launch of the Panera Food Policy on June 3rd, 2014, which has a clear roadmap where the company will be going in terms of food quality, which would also help the company to make measurable steps in making healthy choices available to its customers.
In my experience, Panera is one of the pioneers in terms overall transparency, and has always given a vibe of a company that genuinely cares about its customers. Again, the message that I see from this particular initiative is that, Panera deeply cares about its customers feelings, and it wants them not just feel ok but feel good about the food they have consumed at Panera.
Organic Food Industry Dynamics Favors Panera's Business Model
Sales of organic products in the United States jumped to $35.1 billion in 2013, up 11.5% from the previous year's $31.5 billion and the fastest growth rate in five years, according to the latest survey on the organic industry from the Organic Trade Association (OTA). A niche industry in the huge food sector just a decade ago, consumer purchases of organic food first broke through the $30 billion mark in 2012 and now account for more than 4% of the $760 billion annual food sales in the United States. More telling, the growth rate of organic food sales, which has averaged almost 10% every year since 2010, has dwarfed the average annual growth of just over 3% in total food sales during that same period.
A product breakdown of the organic food sector shows that the fruit and vegetable category continue to lead the sector with $11.6 billion in sales, up 15%. With more than 10% of the fruits and vegetables sold in the United States now organic, the $1.5 billion in new sales of organic fruits and vegetable represented 46% of the organic sector's $3.3 billion in new dollars.
Organic chicken on the other hand, still only accounts for less than 1% of overall market share in a $30 billion industry.
Financial Moat
Strong ROIC - ROIC is the best quantitative measure of business quality in my view and is what separates the special growth businesses from the not-so-special ones. By my calculations, Panera sports a LTM ROIC of 22% after-tax. That's not the best result that I have seen, but it is far better than the average numbers.
Under-utilized Balance Sheet - Panera currently has no debt on its books and could easily take on some amount of debt, using the proceeds to both organic growth initiatives, lower the cost of capital and/or repurchase shares at what is now a far cheaper price than the beginning of the year. Moreover, Panera is already executing on this front, as they announced a buyback authorization for $600 million or about 15% of shares. The company has also secured a $100 million term loan and greatly increased its buyback program. The term loan interest rate is variable but would currently be ~1.15%.
Major Problems at Panera
Main Problems are - Operational Headwinds
Panera is experiencing, what is called as "suffering from its own success in fast growth". However, some of the issues might be attributed to weather and cost inflation of ingredients. But still, the main problem is caused by the inefficiencies in stores. The company has been forthcoming and frank about the issues that Panera is facing around the country.
Ron Shaich, the CEO of Panera has given an interview to Wall Street Journal Magazine and said the following:
"Walk into our cafes at 12:30 p.m. during the lunch rush, and you'll see the lines. It's clear that the demand for our product is not the issue. Our problem is keeping up within meeting that demand with an in-cafe experience that delivers something truly differentiated. Roughly 6 customers per cafe per day equates to approximately 1% transaction growth. Indeed, the difference between the successful or unsuccessful transaction growths at Panera, at least as we hold it, is just 6 to 12 customers per cafe per day. And yet, anyone of us can visit a Panera and see that - and see that many customers walk out of our cafes every day when they can't or won't wait in the line."
The most comforting thing is that, management is well aware of all the issues company is facing and the root causes. Management has vowed to tackle the service problems in a bunch of ways, including adding 35 extra hours of labor per week to each store, retraining workers, buy new equipment, redesign some of the workflows, and work to move phone orders over to the web.
But the major step is the initiation of Panera 2.0 program, which will directly address the issue of customer order taking and personalization of order creation.
The Solution is - Panera 2.0
To be able to serve more customers, Panera is working to improve the customer experience at stores. In order to achieve tangible results, company has embarked on a multi-year strategic plan to improve in-store experience for each and every customer.
To sustain future growth by improving a customer experience, Panera has introduced the public with a bold plan which is dubbed as "Panera 2.0" on June 6th, 2014. The plan is supposed to help Panera with following operational aspects of their business, such as to improve the time it takes to get orders completed and allow customer-specific customization in individual orders.
Here's how Panera 2.0 will work: If you are a to-go customer, you can place an order via computer or Panera's mobile app and select a time to pick up. The order is made simultaneously as you come to the restaurant. After arriving, you go to a designated area where an order status monitor tells you if your food is still being prepared or already waiting for you on a shelf.
Both to-go and eat-in customers can also place orders at touch-screen kiosks in the restaurants, without any need to leave your table, or go to the old-school route and order from the cashier.
The first stage of rollout will be the "rapid pick-up" option that lets customers place mobile orders as much as five days in advance, set their time for a pick-up and done. The move is a clear acknowledgement that while 40% to 45% of its orders are to-go, the company has been treating everyone like an eat-in customer. No prioritization was done at a store base. The full rollout to company's more than 1,800 cafes will definitely take a couple of years.
To support the operation, Panera more than doubled the size of its IT team since 2005 and will have spent $42 million by the end of the year on the e-commerce components of the project. Panera 2.0 costs about $125,000 per location to implement, and franchisees will pick up part of the cost, as management has stated earlier. Locations that already have Panera 2.0 in place are seeing 20% to 30% of orders come in digitally, according to company resources. Once the system has rolled out throughout the system, I believe that Panera will become one of the top players in the e-commerce business of tomorrow.
The eventual goal of this massive program is (1) to eliminate the obstacles between the customer and their orders, (2) to offer personalized menus on mobile devices based on customers order history.
As we mentioned, on the front of eat-in experience, the customer will have an option to place an eat-in order from the table and have the food brought to him. And, the interesting thing is that it will actually know what his order is. In a sense customer will have absolutely customized order prepared just as he or she likes it.
Panera 2.0 required improvement on operations front as well. The labor that saved by customers placing orders digitally is being redeployed and retrained to help the workforce in the back of the store. Increased number of orders demands more labor concentration in the kitchen.
The company has also been focused on improving the accuracy rate of orders. But from own experience, Panera is still better than most on getting your meal right. It is a well-known fact that majority of inaccuracies come from incorrectly inputting orders at the register, so it would definitely help when customers start making their selections themselves digitally.
Ownership Summary

Top insider owners include Mr. Ronald Shaich (CEO and Chairman) and Mr. Dominic Colasacco (Independent Director), with 4.8% and 0.77% ownership stakes respectively.
Despite the fact, that management ownership stake is small, due to the voting differences among the classes of stock; Mr. Shaich has the majority of voting power.
Use of Capital (Share buybacks and Dividends)
Though the company has no immediate plans to start paying dividends, the company has been aggressively pursuing other avenues to return capital to shareholders. Share buybacks, is a strong way to drive a shareholder value. Panera has been consistent and systematic in this regard.
On August 23, 2012, the company's Board of Directors approved a three-year share repurchase authorization of up to $600.0 million of Class A common stock, pursuant to which the company may repurchase shares from time to time on the open market or in privately negotiated transactions. During the fiscal 2013, company repurchased 1,999, 250 shares; while during the fiscal 2012 the company repurchased 124,100 shares.
From 2009-2013, the company has been buying back shares in the amount of 2% on average, each year.
During fiscal Q1 2014, the company repurchased 271,412 shares at an average price of $184.22 per share for an aggregate purchase amount of approximately $50 million. The company has approximately $198 million remaining under its existing $600 million repurchase authorization as of the date of this release.
Financial Statements and Ratio Analysis
Profitability Analysis

Revenue Growth
I consider the revenue growth to be the best predictor if the strategic plans of the business are implemented successfully or not. In the end, if the business is not growing its top line, then its future plans in terms of rising dividends, making buybacks and sensible acquisitions might be in jeopardy.
Panera's revenue growth over the last 10 years has been quite impressive. Revenue has had yearly average growth rate of approximately 20% in the last 10 years. While the rate of new openings has decreased in the last 5-6 years considerably, which makes sense, as the company gets bigger it become harder to grow aggressively in size.
Gross Margin
Gross margin is another important financial metric to watch. The reason is that, if gross margins start to contract, it possibly indicates the existence of discounting effects to maintain revenue growth. Although, discounting might give a boost for a top-line growth in the short-term period, it is not a sensible strategy for the long term.
Panera's gross margin levels have been excellent in the period of 2004-2006, hovering around 55%, but have decreased to the level of 23% and stayed steady since then. The steadiness of gross margin levels, while simultaneous growth of revenues shows that the company has direct product and service-related costs under tight control. The main factors that drove revenue growth are initiatives in product innovation (differentiation), unit growth of items sold and timely price increases. The latter part clearly indicates that Panera cafes as a brand have a clear share of mind among its consumers who have not stopped visiting stores because of price increases.
Operating Margin
Operating margin is a percentage of revenue that company generates that can be paid out to firm's investors (both equity holders and debt holders) and the government in the form of taxes.
Operating margins are important because they measure efficiency. The higher the operating margin, the more profitable a company's business model is.
Several things such as pricing strategy, prices for raw materials or labor costs, can affect operating margin, but because these items directly relate to the day-to-day decisions managers make, operating margin is also a measure of managerial flexibility and competency, particularly during tough economic times (i.e. 2008 recession).
Panera's operating margins have been pretty stable for the last 10 years. During these years company has gradually expanded its operating margins, but mostly hovered around 12%.
Return on Equity
One of the most important profitability metrics is Return on Equity (ROE). The ROE reveals how much profit did the company earned in comparison to the total amount shareholder equity found on the balance sheet. A business that has a high return on equity is more likely to be one that is capable of generating cash internally.
Panera's return on equity has been pretty decent. It has averaged approximately 19% return on equity consistently over the last 10 years, which shows the company's ability to turn sales into income profitably over a long time period.
Additionally, for most of the twentieth century, the S&P 500, a measure of the biggest and best public companies in America, averaged ROEs of 10% to 15%. In the period of 2004-2013, the S&P 500, which averaged a return on equity of 9.10%, which in comparison to Panera's average of 19%, has lagged badly.
Conclusive Remarks on Financials
The numbers above show that Panera still has a lot of steam to push through. The margins show that the company has a wide moat that can comfortably sustain organic pricing increases while still expanding the volume and growing business.
Panera has been producing high ROEs, which gives the shareholders a number of advantages, such as high ROEs lead to a strong earnings growth, a steady increase of shareholder's equity, a steady increase in the company's intrinsic value which would lead a considerable appreciation of market value of the company once the operations inefficiencies get resolved.
Main Investment Thesis Items (Investment Thesis)
1. Management Quality
Management is aware of the issues Panera is facing now and dedicating maximum amount of attention to solving operational issues. CEO is famous for visiting stores personally, and having hands-on knowledge about the store problems. Ron Shaich is famous for visiting at least 25-100 stores each and every month.
Management is committed to deeper vision of serving people, instead of maximizing the short-term profits. He is famous for saying that he is in the business "not for monetary reasons only, but because it is the best way for making a difference in lives of people".
Ron Shaich - a terrific manager with excellent reputation, and a clear vision of Panera's future. He belongs to the rare class of CEOs who sacrifices long-term results for the sake of short-term triumphs. In his blog, he said the following: "The fact is that I don't pay much attention to quarterly earnings. They're not something that I or any other CEO can create in so short a time. Rather, EPS growth and increased shareholder value, or the opposite, result from management initiatives that play out over years, and certainly not over 13 weeks."
According to Ron Shaich, EPS growth should not be stated as a goal, it is a byproduct of deep focus on taking strategic steps. And I tend to agree with him completely.
The best strategy for Panera is to bet on things that will add the most value in the future. But as I have mentioned earlier, it requires time. Having such a leader at the helm of Panera, I believe that he will make smart bets and he possesses a deep understanding of the competitive landscape and knows how to build the Panera of future accordingly.
2. Long-Term Store Count Growth
Store growth and store profitability, on both owned and franchised stores, will be the main driver of Panera's performance going forward. Since 2000, total number of bakery-cafes of Panera has grown at the average growth rate of 15.87%, from 262 to 1,777 by the end of 2013. Panera now has over 1,800 stores system-wide, as April 30, 2014. According to my calculations, store count can double by 2019-2020, from current levels of 1,800 to 3,600 system-wide, and triple by 2030. At which, point it is rather safe to project a sales of $12-$15 billion from bakery-cafes on a system-wide basis.
Despite the company's robust historical unit growth, the concept still appears underpenetrated. Based on substantial diligence to analyze the market opportunity - the Panera total market opportunity in the U.S. could conservatively be anywhere from 3K-4K total cafes in the next 5-7 years, or ~2 times its current footprint. Though it's difficult to pinpoint the total store potential, there is an opportunity for robust unit growth for the foreseeable future.
Going forward, Panera's management has indicated a range of 115 to 125 store openings in 2014, with the majority of those being company-owned stores going forward. At this rate, Panera might double its store count by 2019. Today, the penetration rate of Panera cafes is 1 per 145,000 people only. Geographically, the entire mid-west is open for growth; the northern states have very little presence.
Importantly, Panera cafes provide compelling unit economics with excellent cash returns, estimated to be at 20%. According to the company data, the AUV for 2012 stood at $2.5M per unit, which is higher than at Applebee's and Chipotle. This has driven FCF for the company to invest in new stores and has attracted interest from franchisees (currently ~50% of the store base is franchised, with franchises paying Panera 5% of ongoing revenues).
However, the expansion, or in other terms unit growth is a like double-edged sword. It can both add economic value, but it can just easily destroy it. Growth can build value only if the underlying business model is worth reproducing.
3. Expansion into International Markets
In my view this is the least discussed option for a Panera, at this time. The international expansion (outside of North American markets), is the way to go in my view in the next 10-15 years. Panera has both the brand awareness and reputation to be able to become a viable competitor to fast food restaurants, especially as the middle class population is growing by bounds and leaps across the world. McDonald's, KFCs and Pizza Huts are the only options, for now in many parts of the world. But, I'd bet that consumers would be more than happy to pay-up for healthier choices if they would exist. The demand is there, so now is the time to deal with supply side. Panera is a prime candidate for an overseas expansion in the next 5 years.
4. Panera 2.0 - Turnaround Results
Panera is moving towards deploying the Panera 2.0 mechanisms across the system, in the next 2 years. After the full system wide coverage is reached, a significant customer flow to Panera is expected, due to the factors listed above (please see section on "Panera 2.0"). The major factors that are affecting Panera today, in the negative way, will have been eliminated, therefore according to my analysis, conservatively the foot traffic to Panera should grow by at least 20%-40%, which will have at least 15% incremental impact on EPS growth on a going forward basis.
5. Compelling Valuation - Since the beginning of 2014, market has lost belief in Panera, hence the potential opportunity to purchase shares on an attractive valuation
The rollout of Panera 2.0 will not happen without putting real investments, which will negatively affect the near-term earnings. Panera 2.0 requires substantial upfront capital both for people and operational capabilities. As a result, the rollout will dampen the earnings, at least in the first 6-12 months. The volatility for the shares of Panera might rise and short-sighted speculators might drive the prices of Panera shares considerably down. This is precisely the moment for enterprising investors to push a pedal to the metal, and buy aggressively.
6. Favorable "Demand Side" Secular Trends for Fast Casual Segment
Many long-term secular trends in the fast-casual restaurant industry favor Panera. Long-term trend of consumers toward dining-out; shifting consumption towards branded chains continues at the expense of fast-food joints, such as McDonald's that don't offer healthy choices for consumers. Furthermore, a superior concept, targeted national advertising, disciplined site selection, have all resulted in Panera's very stable SSS numbers at the average of 5-6%.
For the fifth consecutive year, the fast-casual segment's growth in traffic far surpassed that of every other restaurant segment in the 12-month period ended in November 2013, according to new research from The NPD Group.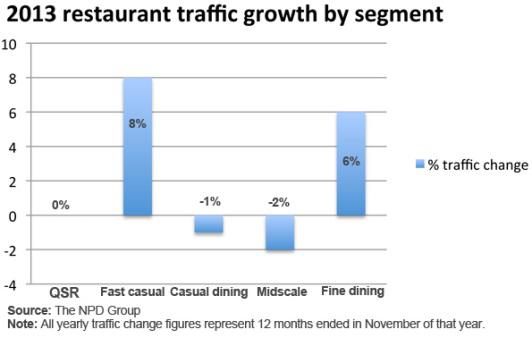 Source: The NPD Group
The Port Washington, N.Y.-based market research firm found that total customer visits to fast-casual restaurants increased 8% for the 12 months ended last November, compared with flat traffic overall for all restaurant segments (see the graph above).
7. Targeted Audience of Panera Bread as Major Driver of Top Line Growth
It is a well-known fact that a population of aging baby boomers is taking a share of restaurant meals, a trend that has inevitably created both winners and losers. This phenomenon has literally shaken up the industry that has traditionally tended to cater to younger customers, which in of itself is not the best strategy. Because, of one fact, and that is that older customers are going out to eat with almost the same frequency as younger ones if not more, and their share of total restaurant visits has been increasing in the last 5 years, according to a new study by market-research firm NPD Group Inc.
According to the report, the per-capita restaurant visits among those 48 and up now average 210 a year, versus 211 for 18- to 47-year-olds. While older consumers ate out an average 207 times in 2008, the younger generation ate 240 times a year, which is a dramatic cutback, for 18- to 47-year-olds. In other words, baby boomer now account for 46% of restaurant visits, up from 40% in 2008, while the share of visits by 18- to 47-year-olds has declined to 54% from 60%.
There are a number of reasons for this trend:
Baby Boomers, as a group, have considerably more of discretionary income, partly because they are delaying retirement, while younger people have been hit harder by the stubborn unemployment problem related issues in the country.
Baby Boomers are even more concerned about the healthy meal choices, which make them be more selective in their restaurant choices.
In most of the cases, children of Baby Boomer have already moved out, which makes them cook less at home and go eat outside.
Historically, the restaurant industry has been mostly fueled by 18- to 34-year-olds for decades. But the growing importance of boomers-those born between 1946 and 1964-is forcing restaurants to rethink the way they market themselves to consumers.
In retrospect, it is fair to say that Panera has catered to older consumers from the very beginning, partly because the average check was higher than in other similar stores.
Another aspect that helped Panera to gain more customers in this particular segment is that they served breakfast, and had a clear focus on that segment, which accounts for almost 20% of its sales, and other player have just began realizing this fact, and started paying more attention to breakfast. Naturally, older boomers now drive breakfast sales at Panera. The morning meal has been the one bright spots for the industry, with breakfast visits showing 3% growth in the year ending December 2013, while lunch and dinner visits have remained flat according to the same NPD report.
In all fairness, even at the time I was a frequent visitor of Panera; I mostly liked coming to Panera for a breakfast and, I could see that most of the time, morning visitors were older people.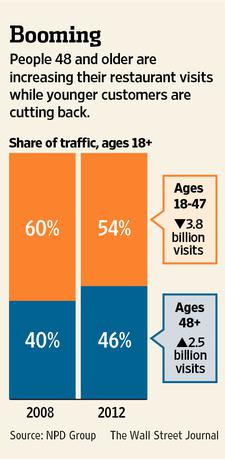 Source: The Wall Street Journal
8. Panera Might Become a Buyout Target or Acquisition Target
Panera is in the midst of operational transformation. The company has a great business model that is not easy to replicate, but some players are trying hard. Panera has been profitable for a very long time; it has got a well-known brand, a cash flow positive and has no debt. These variables make it a compelling argument that Panera can easily be counted among the potential targets.
On June 25th, 2013 - Ron Shaich has written an interesting article, "The Lesson from George Zimmer's Firing: Keep Control". In the article, Mr. Shaich advocates the business owners to pay attention to matters of control, even after company becomes public. It is clear that Mr. Shaich considers Panera an important legacy of his own, and seems to be determined to make the recent operational initiatives to work. The question comes to my mind, if it's not. What if something goes wrong? What would Mr. Shaich do if an outside shareholder(s) might become involved in the business?
Well, the control question has already been resolved in Panera's case. Mr. Shaich controls almost 85% of Class B Common Stock and owns 4.8% of Class A Stock. I have to note, that each share of Class A Stock is entitled to 1 vote, while each share of Class B Stock is entitled to 3 votes. Additionally, each share of Class B Stock is convertible at any time. So, the hostile approach will not work in Panera's case. However, if Mr. Shaich decides to take the company private, he can do that by all means through the means of LBO. (To learn more about shareholder structure, see the section "Ownership Summary" above.)
All in all, taking cues from the past growth numbers, it is fair to suggest that $8 EPS might come in 2015-2016, and taking into consideration a safe 20-25 multiple, we get $160-$200 price range, which would not be a bad result for holding shareholders to realize.
Conclusive Remarks on Thesis Items
In a sense, value-oriented investors, would find it to be hard to get "too" excited about Panera's earnings multiple at >15 times PE which certainly does not appear cheap on a relative basis. Panera has also become a controversial stock and heavily shorted, though as I would caution investors against a short position in this high-growth name for many reasons, such as the company's concept is not broken, no liquidity issues, clean accounting, and long-term management team. However, the fact is that as of June 30, 2014 the short interest has increased to record levels, (at least by Panera's parameters) to almost 3 million shares in short interest and with 6 days to cover.
Certainly this is a volatile stock and there may be an opportunity to pick up shares for even cheaper in the next few months if EPS growth decelerates, but it's not hard to see scenarios where the company continues to deliver 10%+ annual unit growth, SSS of 5-6%, ingredients and raw materials prices normalize and margins improve, and the company trades at $175+ per share on 25 times EPS of $7.0. Panera is still considered to be a high growth company, which makes it possible to trade in line/at a premium to high growth peers at 22-25 times PE to casual dining peers. I believe that shares are worth the risk now and that current pessimism will be re-evaluated by the market in the next 6-12 months as Panera continues to implement plans for robust top-line growth and take under control the cost side of the business.
Valuation
Appraisal of Panera Shares by Using Financial Ratios
Acknowledging one more time that valuation is more art than science, let's proceed with a process of ratio analysis.
Total enterprise value is defined as stock market capitalization plus total debt less cash and its equivalents.
Let's start with 27.4 million fully diluted shares. This gives us a market cap of $3.95 billion, using the July 24th closing price of $144.41. The company has no debt; therefore, we then subtract $101 million of cash and cash equivalents as of March 31, 2014.
This gives us a total enterprise value of $3.85 billion. I assume that Panera is able to produce approximately $350 million of EBIT in the current fiscal year, which is way too conservative (just the way I like), because during the last 5 years, operating profits grew by an average rate of 20% per annum.
Dividing $350 million by $3.85 billion, we get an EBIT yield of just 9.1% or a TEV/EBIT multiple of 11!
Anything below 10, should be treated with extra attention, and with 12.8 of TEV/EBIT multiple, Panera seems to be a bit a bargain here.
Just to give more sense, to our calculations, let's compare the TEV/EBIT and additional valuation related multiples for a number of Panera's peers (see the table).

Source: Company Filings; 10K-FY'13
It is clear that Panera is inexpensive on a number of multiples. Both Chipotle and Starbucks have elevated multiples in comparison to Panera.
Here, we have to state that, Panera started 2014 at an upbeat tone, but shares have fallen more than 18% since the beginning of 2014, majority of which came after Q1'14 earnings release at the end of April. This is why we have less expensive shares now.
As a side not, one might wonder, why I have used the TEV/EBIT ratio above, instead of more traditional the P/E ratio. The reason is that though P/E ratio is useful instrument for a crude approximation, it has serious limitations. One major limitation, which the EV/EBIT ratio addresses, is that the P/E ratio does not take into account the balance sheet and, as a result, it can materially misrepresent the earnings yield of a business.
Appraisal Panera's shares by using a Discounted Cash Flow Analysis
According to my assumptions, the company's long-term annual revenue growth, post FY2014 will be in the range of 10% to 12%, increase EBIT 7-9% and increase EPS 4-6%. As a side note, we have to state that these growth assumptions are way too conservative. During the last 10 years, both top line and bottom line grew by 18%+ on average yearly basis. Additionally, each year the company buys back shares in the amount of 1.5%-2% that would also help to an EPS growth on an incremental basis.
I have constructed non-complicated, easy to understand DCF model to value the company. The model's primary inputs are based on historical data, industry averages, and management forecasts. The forecasts are based primarily on my expectations that were adopted with my understanding of the industry dynamics. Below, you can see the output page where, I have both did calculations based both on "EBITDA Multiple Method" and "Perpetuity Growth Method". The approximate range of intrinsic value per share came at the range of $142-$182.
Panera's revenues grew at the average rate of 15% from 2009 through 2013. The company is on a turnaround mission at the moment, and taking a strategic initiatives, which I assume would produce higher accelerated growth rate from 2015/2016 and onwards. Therefore, I have projected the growth of 15% for the years 2015-2018, to have a margin of safety.
Further, the operating income levels are kept at an average rate of 10%-12% as a percentage of revenues. NOPAT growth rate, as a result of our projections and calculations, are set to average at 7-8% per annum, which is a little shy of the historical numbers, which is in my view is fine, as we have cut out more margin of safety, thus insured ourselves of "unforced errors" (taking from the tennis parlance) of future forecasting.
EBITDA Multiple Method
By applying 7x-9x EBITDA multiples, we get a growth rate of 3.4%-4.8%, which is not unreasonable. The total equity value comes as a range of $4.3-$5.1 billion for company. On a per share basis, we get a price range of $151-$178, which makes the current price of $145, as underpriced by 4%-22%.
Perpetuity Growth Rate
By applying the 3%-5% growth rate, we get a 6.5x-9.3x, which is not unreasonable either. The total equity value comes as a range of $4.1-$5.2 billion. On a per share basis, we get a price range of $145-$182, which makes the current price of $145, as underpriced by 25% at the upper limit of the range.
An Important Note
Though easy to construct and simple to explain logically, the DCF model has many shortcomings. For one, the end result very much depends on the assumptions, the analyst is comfortable to work with. In case of wrong assumptions, or unrealistic forecasts the whole exercise might lose its value. In our case, I tried to have as conservative assumptions as possible. Even then, the DCF model result should be treated with caution, as investing often time is not about the numbers but about the having a sufficient amount of understanding of the business.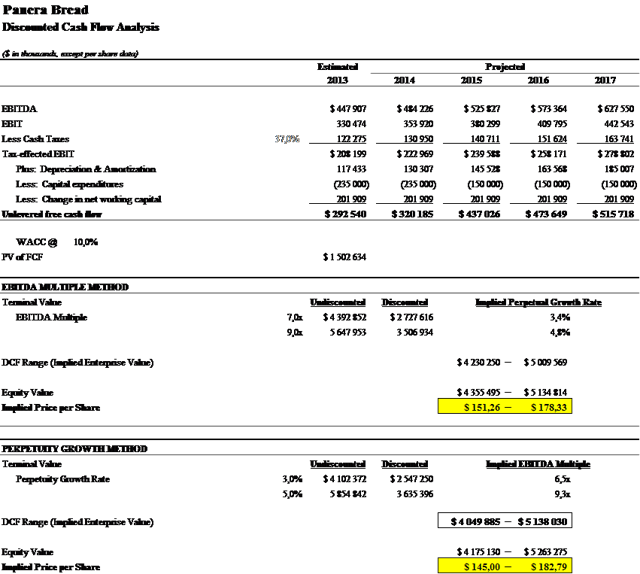 Conclusion
Though FY'2014 will be a year of transition for Panera, in the subsequent years we will see the rewards of current investments into improving operational efficiencies. What is needed is patience, as it will take time for the management to fully execute on their plans.
The future value of any enterprise will be determined by its capacity to deliver value to its owners. Proceeds from the Panera cash flows will compound for the owners of this firm for the long term, once the current operational inefficiencies gets resolved and possible overseas expansion plans come to fruition. I am optimistic that current management has a good grasp of current issues and more importantly knows well what sort steps needs to be taken to drive shareholder value.
Panera is operating in a stable industry, and has outstanding record of both growth and profitability. Therefore, it is my belief that Panera is going to be an excellent vehicle for a substantial capital appreciation at its current price of about $142-$145.
At a current market price of $140-$145 range per share, I believe the stock is more undervalued than fairly valued. Therefore, I recommend the Panera shares as a BUY at current prices. That said, if the stock were to trade down closer to the range of $120-$130 post the earnings results, I would look to buy more with more enthusiasm. I believe that over the next 3-5 years, Panera will prove to be an absolute winner for its owners.
Disclosure: The author has no positions in any stocks mentioned, but may initiate a long position in PNRA over the next 72 hours. The author wrote this article themselves, and it expresses their own opinions. The author is not receiving compensation for it (other than from Seeking Alpha). The author has no business relationship with any company whose stock is mentioned in this article.