Hyatt Hotels Corp (NYSE:H) is a global company that specializes in the hospitality industry. The company owns and develops a portfolio of hotels, resorts and residential and vacation ownership properties spread throughout the world. Considering that the broad economy continues to trend in a positive direction, consumer discretionary spending should continue to increase. With an increase of discretionary spending, I wanted to explore whether a company like Hyatt is worth investing in today. Many analysts have upgraded the stock lately, making Hyatt worth researching.
The Good
What I consider Hyatt's top asset to be is its world class brands. The brands under the Hyatt umbrellas offer a unique competitive advantage that is difficult to match and provides a sense of pride for those staying in its hotels. Brand recognition and reputation is extremely important in the hospitality industry. Many of Hyatt owned hotels cater to the higher end and luxury markets, which is one of the strongest segments of the economy today.
Hyatt hopes to grow and increase earnings in several ways, including increasing market share, increasing focus on franchising and pursuing potential acquisitions. Hyatt has stated that it plans to continue to pursue opportunities to acquire other brands or hospitality management companies that can potentially complement its ability to serve its existing client base. From a franchise perspective Hyatt hopes to increase its presence for Hyatt and Hyatt Regency hotels, particularly within the United States. By focusing on franchising development costs and expansion capital will come from developers specifically looking for franchise hotel opportunities. In addition to franchise agreements, Hyatt does plan to potentially expand into new markets and locations where its guests are traveling but are unable to stay in a Hyatt hotel. Development of new hotels is something that Hyatt takes very seriously.
As mentioned previously Hyatt stock has recently seen some analyst upgrades. The reasoning behind the upgrades has to do with earnings released by Hyatt on April 30th that resulted in earnings of $0.13 per share for the quarter which was above estimates of $0.11. Average analysts price targets are currently around $66, which is not a large upside from current levels.
The amount of travel for the summer of 2014 seems to be higher than last year. Although official data for the summer is yet to be released, consumer trends seem to be pointing towards a lot more people traveling than in recent years. I recently wrote an article about Southwest Airlines (NYSE:LUV) that discusses the recent increase in travel for the current year.
The Not So Good
Although I have never had a negative experience while staying in a Hyatt hotel, taking a look at the valuation of their stock makes me hesitant to purchase at current levels. To start off, Hyatt currently trades at a price to earnings ratio of 38.3, which is significantly higher than the S&P average P/E of 18.6. The industry average is roughly 35.1, which is higher than the S&P but still below Hyatt. It is important to also focus on the growth rate of any company being evaluated to see if the price to earnings ratio is justified. In the case of Hyatt it appears that they currently have a PEG ratio of around 2.3. A PEG ratio measures the price to earnings in relation to its growth, and this number represents that Hyatt is currently trading at a multiple more than double its growth rate. This is usually a major red flag when selecting investments.
Another potential downside for Hyatt is the fact that they don't pay a dividend. In companies that are more volatile than the market, it can be comforting to know that there is a dividend payout available to provide cash flow while you wait for the capital appreciation or ride out any market volatility. Although dividends in the industry are not particularly high, the industry does have an average dividend payout of around 0.9%. As an investor who primarily focuses on dividend paying stocks that provide cash flow, this is particularly disappointing.
The final potential downside I'll point out is the highly cyclical nature of the business. In periods of economic uncertainty, the hotel and resort industry can be quite susceptible to fluctuations in consumer spending. The macroeconomic factors that could have large potential consequences for Hyatt are beyond the control of the company.
Historical Performance
Although Hyatt has only been a public company for roughly five years, taking a look at a company's historical performance in relation to its competitors as well as the market as a whole is extremely important. Although nothing is a guarantee for future performance, analyzing prior performance can help an investor gauge future potential. By looking at the historical chart for Hyatt you can see that the company slightly outperformed the S&P since its IPO in 2009, but is trailing the lodging industry as a whole. Outperformance is never a bad thing, but in this particular chart the outperformance is not necessarily convincing that it will continue. The large amount of volatility in the chart for Hyatt may also be of concern for certain investors. Hyatt's beta is currently at 1.29 according to Google Finance, making it more volatile than the overall market.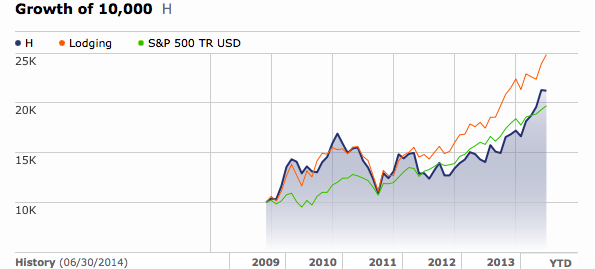 Chart Courtesy of Morningstar.
Conclusion
In conclusion, I am not as confident in Hyatt stock at current levels as perhaps other analysts seem to be. As much as I enjoy Hyatt as a company and feel they offer a superior level of service and a high quality product, the valuation on the company worries me at the moment. For investors already holding Hyatt shares it may be worthwhile to consider taking a portion off the table or holding, and for those not yet in Hyatt stock it may be wise to wait for a better time before buying in. The economy is improving continually but the strength continues to be questionable. Hyatt is a stock worth keeping on your radar, but the valuation makes it a "hold" for now.
This article is given for informational purposes only and is not to be construed as investment advice. Contact your investment professional and do your own due diligence before investing.
Disclosure: The author has no positions in any stocks mentioned, and no plans to initiate any positions within the next 72 hours. The author wrote this article themselves, and it expresses their own opinions. The author is not receiving compensation for it (other than from Seeking Alpha). The author has no business relationship with any company whose stock is mentioned in this article.