Archimedes may have proved that a2 + b2 =c2, but in the world of beers, it may be more like a2 + b2 steals part of the brew market from c2. In this case, the merger in July of 2008 of SABMiller Plc (OTCPK:SBMRY) and Molson Coors Brewing Co. (NYSE:TAP) seems to be paying off on all fronts. With a projected joint savings of $750 million by the end of 2012, the new company, MillerCoors is right on target. To date, the 3rd quarter report indicates that $560 million have already been saved through deliberate cost-cutting measures and carefully-planned, moderate price hikes.
MillerCoors now controls about 30% of the beer market, with its biggest serious rival, Anheuser-Busch InBev (OTCPK:AHBIF) holding down another 50%. That's a whopping 80% of the total sudsy brewery sales. CEO of MillerCoors, Leo Kiely brings substantial experience from his position as former CEO of Molson Coors. In fact, between the 2 merged companies, MillerCoors has over 300 years of brewery experience and a history of cautious market improvement and growth.
However, here's the problem. With the continuing jobless crisis in the country, total sales of beer to US retailers have fallen 3.2% in the last 6 months. Following or because of Anheuser-Busch's lead, MillerCoors has responded by raising its prices from $.50 - $2.00 per case in September. One might mention that traditionally beer prices go up in the fall when the return of football games just seems to demand this national thirst-quencher. One might also note that beer prices have not risen as much as might be expected in an effort to keep sales up and the taps flowing.
From a stock broker vantage, MillerCoors might be a company worth watching as it positions itself to improve sales by competing more closely with Anheuser-Busch and expanding its line of brews to capture some of the craft beer lovers. While overall volume may be suffering due to the economic difficulties that may preclude an extra case of beer for the weekend, there will always be the faithful who will drink their beer, no matter the cost. By raising prices coincident with Anheuser-Busch, MillerCoors has been able to stay competitive in a broad portfolio of areas.
The company's economy beers, Miller High Life and Keystone Light, will compete easily with other less expensive brews on the market today. For those who simply want a beer, any beer will do, MillerCoors can match price and quality. When it comes to the calorie-conscious, the creation of Miller Light in 1975 was a major plus. Add Coors Light and you have 2 competitive choices in low-calorie beers.
Premium quality beers are also represented by Coors Banquet and Miller Genuine Draft. There are some innovative choices as well, such as M G D64, Miller Chill, and Sparks, but the newest money arena may be in the market for craft beers. While only a small part of the overall picture, these specialty brewery drinks have a loyal following, many of whom adhere firmly to the idea that if it costs more, it probably tastes better. MillerCoors new Tenth and Blake Beer responds to this for lack of a better word, snobbery.
Also, import beers such as Blue Moon, Leinenkugel's, and Peroni Nastro Azurro may attract more customers whose tastes incline toward the craft lines. With sales of Tenth and Blake and Blue Moon up into the double digits, and Leinenkugel's in the high single digits, this plan seems to be working.
So what makes MillerCoors a possible strong contender in online trading? It may be the combination of what appears to be responsible marketing, proven brewing quality, and a determination to cut unnecessary spending in operations, ingredients, systems management, and freight shipping, to name a few targeted areas. Recent double digit earnings reflect a serious cost-savings protocol and timely net pricing that seems to be grudgingly accepted by the general public. While volume sales may continue to dip until the worst of the recession is over, if MillerCoors' internal strategy can weather this difficult time, as it appears to be doing, hearty beer drinkers will be ready and waiting on the other side. If so, let the good times roll.
(Click here for Interactive TAP Chart)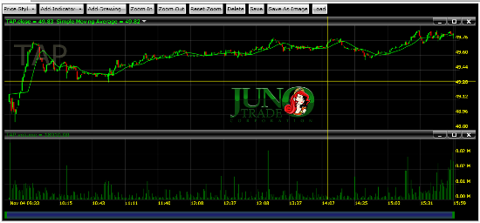 (Click to enlarge)
Disclosure: No positions