Profile
TiVo Inc. (NASDAQ:TIVO) provides software, services, and technology that enable the distribution and management of video content through set-top boxes (STBs), and smartphones and tablets primarily in the United States. It offers whole-home solutions that include 4-Tuner and 6-Tuner digital video recorders (DVRs)/gateways, IP STBs, and streaming to mobile and tablet iOS devices with features such as What to Watch Now, Season Pass recordings, integrated search, access to broadband video content, TiVo online/mobile scheduling, and applications on tablet computers and smartphones.
2Q14 Earnings
TiVo posted strong results this past quarter as revenue reached $107.1 million. Revenue is on track to top near $450 million, up from $406.3 million in 2013. The company was aided by expansion in its technology segment. Bottom line growth was $.07 a share, which was bolstered by a large increase in gross margin. As the company continues to expand in several countries, TiVo should have no problem growing its profits. With expansions to Swedish and Spanish territories, the company grew its user base to 4.5 million.
Recent Deals
TRA Inc
TiVo purchased TRA Inc. in July of 2012 for $20 million. Now formally known as TiVo Research and Analytics, this new division offers media measurement software and analytics on TiVo customers. Through this purchase, TiVo has the potential to add a strong revenue stream: advertising. With a new focus on customer analytics, the company will be able to boost its ad revenues and generate a newfound demand for TiVo's platform.
DigitalSmiths
At the end of January 2014, TiVo announced it would acquire the cloud-based service DigitalSmiths for $135 million in cash. As a result of this transaction, TiVo now has technology in 18 of the top 25 television providers in the United States. This new technology has demonstrated strong synergies as the company has been able to increase its user experience by integrating search, recommendations, and discovery. As well, this relationship also has the potential for strong cost synergies which will allow for improved bottom line.
Cogeco
On July 24, 2014, Tivo announced a distribution deal with Cogeco, a Canadian cable company. This deal will allow TiVo to expand its customer base by around 800,000 subscribers, and gain a strong foothold in Canada. Although this deal is rather small in comparison to future deals that analysts predict, this is certainly a positive development for the company.
Future Deals
It is very likely that TiVo will be announcing deals with more cable companies within the next year. The company appears to be in value creation mode as they look to expand their operations through acquisitions. Specifically, analysts are looking for deals with both a U.S. and European cable company. By bringing the strong existing customer base and high fixed cost/low variable cost platform that TiVo already offers, the company should have no problem creating strong synergies with its acquisitions.
Legal Settlements
Over the past few years, TiVo has made a host of legal settlements with companies like Microsoft (NASDAQ:MSFT), AT&T (NYSE:T), Cisco (NASDAQ:CSCO), Verizon (NYSE:VZ), Time Warner (NYSE:TWX), and Google (NASDAQ:GOOG) (NASDAQ:GOOGL) which have created a strong revenue stream for the next 6 years. With these settlements, the company has insured itself with $1.6B until 2018.
Competitor Comparison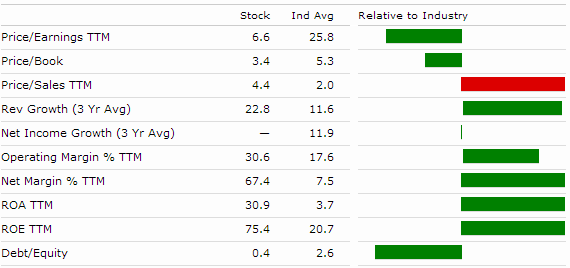 As you can see from the above, TIVO appears to be undervalued in the industry. As such, this stock appears to be a very strong value play. With Revenue, Net Income, Operating Margin, Net Margin, ROA, and ROE all set to outperform the industry, this stock's true value should be soon realized by the general public. As well, what is particularly attractive is how much less debt TIVO has when compared to its competitors, which only further works to support future growth potential.
Risks
With a beta of 1.41, this stock might not appeal to every investor. However, with strong cash reserves and stable and growing free cash flows, this stock should provide above-average capital appreciation in the future.
Growth Rates (Est.)

As TiVo continues to increase the value and reach of its technology, this $1.7B company has a very promising future growth outlook. Specifically, the newly launched TiVo Roamio has gained strong attention by the public due to the new ability to sync the company's mobile apps and stream/download live and recorded television programs. As well, TiVo has launched an App for Apple's AppStore called "What to Watch Now" that will work to improve customer satisfaction. As the company continues these new expansionary projects both domestically and internationally, through both direct investment and acquisitions, TiVo will continue to drive strong top-line growth over the long term.
Disclosure: The author has no positions in any stocks mentioned, and no plans to initiate any positions within the next 72 hours. The author wrote this article themselves, and it expresses their own opinions. The author is not receiving compensation for it (other than from Seeking Alpha). The author has no business relationship with any company whose stock is mentioned in this article.