Fans of Advanced Micro Devices (NASDAQ:AMD), including this author, jumped too enthusiastically on the stock just before the company reported earnings. Instead of holding its pre-earnings jump, the stock sold off sharply when it issued a light revenue forecast. AMD is effectively still a trading stock in the short term. Should investors with a longer term time horizon still hold AMD?
AMD setting for growth
Despite the challenges in the graphics segment, AMD is still positioning itself to generate 40 percent of its revenue from growth markets. The firm wants half its revenue to come from growth markets by next year. The market focused on AMD's downbeat forecast for the PC market. AMD said it expects the sector to fall between 5 and 7 percent this year. Even though the outlook is downbeat, AMD is winning business from Hewlett Packard (NYSE:HPQ). Sales for HP's thin clients should grow steadily throughout the year. Demand for professional graphics should also grow at a respectable rate. Apple (NASDAQ:AAPL), HP, and Dell are offering FirePro as a graphics solution.
In the graphics segment, lower demand for crypto currency mining led to AMD graphics cards getting on the market at much lower prices. AMD still expects it will boost shipping for its R7 and R9 cards. A seasonally stronger second half should help AMD generate better sales for its graphics cards.
Bump in the road
Investors were caught off guard when AMD reported light desktop demand. Refusing to sell the A-series APU solution at any price will mean AMD's profit margins will not deteriorate. The chip maker is better off selling the solution to markets and channels at a profit. AMD will develop a niche selling low powered, inexpensive desktop solutions. So long as AMD operates beyond Intel's (NASDAQ:INTC) budget market, AMD will not need to operate its PC business at a loss. In the second quarter, AMD's gross margin was 35 percent. Intel, by comparison, operates at a gross margin of over 60 percent.
Better console sales
AMD should still benefit from a traditionally strong holiday cycle for consoles again this year. The second quarter already accounted for a large shipment for semi-custom SoCs, but this trend should continue in the current (third) quarter.
Risks
Holding AMD is not without risk. In Q2, cash dropped by 34 million, though total cash was still $948 million. Inventory increased $91 million and stood at $960 million. The increase was due partly to a boost in AMD's 28 nanometer processor. Lower demand could mean higher inventory levels for the chip. AMD ended the quarter with $2.2 billion in debt.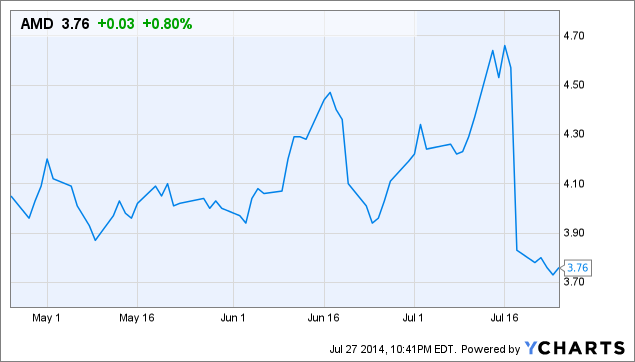 Upside
AMD is still set to announce at least one more design win this year in the semi-custom space. If the firm announces two, which is likely, this could give support to its share price. AMD could receive a boost from HP when HP announces Kaveri-based solutions for powering the EliteBook laptop.
Bottom line
The market hoped AMD would report stronger sales on the desktop channel. This is in light of Intel having reported strong sales in the desktop market. In reality, AMD's Kaveri solution will ramp up, but it will happen at a measured rate. Seasonal strength should help ease AMD's turnaround plan. Shares should fund support at around the current level, which makes the stock a compelling buy.
Disclosure: The author is long AMD. The author wrote this article themselves, and it expresses their own opinions. The author is not receiving compensation for it (other than from Seeking Alpha). The author has no business relationship with any company whose stock is mentioned in this article.