In my last post, I wrote about signs of slowing non-US growth as a warning of impending stock market weakness (see Global growth scare = Trend Model downgrade). It seems that we will see a key report card of US growth on Wednesday morning - the 2Q GDP report.
The calendar from investing.com shows consensus expectations of 3.0% growth: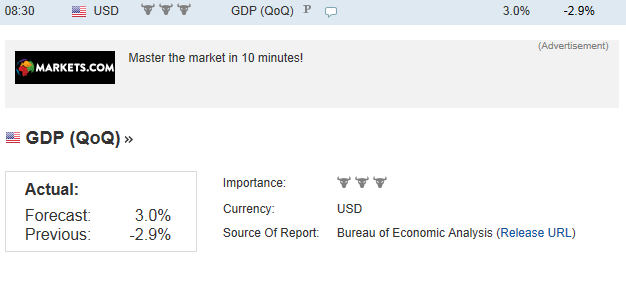 The Atlanta Fed provides a GDPNow indicator, which is their best estimate, or "nowcast", of GDP growth given the latest data:
The growth rate of real gross domestic product (GDP) is a key indicator of economic activity, but the official estimate is released with a delay. Our new GDPNow forecasting model provides a "nowcast" of the official estimate prior to its release.
The latest GDPNow reading is 2.7%, which is well below the consensus estimate of 3.0%:
The final GDPNow model forecast for real GDP growth (seasonally adjusted annual rate) in the second quarter of 2014 was 2.7 percent on July 25, unchanged from its July 17 reading.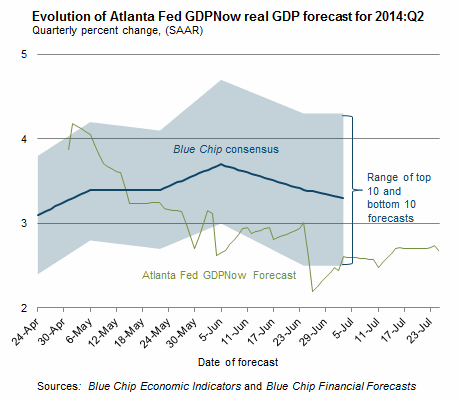 In order to close the gap and meet expectations, the final growth figure would have to rise by 0.3% from the last GDPNow reading. With the Citigroup US Surprise Index looking a little wobbly, would you take the "over" or "under" bet on 2Q GDP consensus?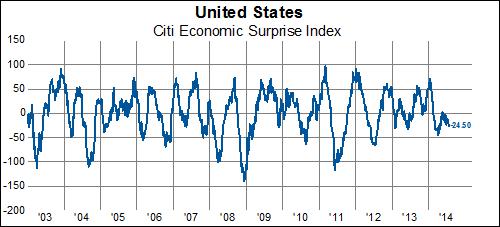 What is more important to the future path of asset prices are expectations. Gavyn Davies recently noted that:
Forecasts for US GDP growth this year have been slashed, but there is no change in optimism about GDP next year.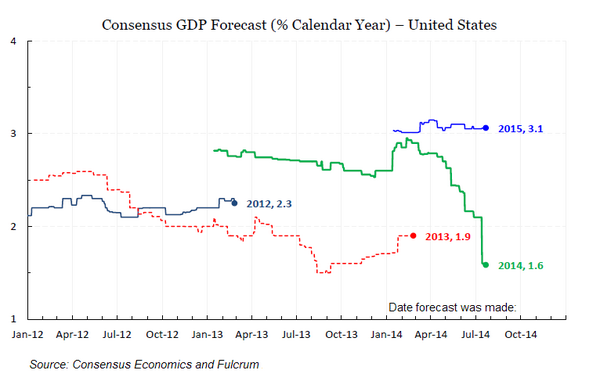 Regardless of whether 2Q GDP beats or misses the consensus estimate, the more important thing to watch is how future expectations for GDP growth for the rest of 2014 and 2015 . If 2Q were to miss and future growth get revised downwards, it could create a serious headwind for stock prices.
Disclaimer: The opinions and any recommendations expressed in this blog are solely those of the author. None of the information or opinions expressed in this blog constitutes a solicitation for the purchase or sale of any security or other instrument. Nothing in this article constitutes investment advice and any recommendations that may be contained herein have not been based upon a consideration of the investment objectives, financial situation or particular needs of any specific recipient. Any purchase or sale activity in any securities or other instrument should be based upon your own analysis and conclusions. Past performance is not indicative of future results. Mr. Hui may hold or control long or short positions in the securities or instruments mentioned.