Ford (NYSE:F) stock has continued its gradual rally since an early year fizzle with a YTD return of just over 14%.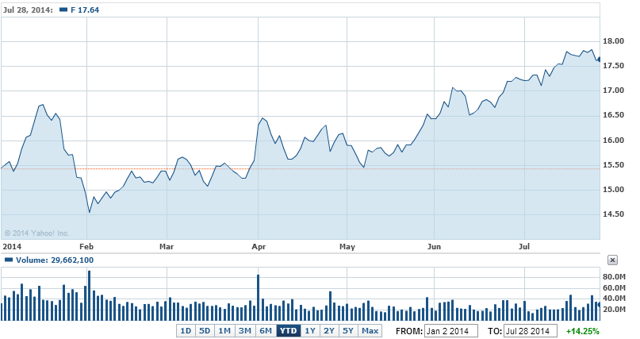 Last week, Ford announced earnings of 40 cents per share, which beat analyst estimates of 37 cents. This marked the ninth time in the past ten quarters that Ford has beaten earnings.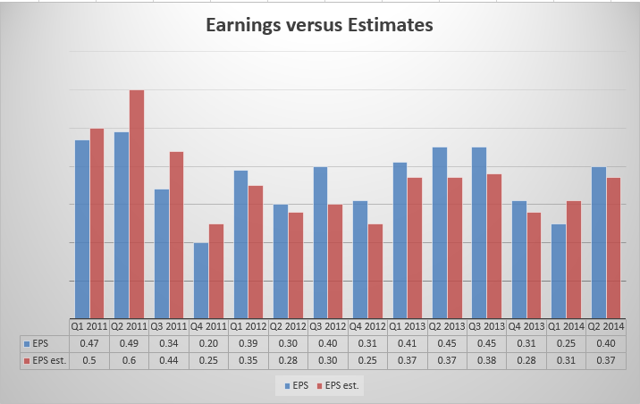 Data sourced from: CNBC
It's important to note that Ford missed revenue despite beating on bottom line earnings. While this may embolden Ford bears, I believe two important points need to be made:
1) Ford is in the process of the most dramatic change in product offerings in the company's history. As with many industries, anticipated product introductions can hurt the sales/demand for old product lines. This was not unnoticed in the projections as the company is expected to be flat on revenue for the year.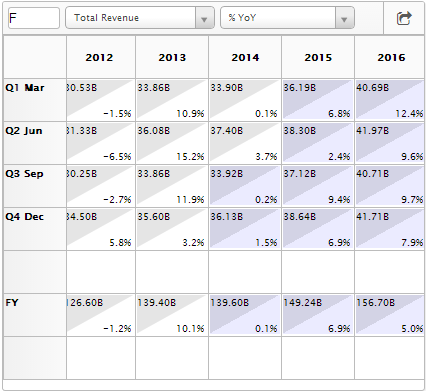 Source: Sentieo
2) Lower revenue and higher profit is a sign of greater operational efficiency and management competence. Part of that management competence is cost control and matching production to demand, as Mark Fields pointed out in the earnings conference call:
"North America's second-quarter pretax profit continued to be driven by robust industry sales, our strong product lineup, continued discipline in matching production to demand, and a lean cost structure, even as we continued to invest for future growth."
Now that we are half way through 2014, Ford's 2015 forward earnings are beginning to price into the company's forward P/E.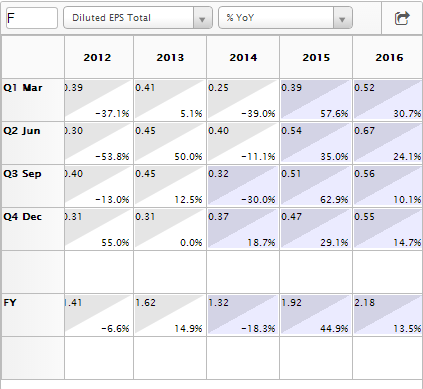 Source: Sentieo
The projected Q2 2015 earnings per share is driving down Ford's forward P/E, despite its trailing P/E near a 52 week high.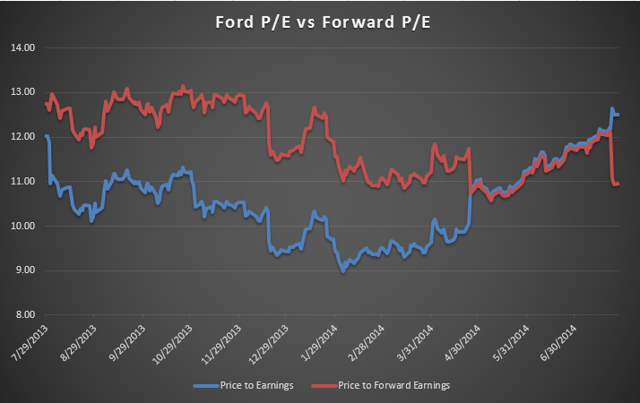 In fact, based on the past 52 weeks, Ford still has traded at 12 times forward earnings or better in more cases than not.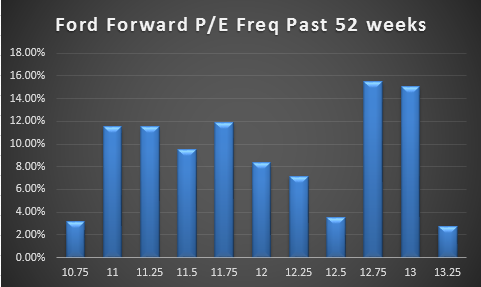 Based on the 12 times forward earnings multiple and the projected quarterly earnings provided by Sentieo, the upside remains apparent in Ford.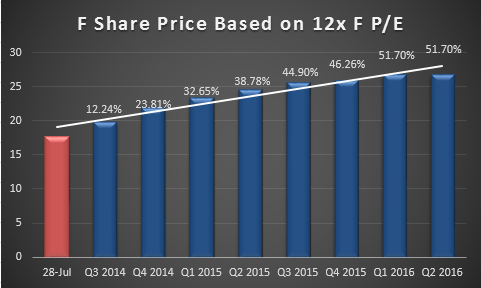 In the past, I've made a variety of price calls on Ford based on this analysis. This chart tracks the evolution of my price projections, along with actual share prices on the day earnings were announced (in black).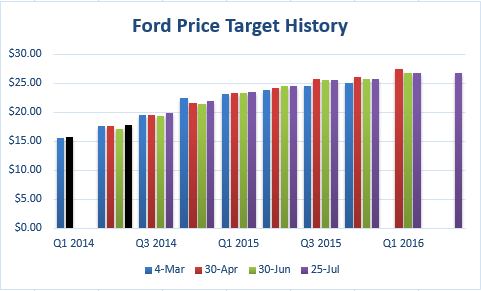 Ford's headwinds remain product execution and acceptance, along with macro economic conditions. Investors will not get a clear picture of product acceptance, in my opinion, until Q2 2015 earnings are released next July when all new products are available in most markets and weather in the U.S. is not a factor.
Disclosure: The author is long F. The author wrote this article themselves, and it expresses their own opinions. The author is not receiving compensation for it (other than from Seeking Alpha). The author has no business relationship with any company whose stock is mentioned in this article.