With its F-35 fighter jet, missile defense systems and satellite programs, Lockheed Martin (NYSE:LMT) is best known as a military defense contractor and aerospace company. Through June 30, 2014, the company had total sales of nearly $22 billion across its 5 business segments: aeronautics, information systems, missile and fire control, mission systems and space systems. However, Lockheed Martin may soon add environmental systems to that list after their latest technological innovation. Engineers at Lockheed Martin have developed an advanced water filtration system that has the ability to revolutionize water treatment centers and, in particular, desalination plants across the world.
The company's recently acquired patent for Perforene Filtration Solutions drastically reduces energy requirements for desalination plants. The graphene membrane was developed by placing holes that are one nanometer or less in diameter. These holes are large enough to allow water to pass through but small enough trap all other salts and minerals. At only 1 atom thick, it takes much less energy to push seawater through the filter with the force required to remove the salt from the water. John Stetson, an engineer at Lockheed Martin, said,
"It's 500 times thinner than the best filter on the market today and a thousand times stronger. The energy that's required and the pressure that's required to filter salt is approximately 100 times less. The amount of work it takes to squeeze that water through the torturous path of today's best membranes is gone for Perforene. It just literally pops right through because the membrane is thinner than the atoms it's filtering."
Stetson said, the Perforene filter would be the thickness of a piece of paper compared to current filters which are about half a foot thick.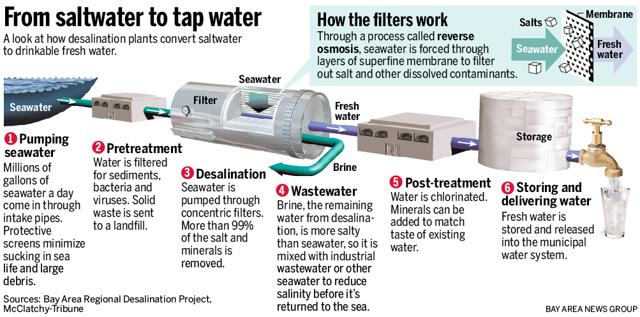 Source: Huntington Beach Desalination Facility
High Cost of Clean Water
The problem with desalination plants has been the extremely high energy cost required to generate clean water from seawater. Desalinated water costs on average double the cost of water obtained from a reservoir or recycling wastewater, according to a 2013 study by the Department for Water Resources. While previous advancements in technology have lowered the cost of power used to desalinate seawater from 114 kWh/1,000 gallons in 1979 to 14 kWh/1,000 gallons of fresh water today, energy costs still account for typically 20-30% of the total cost of desalinated water. Lockheed Martin's new Perforene filter has the potential to drastically cut the cost of energy use and in turn make desalination plants much more economically viable.
Desalination Market
Desalination plants operate in more than 120 countries, including Saudi Arabia, Oman, Spain, Greece, Italy, India, China, Japan, Australia and the US. Over the past 40 years, the amount of potable water produced by desalination plants has skyrocketed to over 3.5 billion gallons per day. Today, more than 2,100 desalination plants operate around the world. The Middle East accounts for over 50% of capacity and North America accounts for 17%. Most recently Tampa Bay, Florida opened its desalination plant that can provide up to 25 million gallons of drinking water per day to residents. Currently, California has 15 desalination projects proposed along the coast from Los Angeles to San Francisco. A $1 billion desalination plant in Carlsbad is scheduled to open in 2016 and provide up 50 million gallons of drinking water per day in San Diego County.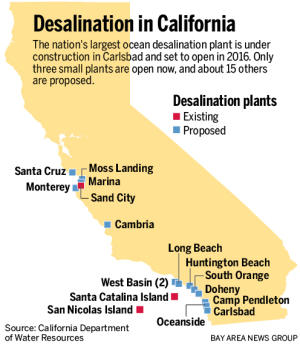 Source: Huntington Beach Desalination Facility
As drought continues to linger in California and the majority of the southwest United States, local governments are increasingly looking toward desalination to fill the void. Reservoirs and lakes in the southwest are declining at extremely rapid rates. It was recently reported that Lake Mead, created by the construction of the Hoover Dam, hit its all-time low in July and is only 39% full. Over 40 million people in Los Angeles, Las Vegas and Phoenix rely on water from Lake Mead. At its current rate, officials fear long-term impacts from the continued decline could eventually force cities to look elsewhere for water supplies.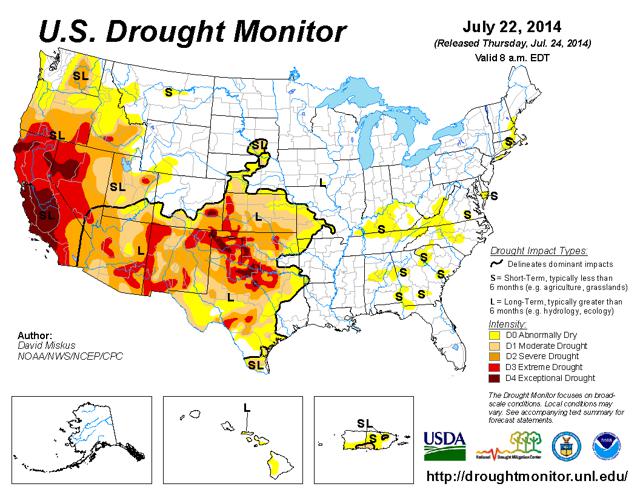 Source: US Drought Monitor
Brackish Water
Luckily for cities, not by the coast, there are alternatives that can take advantage of the desalination process. Roughly half of the world-wide desalination capacity uses brackish water, which is found deep underground in vast reservoirs. Before brackish water can be used must go through the same desalination process as seawater. Currently, San Antonio is in the process of building the nation's largest brackish water desalination plant, which will be operational by 2016 and at its peak capacity will supply 30 million gallons of water per day.
Perforene filter's opportunity
Lockheed Martin's newest innovation comes at a perfect time from a marketing and distribution standpoint. Cities across the US and the world are scrambling for new sources of drinking water to supply growing populations and increasingly are turning to desalination as the best solution. If the Perforene filter can reduce energy cost in the desalination process by 100 times, as the company claims, the filter will be widely accepted as a pioneering breakthrough that can revolutionize water security.
However, Lockheed still faces a number of challenges in commercializing this filter. Working with a material just one atom thick is very difficult to not tear and ramping up production to the size and scale needed has been a challenge. Lockheed expects to have a prototype by the end of 2014 that could be used as a replacement for filters now used in reverse osmosis plants. The company is looking for partners to help manufacture the filter in the 2014-2015 timeframe.
Conclusion
Lockheed Martin is an incredibly successful company that has found profitable businesses in a variety of different areas. The Perforene filter has the opportunity to become another successful venture for the company. While the desalination market is world-wide and rapidly expanding, successful commercialization of this product has limitless opportunities. Lockheed management has already acknowledged additional areas where the Perforene filters could be utilized, such as dialysis and cleaning chemicals from water used in fracking.
The filter won't have a significant impact on earnings for at least the next 2 years and probably 5 years, based on the difficulty to mass produce something so technologically advanced it has never been made before. But long-term shareholders should be encouraged by the continued diversity at Lockheed Martin. The company isn't sitting on its heels, milking its military defense contracts. Instead it's going after breakthrough advancements in clean water technology. Technology companies that don't evolve, eventually become extinct. The Perforene filter has the potential to handsomely reward shareholders down the line, by becoming the industry leader in advanced filtration technologies.
Disclosure: The author has no positions in any stocks mentioned, and no plans to initiate any positions within the next 72 hours. The author wrote this article themselves, and it expresses their own opinions. The author is not receiving compensation for it (other than from Seeking Alpha). The author has no business relationship with any company whose stock is mentioned in this article.