Shares of Tiffany & Co (NYSE:TIF) are up nearly 25% since my previous mention on May 24, 2012 in a piece entitled Tiffany & Co Earnings Sell-Off Creates Buying Opportunity. I believe investors who own TIF shares should consider taking profits.
Valuation
Based on a number of metrics, as shown by the charts below, TIF is trading at a high valuation relative to historic norms. It is certainly possible that TIF moves higher from here, but I believe, due to current valuations, upside is limited. If equities come under selling pressure, I believe TIF is vulnerable. When I turned bullish on TIF in 2012, the stock was selling at 15 times earnings. Now, with TIF trading at more than 23 times earnings, the risk/reward has changed.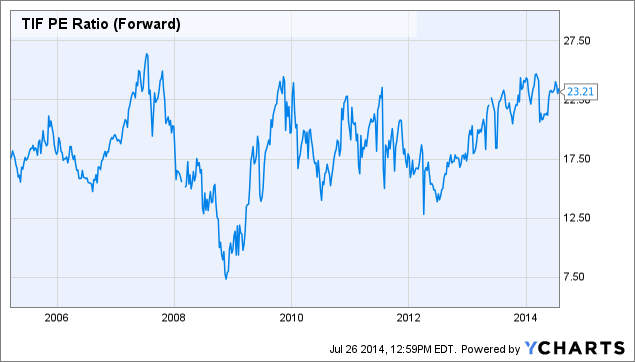 TIF PE Ratio (Forward) data by YCharts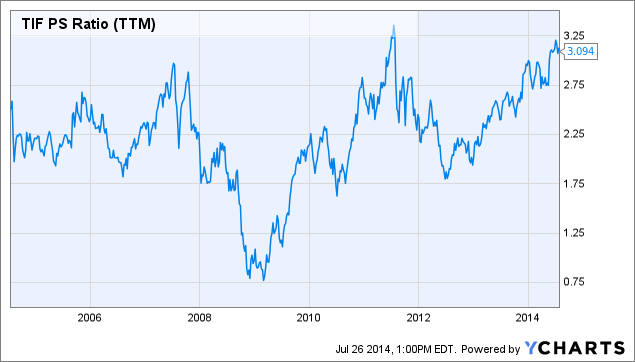 TIF PS Ratio (TTM) data by YCharts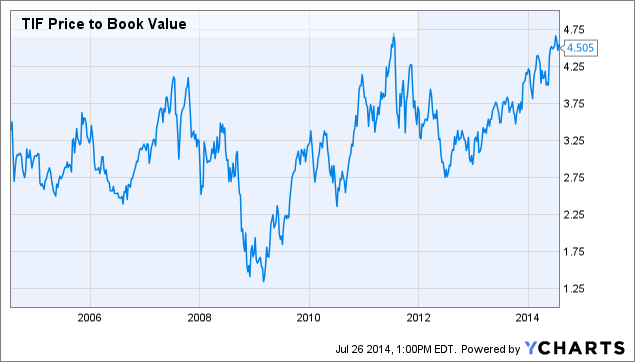 TIF Price to Book Value data by YCharts
Alternative Ideas
Investors who want to invest in luxury retail should consider Coach (NYSE:COH), Michael Kors (NYSE:KORS), or Ralph Lauren (NYSE:RL). As shown by the chart below, all three of these companies are trading at a lower forward PE ratio than TIF. Of these three companies, I believe Coach is the most interesting investing idea. While the company has been struggling of late, I believe the brand is strong enough that, at current valuations, Coach shares are a good investment. In contrast to TIF, which I believe has limited upside and significant downside potential, I believe Coach has limited downside but significant upside potential. Michael Kors and Ralph Lauren are, in my view, trading close to fair value. In other words, the upside and downside potential are about the same. While I prefer Coach over Michael Kors or Ralph Lauren, I would still rather own Michael Kors or Ralph Lauren over TIF.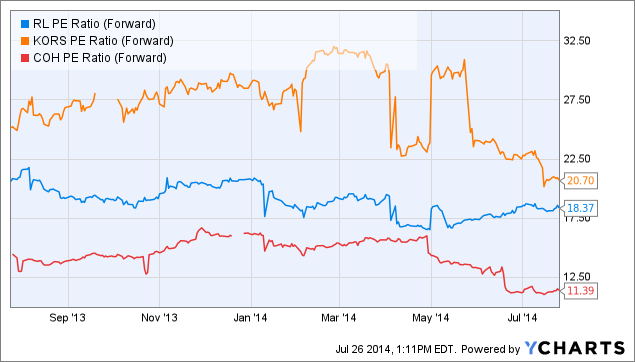 RL PE Ratio (Forward) data by YCharts
Conclusion
TIF is a strong company with a great business. That being said, I believe TIF shares are currently overvalued. In my view, TIF would become buyable if the stock falls back to a forward PE of less than 20. TIF will likely earn about $4.20 for the year so this means that, based on current earnings, TIF shares would need to fall to around $87 for me to consider them attractive. Alternatively, TIF shares could become attractive if the stock remains at current levels for a considerable amount of time while earnings grow. Investors currently looking to put money to work in the luxury retail segment should consider Coach, Michael Kors, or Ralph Lauren.
Disclosure: The author has no positions in any stocks mentioned, and no plans to initiate any positions within the next 72 hours. The author wrote this article themselves, and it expresses their own opinions. The author is not receiving compensation for it (other than from Seeking Alpha). The author has no business relationship with any company whose stock is mentioned in this article.