This article focuses on some of the key facts and trends revealed by the results of operations reported by Kinder Morgan Energy Partners LP (NYSE:KMP) for 2Q 2014.
Adjusted earnings before depreciation and amortization ("Adjusted EBDA" or "Segment earnings before DD&A and certain items") is one of the important yardsticks used by management to measure its success in maximizing returns to the partners, to evaluate segment performance, and to decide how to allocate resources to KMP's five reportable business segments. Comparing each quarter to its counterpart in the prior-year period we see slow growth in Adjusted EBDA per unit over the past 4 calendar quarters, as shown in Table 1 below: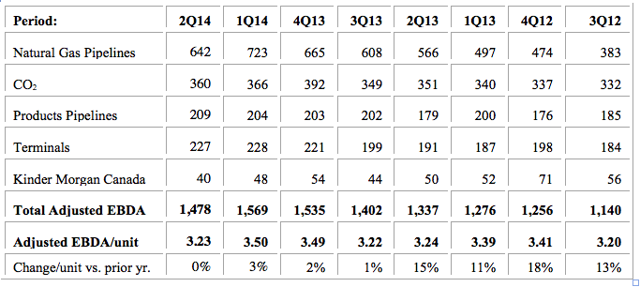 Table 1: Figures in $ Millions (except per unit amounts and % change). Source: company 10-Q, 10-K, 8-K filings and author estimates.
Management refers to the adjustments it makes in deriving the numbers in Table 1 as "certain items".
Segment earnings, shown in Table 2 below, are derived by deducting from each segment's Adjusted EBDA the depreciation, depletion and amortization ("DD&A) attributable to that segment. General & administrative expenses and interest expenses are then deducted from total segment earnings and the "certain items" are eliminated to derive reported net income: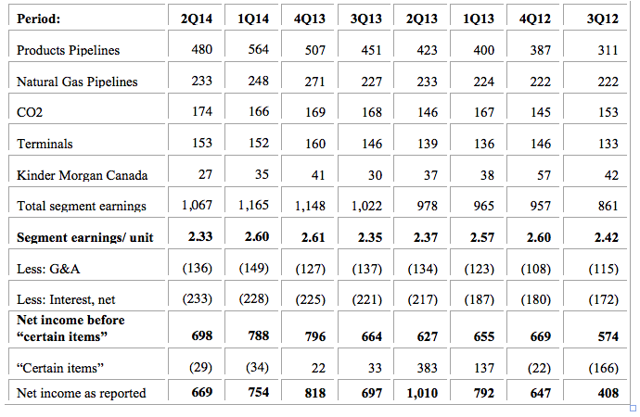 Table 2: Figures in $ Millions. Source: company 10-Q, 10-K, 8-K filings
Net income in 2Q14 compares unfavorably with the prior-year period. This is due to "certain items" that, in the aggregate, boosted aggregate net income in 2013 to the tune of $575 million (of which $383 million in 2Q13) as a result of:
A $558 million gain upon re-measurement of KMP's original 50% interest in the Eagle Ford joint venture to fair market value as a result of the Copano acquisition;
A $167 million pre-tax gain stemming from the March 14, 2013 sale by KMP of its one-third equity ownership interest in the Express pipeline system, as well as the sale of its subordinated debenture investment in Express to Spectra Energy Corp.; and
A $177 million loss due to an addition to legal reserves attributable to an adverse Court of Appeal decision denying an income tax allowance on the Product Pipeline segment's intrastate operations in California.
KMP's reported distributable cash flow ("DCF") per unit in 2Q14 is essentially flat vs. the prior year period, and up 3.3% in the TTM ended 6/30/14 vs. the TTM ended 6/30/13, as shown in Table 3 below:

Table 3: Figures in $ Millions (except per unit amounts and % change). Source: company 10-Q, 10-K, 8-K filings and author estimates.
Management generally expects negative coverage (i.e., below 1x) in the second and third calendar quarters of each year, and positive coverage in the first- and fourth-calendar quarters. I will compare reported DCF and the resultant coverage ratios to what I consider sustainable DCF and sustainable DCF coverage ratios once KMP provides additional data as part of its Form 10-Q.
Table 4 below provides selected metrics comparing KMP to some of the other MLPs I follow based on the latest available trailing-twelve-months ("TTM") results:
As of 07/25/14:

Price

Current Yield

TTM

EBITDA

EV / TTM EBITDA

2014 EBITDA

Guidance

Buckeye Partners (NYSE:BPL)

$83.91

5.24%

642

20.1

710

Boardwalk Pipeline Partners (NYSE:BWP)

$19.44

2.06%

700

11.6

650

El Paso Pipeline Partners (NYSE:EPB)

$35.91

7.24%

1,139

10.5

1,200

Enterprise Products Partners (NYSE:EPD)

$78.89

3.65%

4,787

19.1

-

Energy Transfer Partners (NYSE:ETP)

$59.04

6.47%

2,970

12.1

-

Kinder Morgan Energy Partners

$84.36

6.59%

5,565

10.5

5,900

Magellan Midstream Partners (NYSE:MMP)

$84.69

3.02%

979

22.5

1,011

Targa Resources Partners (NYSE:NGLS)

$68.08

4.58%

766

13.6

750

Plains All American Pipeline (NYSE:PAA)

$59.40

4.34%

2,028

14.2

2,150

Regency Energy Partners (NYSE:RGP)

$31.66

6.06%

567

22.5

-

Suburban Propane Partners (NYSE:SPH)

$45.06

7.77%

326

12.1

-

Williams Partners (NYSE:WPZ)

$53.04

6.91%

2,274

14.3

3,145
Table 4: Enterprise Value ("EV") and TTM EBITDA figures in $ Millions. Source: company 10-Q, 10-K, 8-K filings and author estimates.
EBITDA data in Table 8 is as of December 2013, except for EPB and KMP that are as of June 30, 2014. It would be more meaningful to use 2014 EBITDA estimates rather than TTM numbers, but not all MLPs provide guidance for this year. Of those I follow, the ones that I have seen do so are included in the table.
In 2014 KMP expects to declare cash distributions of $5.58 per unit for 2014, an increase of ~5% over 2013. This increase appears to be outpacing the growth in DCF per unit (up 3.3% in the TTM ended 6/30/14 vs. the TTM ended 6/30/13). The ratio of long-term debt to LTM EBITDA as of 6/30/14, as calculated by management, was a manageable 3.7x.
The outlook appears mixed. Project backlog is growing and KMP has identified significant natural gas pipeline expansion opportunities in the Northeast. The boom in Permian Basin oil production (up from a low of 850K barrels in 2007 to 1.35M barrels in 2013) benefits KMP. As a major supplier of CO2, KMP is well positioned to help enhance oil recovery/production in mature oil fields and reservoirs that require injections of steam or carbon dioxide to coax more crude out of the ground (CO2 acts as a pressurizing agent and reduces the viscosity of oil). Also, year-to-date KMP has significantly underperformed other MLPs having risen 4.6% vs. 12.8% for the Alerian MLP index. If it catches up, investors will be well rewarded.
On the other hand, one of KMP's key projects (the $5.4 billion expansion of the Trans Mountain Pipeline) is encountering delays. The plan to build a second pipeline with a 540K barrels per day capacity (and possibly a further 240K at a later stage) running from Edmonton to the Vancouver region, thus increasing capacity on the Trans Mountain system to 890K barrels per day, has faced tough questions from regulators and municipalities. It may take several years before KMP is in a position to significantly increase its distributions or generate sufficient excess cash to meaningfully reduce dependence on debt and equity financing. Also, there has been a marked reduction in the pace of growth of KMP's Adjusted EBDA over the last four quarters. Finally, IDR payments by KMP to KMI claim a significant portion of KMP's cash flows. As I calculate it, in 2013 they totaled ~$1.7 billion out of ~$3.95 billion total DCF. KMI's IDRs are currently entitled to 48% of each incremental dollar of DCF generated by KMP. This places KMP at a disadvantage from a cost of capital perspective.
Investors seeking more rapid distribution growth, concerned with the factors previously cited and/or concerned with KMP's distribution coverage for reasons detailed in a prior report, should look at KMI which yields ~4.5% but is projecting 8% distribution growth in 2014 over 2013.
Disclosure: The author is long EPB, EPD, ETP, MMP, PAA. The author wrote this article themselves, and it expresses their own opinions. The author is not receiving compensation for it (other than from Seeking Alpha). The author has no business relationship with any company whose stock is mentioned in this article.