Financial Highlights:
The fast food restaurant operator Yum! Brands (NYSE:YUM) posted adjusted diluted earnings per share (EPS) of $0.73 and revenues of $3.2 billion. In the same three months of 2013, YUM just managed to earn 56 cents per share. During this period the company brought in revenue of $2.9 billion. Analysts from Reuters estimate the EPS will be $0.74 and the revenue will be $3.25 billion.

Segment Results: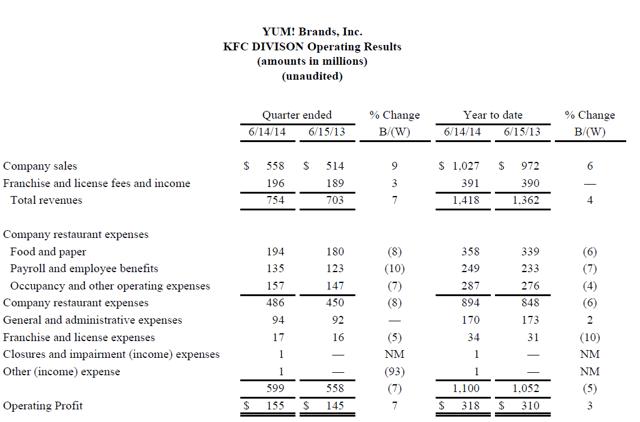 The KFC division experienced 7.25% growth in total revenues compared to last year's second quarter. The KFC division opened 110 new international restaurants in 38 countries. These included 79 units in the emerging markets and 75% of these new units were opened by franchisees. Operating profit increased 7%, after the adjustment of foreign currency translation. Foreign currency translation negatively impacted operating profit by $6 million.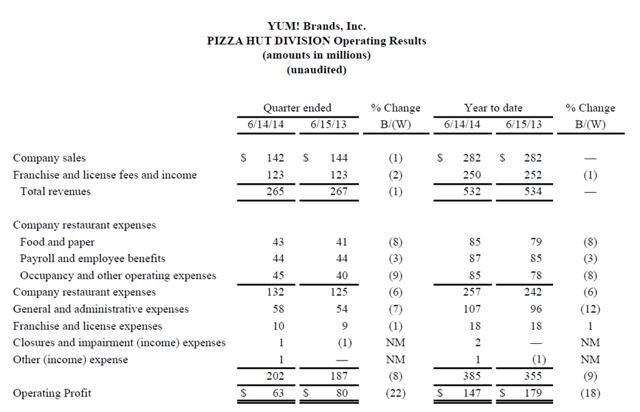 Pizza Hut division system sales decreased 1%, excluding foreign currency translation. International system sales grew 4% in the emerging markets and declined 1% in the developed markets. The Pizza Hut division opened 109 new restaurants which included 67 international units and 42 U.S. units. These included 32 units in emerging markets and 88% of these new units were opened by franchisees. Restaurant margin declined 6.4 percentage points driven by higher self-insurance costs. Operating profit declined 22% including a 13 percentage-point impact from higher litigation costs. Foreign currency translation had a negative impact on operating profit.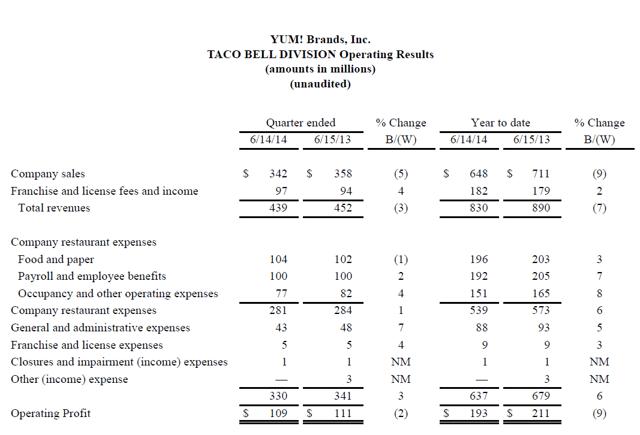 Taco Bell is a new reporting division, which includes all Taco Bell results except the India division. For full year 2013, the Taco Bell division contributed 21% of YUM's total operating profit. A huge portion of that profit was generated in the U.S. This division is 85% franchised. Taco Bell division system sales increased 3%. Taco Bell division opened 30 new restaurants; 29 of these new units were opened by franchisees. Restaurant margin was 17.7% reflecting a decline of 2.7 percentage points.
Food Safety Issues Resurface in China:
Being one of the most populated countries of the world, China is a prime target for almost all food brands. However, YUM and McDonald's (NYSE:MCD) have halted the purchase of meat products from Shanghai Husi Food Co., Ltd, a meat supplier, while authorities investigate allegations that the company sold chicken and beef past their expiration dates.
Both the U.S. fast food chains McDonald's and Yum announced that they would stop using products supplied by the local meat processor after the investigation began. The move is a potential concern for both brands since both companies have already faced serious allegations in China back in late 2012 regarding use of unapproved antibiotic drugs and growth hormones in animal feed. Yum, which apologized to Chinese consumers for any inconvenience caused in the latest case, suffered a sharp dive in profits early in 2013 after the safety concerns.
Yum has 3,800 KFC and Pizza Hut outlets in China and is looking beyond pizza and chicken to establish its own presence in the rapidly growing market for Chinese casual dining. Companies across the gamut of market sectors have believed that the fast food industry is almost impossible to benefit from. In emerging markets, like China, tastes and preferences are different, and the fast food segment still has more growth prospects than in the American and European markets.
Yum China division's system sales increased 21% in the recent quarter of 2014 but the latest food safety scandal could shatter the company's hopes to further expand in the Chinese market.
Conclusion:
The company's second quarter earnings were 30% higher than last year. The share price went down by 7% since the second quarter earnings announcement.
It's worth noting that while the company beat estimates of the top and bottom lines and the stock should have increased in price, it actually dropped 0.56%. I did some additional digging to try and find the reason behind this inverse movement. If we consider the meat allegation in China then perhaps this temporary dip in stock price is justified. As I mentioned above, YUM already faced this type of allegation in 2012 and this happened again this year. Logically, it does make sense that this 0.56% drop in stock price was investors' response to YUM's food quality issues. However, it's encouraging for investors to know that YUM started its own in-house investigation on this matter and also took steps to prevent this type of event from occurring again. I believe that the company will revise its health and quality related policies and the stock price should not stay depressed; the stock should revert to its fair value. I recommend buying this stock.
Disclosure: The author has no positions in any stocks mentioned, and no plans to initiate any positions within the next 72 hours.
Business relationship disclosure: The article has been written by a Gemstone Equity Research research analyst. Gemstone Equity Research is not receiving compensation for it (other than from Seeking Alpha). Gemstone Equity Research has no business relationship with any company whose stock is mentioned in this article.